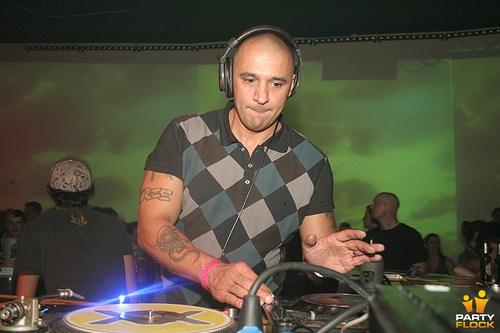 Korsakoff
· 15 maart 2008
Recensie
Hardcore Heroes
· 20 juni 2008
Drie namen, twee stijlen en één dubbelaar. Paul Elstak en Lunatic & Miss Hysteria zijn verantwoordelijk voor de nieuwste Hardcore Heroes mix cd. De tracklist is verassend en maakt ons in ieder geval nieuwsgierig om te luisteren wat deze iconen uit de scene neerzetten.
The Revival
13
Megadisco Zak, Uelsen
Da Syndrome, Freddy Fader, Mental Theo, Paul Elstak, Rico
So90s
Lucky, Rijssen
Paul Elstak
DJ Paul Elstak
1
Grand Café Hertog van Gelre, Scherpenzeel
Fade-out, Paul Elstak
Pussy lounge XXL
229
Rotterdam Ahoy, Rotterdam
Alee, Bass-D, Darkraver, Dr. Rude, Mark with a K, Neophyte, Paul Elstak, Ruthless, The Viper, Wildstylez
Ultra 90's
9
Studio A12, Bunnik
Dune, Jean, Jurgen, Mental Theo, Moony, Paul Elstak (nog niet compleet)
Lunatixx ·

The Freestyle Festival

60
Goffertpark, Nijmegen
Charly Lownoise & Mental Theo, Da Tweekaz, Darkraver, Deepack, DV8, Frequencerz, Jebroer, Mark with a K, Pat B, Paul Elstak, Plug 'N Play, The Viper, ZazaFront
I Love Beatz
1
Alcazar, Puttershoek
Alee, Crude Intentions, Panic, Partyraiser, Paul Elstak, Shadowfact, Vettriano
Paul Elstak
1
Club Champino, Drachten
Paul Elstak
Halloween ·

The Party

4
De Valom, Huissen
Antoine, Paul Elstak, Senner-G
Goldfinger Classics ·

Back To The Future

103
Maaspoort Sport & Events, 's-Hertogenbosch
Bass-D, Darkraver, M, Mental Theo, Panic, Paul Elstak (nog niet compleet)
Q-Music The Party FOUT ·

XL

1
Koepelhal, Tilburg
Def Rhymz, Het Feestteam, Paul Elstak
90's Forever ·

The Ultimate Dance Xperience 1990 - 2000

83
MECC Maastricht, Maastricht
5ive, 90's Forever DJ team, Haddaway, Lasgo, Paul Elstak, Whigfield
Parkzicht ·

The Final Reunion

32
Maasgebouw, Rotterdam
Alee, Distortion, Franky Jones, Joe, Joshua, Lars, Lucien Foort, Ludie, Neophyte, Panic, Parkneger, Pat C, Paul Elstak, Reza, Ricky da Dragon, Rob, Stanton
Welcome to the 90's
24
Brabanthallen, 's-Hertogenbosch
2 Unlimited, Coenio, Def Rhymz, Party Animals, Paul Elstak, The Outhere Brothers, Vengaboys
Rember the 90's
19
IJsselhallen Zwolle, Zwolle
Coenio, Def Rhymz, Dune, Party Animals, Paul Elstak, T-Spoon, Vengaboys
We Love Freestyle
8
Doornroosje, Nijmegen
Affix, Anna Crystal, Bazzy, D-Fence, D-Master, Dubbel Distortion, Graat, Mark with a K, Mr. Ripley, Paul Elstak, Plug 'N Play, Rems, The Viper (nog niet compleet)
Pump up the 90's
5
Evenementenhal Hardenberg, Hardenberg
2 Brothers on the 4th Floor, Captain Jack, Dune, Jody Bernal, Party Animals, Paul Elstak, Q-Music Het Foute Uur
Ghosttown ·

25th Anniversary edition part II

496
Central Studios, Utrecht
Armand, Buzz Fuzz, Da Mouth of Madness, Darkraver, Flo, Frantic Freak, G-Town Madness, Isaac, Lucien Foort, Marc Acardipane, MD&A, MissBehave, Painbringer, Paul Elstak, Petrov, Promo, Reza, Rob & MC Joe, Ruffneck, Scott Brown,

en nog 6 andere artiesten →

Stanton, Tec-9, Tha Nouky, The Hitman, The Raver, TMC
90's & 00's XXL Indoor
23
SilverDome, Zoetermeer
5ive, Def Rhymz, Jeroen Post, Pascal, Paul Elstak, Seran, Twenty 4 Seven
90's all-round party
Zalencentrum 't Kaar, Beek
Big Rob, Kicken, Paul Elstak, Sandy
Back 2 the 90's
5
Beursgebouw, Eindhoven
Coenio, Def Rhymz, Mr. President, Party Animals, Paul Elstak, Special D, T-Spoon, Twenty 4 Seven
Back 2 the 90's
10
Rotterdam Ahoy, Rotterdam
2 Unlimited, Coenio, Def Rhymz, Djoanna, Dune, Party Animals, Paul Elstak, The Outhere Brothers, Twenty 4 Seven
44 waarderingen
37 opmerkingen
the godfather himself,,

And You Will Now My Name Is The Lord
samuel L jackson
MAASTERLIJK GWOON

top dj


PAUL

lieve lieve paul hih

zou je aub xtje willen komen draaien @­ carpe dm

ik zelf sta er achter de bar en zou graag de hele avond,
onder werktijd jou willen (ZIEN) horen draaien !!!

wie kom er dan ammel naar carpe dm @­ tilburg???
paul elstak

top nummer heeft die gozer hier egt een top dj

voor deze gozer
nog steeds hetzelfde lekkere ding als jaren geleden
nice to see you sweety

the only one master of hardcore!!!!!!!!
PAULTJE!!!!!!!!!!!!!!!!!!!!!!!!!!!!!!!!
paultje is de koning van nederland en voor vak X

knal wel op assen

vatos
OWJAHHHHH..MAAK ME GEK!!!!!


Waarom heeft Paul 2 artiesten namen??

Paul &­ Paul Elstak??
Hey mister hard core gabber,gefeliciteerd met je verjaardag,nog vele jaren toegewenst.­Laterszzzzz