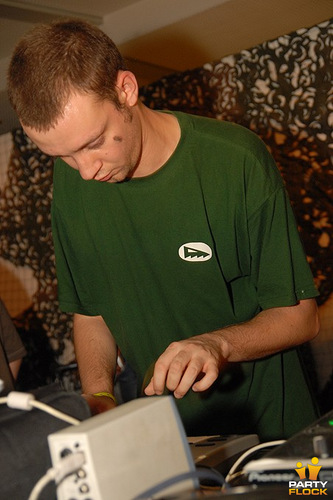 Syndicate
· 6 oktober 2007
| | |
| --- | --- |
| Naam | Pietro Paolo Salamone |
| Functie | DJ, live act, producer |
| Geslacht | man |
| Geboortedatum | |
| Leeftijd | 40 |
| Herkomst | Italië |
| Genres | industrial hardcore, speedcore, terror |
| Site | thedestroyer.it |
| E-mail | info@thedestroyer.it |
| Aanwezigheid | |
| Affiliaties | 15 |
| Lid | theDESTROYER |
Biografie
The Destroyer
,
Pietro
Paolo Salamone, born in Enna (Italy), started his own productions with a Commodore Amiga in 1992. In 1995 he decided to send his tracks to some label, and exactly on this year the first release comes out on vinyl under the historical hardcore label "
D-Boy
Black Label".
After this record he continued to release vinyls for years, especially on "
Head Fuck
Records", and even on other labels where he did some collaborations.
Nowadays he own his net label "Airfight-Records", where he keep alive the sound of early terror.
The Destroyer
is also known for his special live acts, where he remix his tracks with the keyboard in real time.
Uitgaansagenda The Destroyer
Decade of Early Hardcore

547

North Sea Venue
Zaandam
Amon-Ra, Arjuna, Bass-D, Black Warrior, Buzz Fuzz, Dana, Delirium, Den=, Dione, Frantic Freak, Fuckface, Maissouille, Radium, Resonant Squad, Ruffneck, Skorp, The Destroyer, UncleD

Noisekick's Terrordrang

23

PKHS
Tilburg
Devastation, Doctor Terror, Hard Infantry, Nekrosystem, Noisekick, Paranoizer, Reaktor-Th, SRB, Striker, Suicide Rage, The Destroyer, The Vizitor
Masters of Hardcore ·

Magnum Opus × 25 Years

8
2538

Brabanthallen
's-Hertogenbosch
Act of Rage, Akira, Alee, Amnesys, Andy The Core, Angerfist, AniMe, Bass-D & King Matthew, BillX, Blaster, Bloodlust, Broken Minds, Bulletproof, Buzz Fuzz, Catscan, Crucifier, D-Fence, D-frek, D-Sturb, Da Mouth of Madness,

en nog 82 andere artiesten →

Dana, Darkraver, Dart, DaY-már, Deadly Guns, Deathroar, Delete, Delta 9, Den=, Destructive Tendencies, Digital Punk, Dione, Dither, Dr. Peacock, Dr. Terror, Drokz, DRS, E-Force, Evil Activities, F. NøIzE, Floxytek, Furyan, Gizmo, Hard Infantry, Hellsystem, Hyrule War, JKLL, Korsakoff, Lil Texas, Mad Dog, Marc Acardipane, Mike Redman, Miss K8, Mr. Ivex, Mutante, N-Vitral, Ncrypta, Negative A, Neophyte, Never Surrender, Noisekick, Nolz, Nosferatu, Ophidian, Outblast, Panic, Partyraiser, Paul Elstak, Pavo, Predator, Promo, Radical Redemption, Radium, Re-Style, Rebelion, REVIVE, Rooler, Rotterdam Terror Corps, Scarphase, Sefa, Shadowlands Terrorists, Sjammienators, Spitnoise, Sprinky, Sub Sonik, Syco, Tha Playah, Tha Watcher, The Destroyer, The DJ Producer, The Satan, The Sickest Squad, The Speed Freak, The Viper, The Vizitor, Thrasher, Tommyknocker, Tripped, Unexist, Warface, Waxweazle, Weirdo
Pandemonium ·

The Pre-Gathering

84

H7 Warehouse
Amsterdam
Akira, Arjuna, Dana, Hatred, Hellfish, Ophidian, Promo, Resonant Squad, Ruffian, Ruffneck, SRB, The Destroyer, The Sickest Squad, The Viper, The Whistlers, Tommyknocker, Tripped
115 opmerkingen
Wat een set op MOH
lekker he

heeft echt lekkere nummers, eigen sound

Raving Nightmare was awesome !!! Destroyer break the spaekers i want more !
26 Juni @ Rotterdam

straight beat speedcooooooooooooooooooooooooooooooore

http://www.youtube.com/user/slamm123neukjemoeder#p/a/u/2/9iib-z1P5T0
hopelijk snel weer in NL, dominator was knallen
hij moet echt snel weer naar nederland komen
Hoop dat ie weer op Masters komt dit jaar! Destroyer #1
Yes, hij treedt op tijdens Thunderdome..­
Morge 1 uurtje op Pandemonium ook!