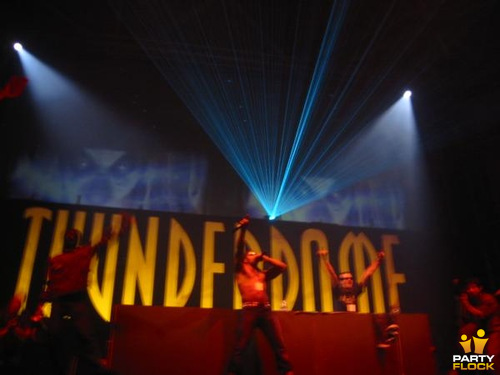 Thunderdome 2002
· 12 oktober 2002
| | |
| --- | --- |
| Naam | Marc Trauner |
| Functie | DJ, live act, producer |
| Geslacht | man |
| Aliassen | Ace The Space, Alien Christ, Marshall Masters, The Mover, PCP, Rave Creator |
| Lid van groepen | Smash & The Oldschool Commanders |
| Herkomst | Duitsland |
| Genres | hardcore, harddance, hardstyle, hardtrance, techno |
| Site | acardipane.com |
| Aanwezigheid | |
| Affiliaties | 7 |
Biografie
The Godfather of Hardcore,
Marc Acardipane
is the creator behind monikers such as
The Mover
, Mescalinum United, Pilldriver,
Rave Creator
and the co-founder of Planet Core Productions (
PCP
). He is widely regarded as a result of his prolific career in electronic music, which spans from 1989 to the present day.
With the 1990 masterpiece, "Mescalinium United - We Have Arrived", Marc mapped out his sonic blueprints spawning the heavier, hardcore end of the techno spectrum. The global impact and influence of this record was huge and its legacy continued in 2017 with Acardipane's new Planet Phuture imprint.
Marc's music has had hundreds of releases on many renowned labels and has been one of the most influential electronic music artists to date.
Acardipane's discography possesses a unique timeless quality, difficult to achieve for many who try to follow in his footsteps. He continues to inspire today's electronic music's generation, illustrating the unique and powerful state-of-mind his productions bring forth.
Uitgaansagenda Marc Acardipane
Masters of Hardcore ·

Magnum Opus × 25 Years

7
2485

Brabanthallen
's-Hertogenbosch
Act of Rage, Akira, Alee, Amnesys, Andy The Core, Angerfist, AniMe, Bass-D & King Matthew, BillX, Blaster, Bloodlust, Broken Minds, Bulletproof, Buzz Fuzz, Catscan, Crucifier, D-Fence, D-frek, D-Sturb, Da Mouth of Madness,

en nog 82 andere artiesten →

Dana, Darkraver, Dart, DaY-már, Deadly Guns, Deathroar, Delete, Delta 9, Den=, Destructive Tendencies, Digital Punk, Dione, Dither, Dr. Peacock, Dr. Terror, Drokz, DRS, E-Force, Evil Activities, F. NøIzE, Floxytek, Furyan, Gizmo, Hard Infantry, Hellsystem, Hyrule War, JKLL, Korsakoff, Lil Texas, Mad Dog, Marc Acardipane, Mike Redman, Miss K8, Mr. Ivex, Mutante, N-Vitral, Ncrypta, Negative A, Neophyte, Never Surrender, Noisekick, Nolz, Nosferatu, Ophidian, Outblast, Panic, Partyraiser, Paul Elstak, Pavo, Predator, Promo, Radical Redemption, Radium, Re-Style, Rebelion, REVIVE, Rooler, Rotterdam Terror Corps, Scarphase, Sefa, Shadowlands Terrorists, Sjammienators, Spitnoise, Sprinky, Sub Sonik, Syco, Tha Playah, Tha Watcher, The Destroyer, The DJ Producer, The Satan, The Sickest Squad, The Speed Freak, The Viper, The Vizitor, Thrasher, Tommyknocker, Tripped, Unexist, Warface, Waxweazle, Weirdo
Dekmantel Festival

25

Amsterdamse Bos, Amstelveen
Air Max '97, Bambounou, Batu, Blanck Mass, Cinnaman, Damien Dubrovnik, Deadbeat, Elena Sizova, EZ, Herrensauna, Hyph11E, Jensen Interceptor, Josey Rebelle, MCMLXXXV, Nazira, Objekt, OMOLOKO, Parrish Smith, Phillip Jondo, Platypus Records DJs,

en nog 15 andere artiesten →

Plead, Radical Hi-Fi, Relmer International, Robert Hood, Roza Terenzi, rRoxymore, Sherelle, Skee Mask, StennY, Stingray, The Mover, Theo Parrish, Tikiman, Venetian Snares, Vintage Voudou
44 opmerkingen
Set op Nightmare

Slaves To The Rave
Stereo Murder
Today, Tomorrow, Forever
Hardcore Motherfucker
At-Mos-Fear
zow kan je nog wel ff door gaan ain`t no party like a alcoholic party, six million ways to die, etc
1 nummer roeleert van hem RETURN TO ZERO

The Kings are coming van O.G.s

Uitspraak

van verwijderd op vrijdag 29 december 2006 om 08:56:

OA Mescalium united.­ We have arrived
dat is ook bekend spul
Slaves To The Rave
van dit nummer krijg k gwoon koude rillingen over me rug....pffffff
Uitspraak van MP op donderdag 17 mei 2007 om 12:10:
MARC =­ GOD OF RAVE

the REAL godfather of hardcore
Inderdaad!

Zijn remix van Sweet Dreams is echt briljant geproduceerd!
The people want more
Tja...goeie...alleen is deze van Darrian Kelly en the Ultimate Mc