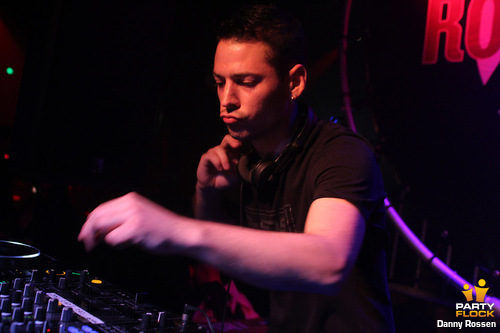 The Sickest Squad Concert
· 28 april 2012
| | |
| --- | --- |
| Naam | Denis Masson |
| Functie | DJ, live act |
| Geslacht | man |
| Herkomst | Frankrijk |
| Genres | frenchcore, tekno |
| Boekingen via | audiogenic.fr |
| Aanwezigheid | |
| Affiliaties | 3 |
Biografie
Denis aka "Maissouille" started mixing in 1999 to satisfy his passion for electronic music. In 2002, he started to compose his own music and to play in public in free events, which allowed him to open out ! His rythmic compositions enflamed the dance floors and his talent became recognized and so began his career....

From 2004 to 2006, this very prolific artist produced about 20 maxi vinyls on labels such as Biomaster, Audiogenic, Kryzalide Bassterprod, UndergroundTekno, all of them big successes and so he became well-known throughout France. His first two CD's, "Le projet Ko" in 2007, and "Phase of Master" in 2008 were also great successes with a public seeking new music. A meteoric rise !

Naturally many bookings followed and he continued to perform mixes and lives in many events, not only in big festivals like Nordik Impact, Electromind, Montagood, Q-BASE, Masters of Hardcore, and others, but also in evenings throughout France and abroad (Poland, Italy, Spain, Belgium, Switzerland, Germany, Austria, Russia, Czech Republic).

In 2010and 2012 he played in Spain's biggest festival Monegros.
In 2009 he became a producer when he created 2 labels "Biomaster" and Gaz Moutarde" making a large number of maxis and versuses with such big names as Radium, Speed Freak, etc.

His third album "Onde de choc" came out on the label Audiogenic on 19th of October 2009 and this was followed by 13 dates throughout France. This opus is a suite of 15 varied titles from Tribe to Frenchcore, from rave to hangar, in an original style that was affective and seduced the public !
Today he is preparing his new album Blackout Project which will be followed by a tour after its release in October 2012 and which should be explosive....

Maissouille has become one of the most sought after dj's of today's international Hardtechno/Hardcore scene !
Ground Zero ·

Underworld

4
8264

Recreatieplas Bussloo

Bussloo

Nederland

Recreatieplas Bussloo, Bussloo
A-Kriv, Adreno Krome, Al Twisted, Alex Kidd, Amada, Amnesys, Arjuna, Baba, BeatFreak, Bit Reactors, BMBSQD, Caine, Champ-e-on, Chaotic Hostility, Chrono, Critical Mass, Da Pauli, Da Rhino, Dano, Death by Design,

en nog 107 andere artiesten →

Deathmachine, Delta 9, Deterrent Man, Dirty Bastards, Dither, DJIPE, Doctor Terror, Dolphin, DRS, Dyprax Xclusive, Ednozem, Fant4stik, Franky Jones, Frantic Freak, Freestyle Maniacs, Gabba Front Berlin, Gangsta Alliance, Ghost, GPF, Groan-er, Hellfish, Hellseeker, Human Resource, Hungry Beats, I See, Igneon System, Innominate, Invector, Jack of Sound, Jeffius, Jones & Stephenson, Jordens, Justino, KetaNoise, Kurwastyle Project, Laurent Hô, Le Bask, Lenny Dee, Lenz, Leviathan, Maissouille, Makebelieve, Malice, MarLoose, Meccano Twins, Miss Djax, Miss Enemy, Miss Hysteria, Mystery, Mystery Guest, Ncrypta, Nekrosystem, Noisekick, Outsiders, P-Fiction, Paranoizer, Party Animals, Project Exile, Psiko, Psyched, Putty, Radium, Raiden, Reloaded, Resist, Resonant Squad, Retaliation, RG, Ricardo Moreno, Riot Shift, Rob Da Rhythm, Royal S, Rude Awakening, s'Aphira, Sei2ure, Skull Demon, Skullcrusher, SpeakerFreakz, SRB, Stinger, Striker, System:Overload, Tec-9, Tellurian, The Demon Dwarf, The Destroyer, The DJ Producer, The Masochist, The Noizedizorder, The Opposition, The Rough, The Russian, The Sawerz, The Speed Freak, The Ultimate MC, Thera, Thundergods of Asgard, TrAiNeR, Triggah, Tripped, UKTM, Vandalism, Vecino, Vitellus, Voodoo Child, Wavolizer, Ysiss
Dream Nation #4 ·

After Techno Parade

3032

Les Docks de Paris

Aubervilliers

Frankrijk

Les Docks de Paris, Aubervilliers
Absurd, Ace Ventura, Andy C, Art of Fighters, Azax Syndrome, Berg, Camo & Krooked, Cleric, Darktek, Derrick May, Doctor P., Electric Rescue, Elisa Do Brasil, Emmanuel Top, Eptic, Evil Activities, Floxytek, Fly, Growling Mad Scientists (GMS), Juno Reactor,

en nog 12 andere artiesten →

Kill The Noise, Lenny Dee, Lucy, Maissouille, Manu Le Malin, Megalodon, Miss K8, Must Die!, Radium, Sensifeel, Steve Rachmad, Symphonix

Frenchcore s'il vous plaît! #12

1106

Rodenburg

Beesd

Nederland

Rodenburg, Beesd
Bit Reactors, Dark Connection, Digital Violence, Dualcore, Hungry Beats, J.Retrosound, Kurwastyle Project, Le Bask, LoezLe, Maissouille, Neurokontrol aka N'Ko, Noisekick, NSD, Radium, Randy, s'Aphira, Sandy Warez, Sirio, Sjammienators, Statix,

en nog 8 andere artiesten →

Striker, Tharoza, The Braindrillerz, The Demon Dwarf, The Speed Freak, Unproven, Yowii, Ysiss
Pandemonium ·

The Mutating Symbol

2551

Sporthallen Zuid

Amsterdam

Nederland

Sporthallen Zuid, Amsterdam
Alee, Alien-T, Amnesys, Angrey Agressive, Art of Fighters, Bike, Catscan, Cek, Cryogenic, Da Rushstyler, Dano, DaY-már, Delta 9, Deterrent Man, Detest, DRS, Endymion, Frantic Freak, Goetia, Hardbouncer,

en nog 45 andere artiesten →

Korsakoff, Laurent Hô, Maissouille, Meccano Twins, Miss Zelda, N-Vitral, Naughty Kicks, Noisekick, Noize Suppressor, Nosferatu, NSD, Omkara, Ophidian, Placid K, Predator, Progamers, Promo, Psyko, Radium, Randy, Ruffian, Ruffneck, Sequence & Ominous, Simon Underground, Skull Demon, SRB, System:Overload, Tha Playah, The Braindrillerz, The DJ Producer, The Kotzaak Klan, The Prophet, The Sawerz, The Sickest Squad, The Stunned Guys, The Twins Artcore, The Viper, The Vizitor, Tieum, Tommyknocker, ToXic Inside, Tripped, Tymon, Vince, Weapon X
21 waarderingen
71 opmerkingen

Morpheus

Morpheus, Hostel, Molecule & Halloween

Op Frea-X echt geweldig gedraaid!
Morpheus, Hostel, Molecule &­
Halloween
vergeet alzheimer niet

Zijn nieuwe cd is echt te heeeeeeeeeerlijk!

Body movin'! Body movin'!!
die is idd bomba

ekte goeie shit.!