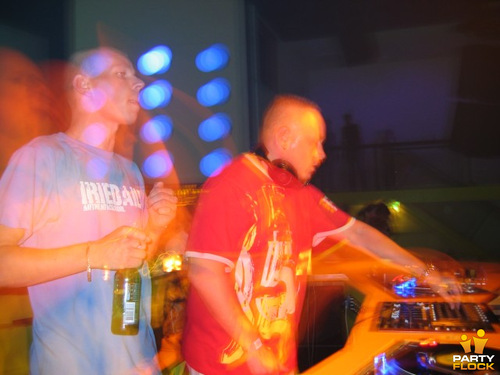 XXlerator
· 7 augustus 2004
Naam
Dennis Copier
Functie
DJ, producer
Geslacht
man
Alias
Panic
Lid van groep
Da Goodfellaz
Geboortedatum
Leeftijd
45
Herkomst
Nederland
Genres
early hardstyle, hardstyle
Aanwezigheid
Affiliaties

2

Lid

Panic(Corona Fan)

(10 feb 2017)
Biografie
In 2000
Balistic
started together with The Beholder a label that's representing the Hardstyle sound in Holland. The name of the label was going to be Seismic Records.
Balistic
produced the first release with The Beholder called: DJ C.S.-Cum. After a few other big tracks the label got recognition due big hits like: "Geal-Losing my feelin'", "Decibel Anthem" and "
Hard Bass
Extreme" that reached nr.1 in the Dutch Dance Charts for 3 weeks.
Balistic
and The Beholder are responsible for these big tracks. As a dj he has a lot of experience and he has played already in a lot of big clubs and events like
Decibel Outdoor
,
Hard Bass
Extreme and
X-Qlusive
Holland. He is also one of the resident Dj's of
B2S
-Events. In the future you're going to hear a lot more of this dj.
Uitgaansagenda Balistic
Decibel Outdoor Festival

10
1966

Beekse Bergen
Hilvarenbeek
20 Years Ruthless, A-lusion, Act of Rage, Adaro, Adrenalize, Alee, Alpha Twins, Andy Svge, Angerfist, AniMe, Apexx, Art of Fighters, Atmozfears, Audiotricz, Aversion, B-Front, Balistic, Barbenators, Basspunkz, Bloodlust,

en nog 106 andere artiesten →

Brennan Heart, Broken Minds, Buzz Fuzz, Catscan, Crude Intentions, D-Block & S-te-Fan, D-Sturb, Da Mouth of Madness, Da Syndrome, Dana, Darkraver, Dart, Davide Sonar, Dazzler, Deadly Guns, Deepack, Delete, Demi Kanon, Densha Crisis, Devin Wild, Digital Punk, Dissoactive, DL, Dolphin, Dr. Rude, Drokz, DRS, DV8, E-Force, Endymion, Franky Jones, FrenchFaces, Frequencerz, Frontliner, Hard Effectz, Hellcreator, Imperatorz, Imperial, Invector, Jason Payne, Kasparov, KELTEK, Korsakoff, Lady Dammage, Livid, Lucien Foort, Luna, Mad Dog, Mark with a K, Miss K8, N-Vitral, Ncrypta, Neophyte, Noisecontrollers, Nolz, Nosferatu, Panic, Pat B, Paul Elstak, Pavo, Phuture Noize, Predator, Primeshock, Promo, Psyko Punkz, Pussy lounge Kickstart, Radical Redemption, Ran-D, Ransom, Rebelion, Rejecta, Ricos, Riot Shift, Rob & MC Joe, Rooler, Ruffian, Ruthless, RVAGE, Sefa, Sephyx, Solstice, Sound Rush, Spitnoise, Stanton, Streiks & Kratchs, Suicide Rage, Tellem, Tha Playah, Tha Watcher, The Beholder, The Pitcher, The Viper, The Vizitor, Thera, Thyron, Tommyknocker, Trespassed, Tymon, Unifire, Unresolved, Vandalism, Vertile, Vince, Warface, Wavolizer, Wildstylez
Uitgaansagenda
Panic
(alias)
gisteren:

Rotterdam loves Houseclassics #3

= livestream

20:00 - 01:00

Alee, OCD, Panic, Stanton, Ton TB, Yves

90's Forever Outdoor

2
37

Maastricht Aachen Airport, Beek
90's Forever DJ team, Beppie Kraft, Boney M, Captain Jack, Darkraver, Francois, Goud & Fout, Jessy, Loona, Malice, MAXX, Nakatomi, No Mercy, Otto Lagerfett, Panic, Pat B, Paul Elstak, Potato, Q-Music Het Foute Uur, Rob & MC Joe,

en nog 9 andere artiesten →

Ruthless, Snap!, The Mackenzie, The Viper, UHM Allstars, Victoria - Das Helene Fischer Double, Vince, Whigfield, Wolter Kroes

Decibel Outdoor Festival

10
1966

Beekse Bergen, Hilvarenbeek

Decibel Outdoor Festival

9
1727

Beekse Bergen, Hilvarenbeek
Abaddon, Adaro, Alee, Angernoizer, Artifact, Audiotricz, B-Front, Barber, Bass Chaserz, Bass-D, Bike, Bountyhunter, Chris One, Chucky, Coone, Cryex, Crypsis, Crypton, D-Attack, D-Fence,

en nog 68 andere artiesten →

Da Mouth of Madness, Da Rick, Da Syndrome, Dark-E, Darkraver, Democian, Destructive Tendencies, Dimitri K., Dione, Dither, Dozer, DRS, E-Noid, Element, Francois, Frequencerz, Geck-o, Genius, Genox, Greg C, Hard Driver, Headhunterz, Jappo, Josh & Wesz, Juliëx, Killshot, Kruelty, Lars, Livid, Luminite, Luna, Mad Dog, MYST, Neroz, Odium, Panic, Paul Elstak, Phuture Noize, Ran-D, Rebelion, Regain, Rejecta, Requiem, Restrained, Reza, RG, Ruffian, Ruffneck, Ruthless, Scarphase, Scarra, Scott Brown, Sjammienators, Slim Shore, Sound Rush, Spitnoise, Stanton, Sub Sonik, Tatanka, Tha Playah, The Dark Horror, The Purge, The Viper, Udex, Uzi, Villain, Voidax, Wasted Mind

Masters of Hardcore

87

Brabanthallen, 's-Hertogenbosch
Act of Rage, Akira, Alee, Amnesys, Andy The Core, Angerfist, AniMe, Bass-D & King Matthew, BillX, Blaster, Bloodlust, Broken Minds, Bulletproof, Buzz Fuzz, Catscan, Crucifier, D-Fence, D-frek, D-Sturb, Da Mouth of Madness,

en nog 82 andere artiesten →

Dana, Darkraver, Dart, DaY-már, Deadly Guns, Deathroar, Delete, Delta 9, Den=, Destructive Tendencies, Digital Punk, Dione, Dither, Dr. Peacock, Dr. Terror, Drokz, DRS, E-Force, Evil Activities, F. NøIzE, Floxytek, Furyan, Gizmo, Hard Infantry, Hellsystem, Hyrule War, JKLL, Korsakoff, Lil Texas, Mad Dog, Marc Acardipane, Mike Redman, Miss K8, Mr. Ivex, Mutante, N-Vitral, Ncrypta, Negative A, Neophyte, Never Surrender, Noisekick, Nolz, Nosferatu, Ophidian, Outblast, Panic, Partyraiser, Paul Elstak, Pavo, Predator, Promo, Radical Redemption, Radium, Re-Style, Rebelion, REVIVE, Rooler, Rotterdam Terror Corps, Scarphase, Sefa, Shadowlands Terrorists, Sjammienators, Spitnoise, Sprinky, Sub Sonik, Syco, Tha Playah, Tha Watcher, The Destroyer, The DJ Producer, The Satan, The Sickest Squad, The Speed Freak, The Viper, The Vizitor, Thrasher, Tommyknocker, Tripped, Unexist, Warface, Waxweazle, Weirdo

Sunglow Festival

204

Recreatieoord Binnenmaas, Mijnsheerenland
Alee, Angernoizer, Armand, B, Boogshe, Bulletproof, Critical Mass, Crude Intentions, Cryogenic, Dana, Darkraver, Dimitri K., Dither, Estasia, Gizmo, Greazy Puzzy Fuckerz, Hard Effectz, Lunatic, Mad Dog, Marc Acardipane,

en nog 15 andere artiesten →

Mental Theo, N-Vitral, Never Surrender, No-iD, OCD, Panic, Partyraiser, Paul Elstak, Repix, Ricos, Rob & MC Joe, Rooler, Stanton, The Prophet, Vettriano
Slaves to the Rave ·

Amigo's Reunion

42

Dolhuis, Dordrecht
Buzz Fuzz, JDA, Lyrix, OCD, Panic, Reflect, Ruffian, Vince, Yves

Rotterdam Loves Houseclassics

29

Hal 4, Rotterdam
Darkraver, Igor Mendoza, Klubbheads, Lars, Mark van Dale, OCD, Panic, Rob & MC Joe, Robbie Taylor, Stanton, TMC, Ton TB
Lost Memories ·

50 Years Yves

32

St. Jan Kerk, Roosendaal
Angelic, Apster, Armand, Bjorno, Blanda, Clayton Cash, Critical Mass, Danger Hardcore Team, Dark-E, Darkraver, De Mannen van Weleer, Dustin Hertz, Dutchman Jack, Francois, Franky Dux, Freaco, Furax, Genius, Human Resource, M,

en nog 11 andere artiesten →

Nowaxx, OCD, Panic, Paul Brugel, Rob & MC Joe, Sonic Solutions, Stanton, Steyno, The Retro Project, Wakiyan, Yves
7 Gates to Hell ·

The ghost of the past

10

Sans Souci, Berlikum
Bass-D, Chosen Few, Dano, Defendor, Double T, Drip, G-Town Madness, Gabber Syndrome, Justino, Panic

Vinyl Sessions

38

Lab-1, Eindhoven
D, JDA, Panic, Potato, Quint, Sceletor, Vince

Supersized Kingsday Festival

1266

Aquabest, Best
A-lusion, Access One, Act of Rage, Adrenalize, Alee, Alpha Twins, Angernoizer, AniMe, B-Front, Bass Chaserz, Basspunkz, Buren van de Brandweer, Catscan, Chucky, Crypton, D-Block & S-te-Fan, D-Sturb, Daani, Darkraver, Dash,

en nog 68 andere artiesten →

Davide Sonar, Deadly Guns, Deepack, Delete, DRS, DV8, E-Force, F. NøIzE, Fatguys, FeestDJ Put-In, Frequencerz, Frontliner, Geck-o, Jantje, JDA, Jones, Josh & Wesz, KELTEK, Livid, Luna, Mad Dog, Major Conspiracy, MANDY, Mark with a K, MD&A, Miss K8, MYST, N-Vitral, Neophyte, Noisecontrollers, Nozem, Outsiders, Panic, Partyraiser, Paul Elstak, Phuture Noize, Plug 'N Play, Ran-D, Ransom, Re-Style, Rebelion, Rejecta, RG, Rooler, Ruffneck, Ruthless, Sefa, Sjammienators, Sjieke Bazen, Sound Rush, Spitnoise, STTRBSTN, Tellem, Tha Playah, Tha Watcher, The Pitcher, The Viper, The Z., Thera, Timmy, Trespassed, Unifire, Unresolved, Vandalism, Vertile, Warface, Yves, Zany