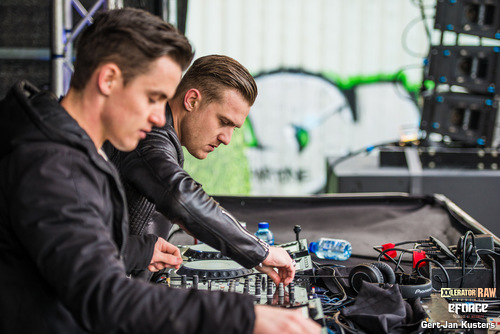 XXlerator Raw: E-Force
· 15 april 2017
Biografie
Their history started back in 2015 when Bart and Max collaborated and continued their path together as '
Deluzion
'. Their mission was to participate in as many contests to show the world what they had to offer. Hard work pays off and they won every single contest, including: Shockers, The One Who Knocks and the
B-Front
Producers Contest. Before they knew it they where stealing the show at
X-Qlusive
B-Front
.
As it goes, one thing leads to another and
Deluzion
was signed to
Fusion
Records.
The requests for gigs poured in and
Deluzion
preformed at events as MondayBar,
X-Qlusive
,
Decibel Outdoor
,
Rebellion
, Rebirth,
WiSH Outdoor
,
The Qontinent
and
XXlerator
. They didn't stop there as they will release their first EP this year called 'Street Revolution'. Big names as
Requiem
, Titan,
Adaro
,
Deetox
and
B-Front
supported different tracks from
Deluzion
.
Their music is known for it's combination of hard kicks and atmospheric melodies. While performing they alternate old sing-alongs with the newest hits to make the finest party set.
Deluzion
ensures you that no crowd is safe for the amount of energy these guys unleash on stage!
Uitgaansagenda Deluzion
X-Qlusive ·

Phuture Noize

227

AFAS Live
Amsterdam
Apexx, B-Front, Deepack, Deluzion, DJ Contest Winner, Enemy Contact, Frequencerz, Invector, Jesse Jax, KELTEK, Livid, Phuture Noize, Ran-D, S1ngular, Sefa, Sub Zero Project, Villain, Voidax
Emporium ·

Celebrations

481

Recreatieterrein De Berendonck
Wijchen
$hirak, 5$ SHAKE, Adaro, Afro Bros, Aftershock, Alee, Altijd Larstig & Rob Gasd'rop, Audiotricz, Bassjackers, Bram Krikke, Brooks, Charly Lownoise & Mental Theo, ChildsPlay, CHIMP, Chipz, Chivv, Chocolate Puma, Clockartz, Code Black, Crypsis,

en nog 86 andere artiesten →

D-Block & S-te-Fan, D-Fence, D-Sturb, Da Syndrome, Da Tweekaz, Daani, De Lievelings Dj's van je Zusje, Deadly Guns, Deepend, Delete, Deluzion, Deuxperience, Devin Wild, Diquenza, Dopebwoy, DYLVN, Dyna, E-Force, Erick E, FEESTNATION, Freddy Moreira, Frenna, Frequencerz, Greentree, Het Feestteam, High Voltage, Invector, Irwan, J-Flava, Jay Reeve, Jean, Jody Bernal, Johnny 500, KELTEK, Korsakoff, La Fuente, Licious, Lil Kleine, LNY TNZ, Lucas & Steve, LVNDSCAPE, Malice, MANDY, Marboo, Mark with a K, Maurice, Mia More, Mr. Belt & Wezol, MYST, Ncrypta, Neroz, Outsiders, Partyraiser, Pat B, Paul Elstak, Phuture Noize, Pjotr, Primeshock, Quintino, R3HAB, Rebelion, Rejecta, Rewind Allstars, Ronnie Flex, ROOG, Rooler, Ruthless, Salvatore Ganacci, Sensue, Seth Hills, Sjieke Bazen, Snelle, Sub Zero Project, Tabitha, The Entourage, The Partysquad, The Underdogs, The Viper, Tony Junior, Trobeats, Vieze Jack, Villain, Vyral, Wildstylez, Yung Felix, Zonderling