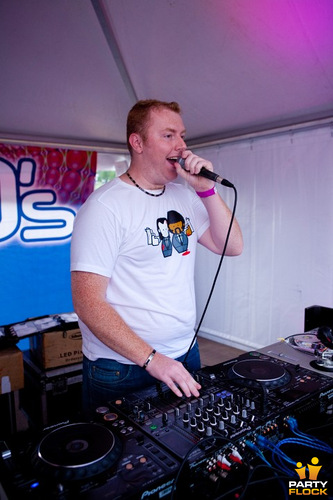 Dance Boulevard
· 1 augustus 2010
Party agenda
Pat B
(alias)
Heilig Bloed Festival

gratis

Vrijheid 129, Hoogstraten
D-wayne, Dave Lambert, Johan Veugelers, Mathy, Pat B, Wim Soutaer
Airborne Festival
1189
Evenemententerrein Bosschenhoofdsestraat, Bosschenhoofd
Activate, Alee, Audio Mechanics, Clayton Cash, Cryogenic, Crypton, Dark-E, Demi Kanon, DL, Dr. Rude, Francois, Franky Dux, Frequencerz, Genius, J-Mat, Lunatics Of The Sky, Mark with a K, Partyraiser, Pat B, Primeshock,

en nog 13 andere artiesten →

Ran-D, Re-Shock, Rebelion, Rejecta, Requiem, Revelation, Rob & MC Joe, Slagerij Janssen, Sound Rush, Spitnoise, Unifire, Vandalism, Yves
Sunrise festival
45
De Lilse Bergen, Lille
Crypsis, Dash, Deadly Guns, Hard Driver, Lawrence, Lost Identity, Makasi, Mathy, MATTN, Mitched, PartyShakerz, Pat B, Phazes, SEBA, Sephyx, Sidney Samson (nog niet compleet)
Sunrise Festival
48
De Lilse Bergen, Lille
5napback, Anemis, Brooks, Capital Candy, Captain Bass, Charlotte de Zwette & Amelie Pens, ChildsPlay, Chucky, Close Crew, D-Block & S-te-Fan, Dannic, Dave Lambert, Delafino, Devin Wild, Dominico, Double Pleasure, Drivah, E-Force, Elenore, Equalizer,

en nog 53 andere artiesten →

F.R.A.N.K, Frenna, Funkerman, Gee, Hijacker, Hydrolikz, Iljac, Indian, It all started in the Nineties, Jack The Ripper, Jantje, Jay Reeve, JNXD, La Fuente, Licious, Lil Kleine, Louis XIV, MANDY, Mark with a K, Maze, Mental Theo, MERLO, Mesto, Michael Amani, Miss BontBeats, Miss Faith, Mr. Belt & Wezol, Netrek, Pat B, Premium, Primate, Ran-D, Redknight & Duro, Refuzion, Rejecta, Robert Falcon, Ronny Retro, Sakso, Sefa, Seko, Sem Thomasson, Sephyx, Shurakano, Simix, Snelle, Sub Zero Project, Sublinerz, The Xlent, Unsenses, Upgrade, Used, Woodlock, Yolotanker (nog niet compleet)
Sunrise festival
47
De Lilse Bergen, Lille
Adrenalize, Basstripper, Bizzey, Chucky, Coone, Curbi, D-Bro, D-Nasty, D-Sturb, Da Tweekaz, Dash, Dopebwoy, Dr. Peacock, Drivah, Dub Sense, Dusk, Ecstatic, Emphasis, FonckyTime, Hard Driver,

en nog 29 andere artiesten →

Jebroer, Joack, Josylvio, Keltek, Kenn Colt, Kimaji, Lady Bee, Lady S, Lewis Arlo, Licid, LOOZ, M.I.K.E. Push, Majestic, Mark with a K, Pat B, Phuture Noize, Radical Redemption, Ryu, Shurakano, Simula, Sjaak, Sound Rush, SUB Skankerz, Tony Junior, Underground Showcase, Warface, Woodz, Yngace, Yung Felix (nog niet compleet)
Beachland Festival 2
6
Blankenberge Strand, Blankenberge
Da Rick, Dark-E, Dave Kane, Dee Dee, Discobaar A Moeder, Dolle Jo, F.R.A.N.K, Fatima Hajji, Finest, Fred Baker, Jan, Jan Vervloet, Jessy, Johan Gielen, Kate Ryan, Kid Noize, Loredana, Miss Dyke, PartyShakerz, Pat B,

en nog 10 andere artiesten →

Pat Krimson, Peter Luts, Phemia, Regi, Reign, Robbertoo, Ruthless, Wout, Yves Deruyter, Zany
Fantasia Festival
11
Festivalweide Hamme-Zogge, Hamme
Alain Faber, Bonzai All Stars, Cherry Moon Trax, Chucky, Da Hool, Da Tweekaz, DiMaro, Dimitri Cooman, Evil Activities, Frank Zolex, Franky Jones, Frequencerz, Ghost, Jan Vervloet, Keltek, Kingfisher, Lennert Wolfs, Lester Williams, Licious, M.I.K.E. Push,

en nog 18 andere artiesten →

MANDY, Maori, Mark with a K, Mike Thompson, Mosimann, Olivier Pieters, Pat B, Quincy, Rebelion, Refuzion, Regi, Robert Falcon, Sandro Silva, Sub Sonik, Wout, X-Tof, Youri Parker, Yves
So W'Happy Festival
23
Evenemententerrein Rongy, Rongy

verdeeld over alle dagen

: Act of Rage, Angerfist, Angernoizer, Art of Fighters, Atmozfears, Audiotricz, BillX, Bonzai All Stars, Bountyhunter, Brennan Heart, Chucky, Cimai, Coone, CP, D-Block & S-te-Fan, D-Sturb, Da Mouth of Madness, Da Tweekaz, Danger Hardcore Team, Danny C,

en nog 59 andere artiesten →

Dash, Deadly Guns, Destructive Tendencies, Devin Wild, Dr. Peacock, E-Max, Ecstatic, Evil Activities, Frank Biazzi, Frenchcore Familia, Frequencerz, Ghost, Gunz for Hire, Hard Driver, Headhunterz, HS, Hyrule War, Jamie Dill, JNXD, Johan, Keltek, Korsakoff, Laurent Warin, Mark with a K, Massimo DaCosta, Michael Forzza, Minus Militia, Mr. Ivex, Mr. Sam, N-Vitral, N.O.B.A, Nick Adamz, Noize Suppressor, Nolz, Nosferatu, Olivier Pieters, Partyraiser, Pat B, Phi-Phi, Phuture Noize, Quincy, Radical Redemption, Ran-D, Re-Style, Rejecta, Rob Gee, Rôdham, Sandy Warez, Smith Davis, Sprinky, Sub Sonik, Sub Zero Project, Super Trash Bros, Tha Playah, The Sickest Squad, Tranceball, V.I.N.C.E., Warface, Youri Parker (nog niet compleet)
The Qontinent ·

Island of Intensity

12
165
Puyenbroeck, Wachtebeke
Chucky, Coone, Dark-E, Dash, Ecstatic, Emphasis, Imperatorz, Jay Reeve, JNXD, Kronos, Krowdexx, Pat B, Psyko Punkz, Radical Redemption, Retrospect, Thyron
The Qontinent ·

Island of Intensity

12
179
Puyenbroeck, Wachtebeke
Adaro, Alee, Anhatema, AniMe, Bass Chaserz, Blaster, Broken Minds, Charly Lownoise & Mental Theo, Chok Dee, Clockartz, Crypsis, D-Attack, D-Block & S-te-Fan, D-Fence, D-Sturb, Da Syndrome, Darkraver, Dash, Degos & Re-Done, Demi Kanon,

en nog 48 andere artiesten →

Denza, Deterrent Man, Devin Wild, Dither, DL, Dr. Rude, Dustin Hertz, EddyHardcore, Evolver, Footworxx Militant Crew, Greazy Puzzy Fuckerz, Hard Driver, Hardbouncer, Hatred, Isaac, Jason Payne, Korsakoff, Kristof, Lost Identity, Lowriderz, Lunakorpz, Mad Dog, Malice, MANDY, Mark with a K, Miss K8, Miss Puss, MYST, Ncrypta, Outsiders, Panic, Pat B, Ransom, Rebourne, Rejecta, Riot Shift, Sandy Warez, Sefa, Sei2ure, Sephyx, Sub Zero Project, TerrorClown, The Melodyst, The Satan, The Sickest Squad, Unresolved, Yoshiko, Yves
The Qontinent ·

Island of Intensity

12
185
Puyenbroeck, Wachtebeke
Act of Rage, Adrenalize, Andy The Core, Angernoizer, B-Front, Bestien, Brennan Heart, Caine, Chucky, Crypton, Da Tweekaz, Dark-E, Davoodi, Deadly Guns, Deathroar, Deetox, Def Toys, Delete, Destructive Tendencies, Dr Phunk,

en nog 44 andere artiesten →

Dr. Peacock, DRS, E-Force, F. NøIzE, Fanatics, Frequencerz, Hard Effectz, Headhunterz, Hyrule War, Keltek, Lady Dammage, Lethal MG, Livid, Lobotomy Inc, Mr. Ivex, N-Vitral, Neophyte, Never Surrender, Partyraiser, Pat B, Phuture Noize, Playboyz, Primeshock, Public Enemies, Qatja S, Ran-D, Rebelion, Refuzion, Regain, Requiem, Restrained, RG, Ronald-V, Rooler, Ruthless, RVAGE, Sound Rush, Spitnoise, Sprinky, System:Overload, The Dark Horror, Trespassed, Villain, Warface
Decibel Outdoor ·

The Weekend

1053
Beekse Bergen, Hilvarenbeek
Adaro, Adrenalize, B-Frontliner, D-Fence, Dash, Devin Wild, Dr. Peacock, DV8, Kit Hype, Luna, Mad Dog, Nolz, Odium, Pat B, Re-Style, Rejecta, Ruthless, Sound Rush, Tha Playah, Wasted Mind,

en nog 1 andere artiesten →

Zatox
Land of Love
1
Festivalweide Steenveldstraat, Torhout
Akyra, Bass Shaker, BPm, Chocolate Puma, Clsjrd Brthrs, Cyrix, Da Rick, Dark-E, DiMaro, Emphasis, Fleddy Melculy, Ghost, Gunther D, Hard Driver, Janez Detd. Punk Rock High School, Jay Hardway, JNXD, Johannes Heil, Junne, Kenn Colt,

en nog 29 andere artiesten →

M.I.K.E. Push, Magnetica, Man Outta Space, MANDY, Manu Kenton, Mark with a K, Marko de la Rocca, Michael Forzza, Neon, Olivier Abbeloos, Olivier Pieters, Pat B, Quincy, Remco Beekwilder, Remy-X, Robert Abigail, Seba Lecompte, Setaoc Mass, Sidney Samson, Teka B, The Launch, The Servants, Tone, TorquenT, TRiXY, Turbeau, Ummet Ozcan, Ward, Yves Deruyter
Sunglow Festival
131
Recreatieoord Binnenmaas, Mijnsheerenland
Alee, Armand, Balistic, Boogshe, Boozze Brothers, Buzz Fuzz, D-Fence, Darkraver, Dr Phunk, Genius, Gizmo, Kit Hype, Krumbler, Marc Acardipane, Mark with a K, MD&A, Never Surrender, Panic, Pat B, Paul Elstak,

en nog 14 andere artiesten →

Ricos, Rob & MC Joe, Rob V, Robs, Ruthless, Sefa, Stanton, Sub Sonik, Tha Playah, The Viper, TMC, Unknown Suspects, Vettriano, Yves
Pussy lounge #100 ·

The VIP edition

17
Rotterdam Ahoy, Rotterdam
Adaro, Alee, Bass Chaserz, Bass-D, Dana, Dark-E, Darkraver, Deepack, DL, Dr Phunk, Korsakoff, Luna, Mark with a K, Mental Theo, Neophyte, Nosferatu, Panic, Pat B, Paul Elstak, Promo,

en nog 6 andere artiesten →

Ransom, Ruffian, Ruthless, Tha Playah, The Viper, Zany
12 waarderingen
MysticMara:

Wat een heerlijk setje op Bassrlers Outdoor 28-5-2011!!!

Ik ben fan!!!

DeChameeer:

Hij Blijft Gewoon Goed! Maar ik zie hem liever als Pat B, want dan draaid hij classics!!!

Janamaro Barradini:

Heel fijn setje op danceboulevard! Op bassrulers 06-11 net zo goed....­??

ArtStyle:

Topper op Dancepark !!!

Quintuz:

Nice set op bassrulers!

J-Bo's event support:

Heerlijke setje op Decibel. Pussy Lounge en Bassrulers.

Miss Puss:

pussy lounge was vetjes zeer leuk gedraaid, je hebt je fan verdient

luve ya

S the MF B:

Juist Patje!

Berry-S:

Je was Fantastisch op Decibel!

Bigboldy:

Wat langer horen draaien in de Pussy Lounge, was echt prima toeven, heerlijk oude beats, zo anders als de rest!!

06-Bierfles :beer::

lekker setje op Decibel!

Hazard / The Unknown Force \ Von Dalez:

heb je maar heel even horen draaien patrick maar het ging goed daar in de Pussy Lounge!
8 opmerkingen
Patser Baas

Je was geweldig op Bassrulers! Echt genoten.­ Ga zo door!