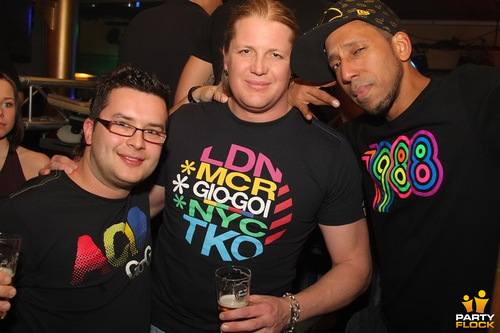 1992 is 4 you!
· 16 februari 2008
Recensie
Parkzicht
· 1 maart 2007
Oude tijden herleven met de driedubbelaar "Parkzicht".
gisteren: Decibel outdoor ·

the festival

8
5487
Beekse Bergen, Hilvarenbeek
Adaro, Adrenalize, Akira, Alee, Alpha Twins, Andy Svge, Andy The Core, Angerfist, Angernoizer, Apexx, Art of Fighters, Atmozfears, Audiotricz, B-Front, Balistic, Bass Chaserz, Bass Modulators, Bass-D, Benny Rodrigues, Boogshe,

en nog 164 andere artiesten →

Bountyhunter, Brennan Heart, Buzz Fuzz, Caine, Catscan, Chain Reaction, Chaotic Hostility, Charly Lownoise, Chris One, Claudio Lancinhouse, Clockartz, Coone, Crude Intentions, Crypsis, D-Block & S-te-Fan, D-Fence, D-Sturb, Da Syndrome, Da Tweekaz, Darkraver, Dart, Dash, Davide Sonar, Deadly Guns, Deepack, Deetox, Delete, Demi Kanon, Destructive Tendencies, Devin Wild, Diesel, Dissoactive, Dither, DL, Dr Phunk, Dr. Peacock, Dr. Rude, Drokz, DRS, Dustin Hertz, Dutch Movement, DV8, E-Force, eDUB, Endymion, F. NĝIzE, Frequencerz, Furyan, Genius, Ghost, Gizmo, Goetia, GPF - Greazy Puzzy Fuckers, Groan-er, Guerrillas, Gunz for Hire, Hard Creation, Headbanger, Headhunterz, Hyrule War, I:gor, Imperatorz, Isaac, Jappo, Jason Payne, Jeff, Jerky, Joe, JP, Kasparov, Keltek, Korsakoff, Lady Dammage, Lars, LePrince, Livid, Luna, Mad Dog, Main Concern, Malice, Mark with a K, MD&A, Mind Dimension, Minus Militia, Miss K8, Mithridate, N-Vitral, Neophyte, Neroz, No-iD, Noisecontrollers, Noize Suppressor, Nolz, Nosferatu, NSD, Oldschool Modulators, Ophidian, Panic, Parkneger, Partyraiser, Pat B, Paul Elstak, Penta, Phuture Noize, Plug 'N Play, Predator, Primeshock, Promo, Psyko Punkz, Radical Redemption, Ran-D, Ransom, Rät N FrikK, Rebelion, Reckless, Regain, Rejecta, Restrained, Rob, Ruffneck, Ruthless, Scott Brown, Sefa, Sei2ure, Shadowfact, Sjammienators, Somniac One, Sound Rush, Spitnoise, Stanton, Stinger, Striker, Sub Zero Project, Tatanka, Technoboy, Tellem, Tha Playah, Tha Watcher, The Melodyst, The Outside Agency, The Pitcher, The Prophet, The R3belz, The Sickest Squad, The Stunned Guys, The Viper, The Vizitor, Thrashmachine, Tommyknocker, Traxtorm Legends, Triple T from Italy, Tripped, Tugie, Tuneboy, Unexist, Unlike Others, Unresolved, Vince, Warface, Wildstylez, Yves, Zany, Zatox, €LIT€
vandaag: Decibel outdoor ·

the weekend

3
362
Beekse Bergen, Hilvarenbeek
Adaro, Alee, Audiotricz, Bass Modulators, Brennan Heart, Cyber, Darkraver, Digital Punk, DL, Panic, Paul Elstak, Phuture Noize, Retrospect, Zany
Outdoor Stereo Festival
560
Julianapark, Hoorn
Adrian Noble, Analog Kitchen, Ananda, Atmozfears, BIGGI, Billy the Kit, Bodhi Olivio, Bouncing Ball, Brosiaz, D-Rashid, Dannic, Darkraver, Delete, Destructive Tendencies, Dirrty Berry, E-Force, Essentials, Freddy Moreira, Galaga, Harde Rammers,

en nog 28 andere artiesten →

Irwan, Jay Shepha, Jeroen Post, Jody Bernal, Jonna Fraser, Jordan Ville, KETS, KLAP, Kruelty, La Fuente, Lucien Foort, Mystery Guest, Najel Monteiro, OJKB - Ouwe Jongens Krentebrood, Phuture Noize, Pimbo, Punish, René van der Weijde, Rob Boskamp, Rob Lee, Ryan Benoir, StukTV, Sweet Le Freak, Syllie G, The Boy Next Door, The Conflux, Vunzige Deuntjes, Walter Looks
We Love the 90's
460
Goffertpark, Nijmegen
Ace of Base, Apster, Aqua, Blackbox, Charly Lownoise & Mental Theo, Coenio, Critical Mass, Culture Beat, Darkraver, Dune, Klubbheads, Nakatomi, Party Animals, Paul Elstak, Special D, T-Spoon, The Dreamteam
90's all round party
Feesttent Bergstraat, Born
Darkraver, Dune, Greatski, Sandy
Fuze Outdoor
127
Stadspark, Veenendaal
Adaro, Adrenalize, Alwin Frank, Amezez, Bass Modulators, BIGGI, Charissa Jong, D-Rashid, Darkraver, Darryl Devaio, De Kraaien, De Rode Pimpernel, Dutch Movement, Frankie Ruscello, Freddy Moreira, Genius, Gert Willemse, Grande Vida, GvH, Hard Driver,

en nog 22 andere artiesten →

Jeff Ace, Jord G., Joren Edwards, Kasparov, La Fuente, Legato G, May, Omen, Outsiders, Park & Sons, Pavo, Puinhoop Kollektiv, Ran-D, Reza, Ruben Vitalis, Sam Blans, Saphera, Sub Zero Project, The Flying Dutchmen, The Sickest Squad, The Viper, Ziggy
Sunglow Festival ·

Victim of Venom

453
Recreatieoord Binnenmaas, Mijnsheerenland
Andy Raw, Armand, Boogshe, Bountyhunter, Critical Mass, Crude Intentions, Darkraver, Dr. Peacock, Frequencerz, Korsakoff, Marshall Masters, N-Vitral, Native, OCD, Outsiders, Panic, Paul Elstak, Promo, Resonator, Ricos,

en nog 5 andere artiesten →

Rob & MC Joe, Ruthless, Stanton, TMC, Vettriano
Pussy lounge XXL
106
Rotterdam Ahoy, Rotterdam
Alee, Bass-D, Darkraver, Dr. Rude, Mark with a K, Neophyte, Paul Elstak, Ruthless, The Viper, Wildstylez
Lunatixx ·

The Freestyle Festival

35
Goffertpark, Nijmegen
Charly Lownoise & Mental Theo, Da Tweekaz, Darkraver, Deepack, DV8, Frequencerz, Jebroer, Mark with a K, Pat B, Paul Elstak, Plug 'N Play, The Viper, ZazaFront
Goldfinger Classics ·

Back To The Future

78
Maaspoort Sport & Events, 's-Hertogenbosch
Bass-D, Darkraver, M, Mental Theo, Panic, Paul Elstak (nog niet compleet)
Ghosttown ·

25th Anniversary edition part II

391
Central Studios, Utrecht
Armand, Buzz Fuzz, Da Mouth of Madness, Darkraver, Flo, Frantic Freak, G-Town Madness, Isaac, Lucien Foort, Marc Acardipane, MD&A, MissBehave, Painbringer, Paul Elstak, Petrov, Promo, Reza, Rob & MC Joe, Ruffneck, Scott Brown,

en nog 6 andere artiesten →

Stanton, Tec-9, Tha Nouky, The Hitman, The Raver, TMC
Foute Kerstparty XXL
1
SilverDome, Zoetermeer
Darkraver, Dave Roelvink, Jerome, Jody Bernal, K-Liber, Lawineboys, Party Animals, Q-Music Het Foute Uur, Samantha Steenwijk
2 waarderingen
| | | |
| --- | --- | --- |
| | 079und­ergrou­nd: | Haagse Opperwaus! Steve ken gewoon heerlijk classics mixen op tempo,punt.. bv.ook "anders" als prodigy en tuffcrew erdoorheen gooien vroeger in Park.. die paar keer |
| | Oldsko­olRick­y: | Deze man is één van mijn jeugdhelden en een stadgenoot.­ |
15 opmerkingen
STEVE MAATJE

super kicken gozer altijd lachuh met hem
believe in steve!!!

je accound naam voor XBOX playzit3 OF WII DS CUBE SUPER 64 NINTENDO DREAMCAST SEGA EN ALS JE DYHARTBENT JE ATARI
GROETEN VAN DONINTENDO RASTALIMIT
P.­S.­

BESTE WENSEN VOOR 2010 EN EEN SUPER UIT EINDE

()______­)________________________­))))))))))

VAN DOMINIQUE &­ DE HAPPY FAMILIE