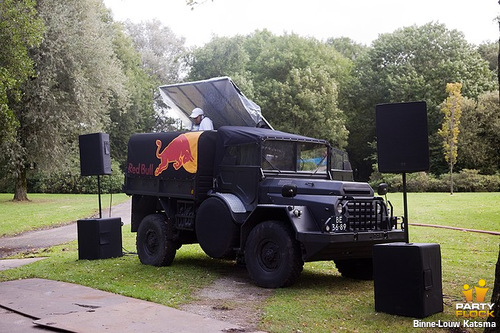 Xplode
· 5 september 2009
| | |
| --- | --- |
| Naam | Ronald Weer |
| Functie | DJ |
| Geslacht | man |
| Geboortedatum | |
| Leeftijd | 43 |
| Herkomst | Nederland |
| Genres | darkcore, early hardstyle, hardcore, hardhouse, hardstyle, house, industrial hardcore, oldschool, techno, tekno, terror |
| E-mail | ronald.weer@gmail.com |
| Aanwezigheid | |
| Lid | dj DIZZY |
Biografie
At the age of 7 Ronald Weerman a.k.a DJ Dizzy knew that he wanted to become a DJ one day. So, when he was 10 years old he started organising parties with his own light equipment and his home stereo. After some years Ronald Weerman discovered House music and fell in love with underground styles like Hardcore and Rave. After visiting his first Thundedome party in Thialf and watching the big boys at work, Ronald Weerman definitely knew that being a Hardcore DJ would be it for him.
Starting out at some local parties as DJ Dizzy, Ronald soon got respected in his area as a DJ. After winning three major Dj contests and winning a 2nd place (out of 3000 participants) at an ID-T dj contest, DJ Dizzy became one of the biggest Hardcore names of the northern Netherlands. This resulted also in more bookings outside his region. With his contagious moves and energy DJ Dizzy soon became beloved by many promoters and Hardcore lovers.
DJ Dizzy played in his previous years at many big events such as 'Ground Zero Festival" (with nRa), 'Play Festival", 'Wicked City", '2Fast4Trance/2Hard4U?", 'Demon City" and great local parties such as 'Illegal Vibes", 'Planet V.I.P.", 'Flatline Hardcore", "Hardcore Intellect", 'Pinhead" and 'The Energy of the Core". In the northern Netherlands there is no party without DJ Dizzy on the line up. Now it is time for the rest of The Netherlands and Europe to get caught by the uniqueness of our truly 'crowd-pleaser' DJ Dizzy!

Uitgaansagenda Dizzy
Play! Festival ·

Cartoons In Progress

231

Fun Farm Poppenwier
Poppingawier
Apac, Arjen de Haan, Barry Xwood, Bass Collectors, Bass-D, Beute, Bilboni, Biliguudei, Bolster, Brainiegek, Brainmaster, Cheese, Chosen Few, Cor Fijneman, Da Mouth of Madness, Dano, David Leese, Defendor, Different Aspects, Dizzy,

en nog 59 andere artiesten →

DJ Contest Winner, DJ The Enforcer, Douwe van Netten, Ednozem, Esmo, Faniac, Ferdy, Fire between us, G-rard, Gabber Syndrome, Geert, Habich, Harlem Demolition Crew, Jappo, Jay Underground, Joannes, Justino, Kaycie, KCMA & T-Plus, Killahbee, Kipa, Kyntnis, Lemon8, M-Thijs, Mike Spinner, MiniTech Project, Miss Thalia, Mooforce, Mystery Guest, Negative A, Neophyte, Niro, NOHZM, Omistettu, Ophidian, Oscar Seinen, Painbringer, Panic, Pathogen, Pitch-Hiker, Putty, Rabies, RawTech, Remsy, Rice 'n Roni, Ruffneck, Shadowlands Terrorists, Simstim, Skitzofreak, Spiikker & Houtskroef, Steve Mulder, T-incredible, The Crazy 2, The DJ Producer, TomtecH, Ton TB, Unexist, Waxweazle, Yorit FM
20 opmerkingen
HHey man lekker bezig..­