I'm going to start off with something I find very important to know your opinion on: how do you think the quality of the harddance-/ hardhousescene is nowadays, compared to five years ago before all the young cats started to drop releases like every week?
Ed Real
: "Harddance is a catch-all bracket that encompasses 4/4 music that is tough and energetic. We've moved so far beyond that off-beat madness of 2001 and are now playing tracks that are created by producers with techno, hardhouse, trance or hardcore backgrounds… Five years ago, we released BK records every week! That's what happens when a new producer breaks through. They have an energy that sweeps all aside. It's a positive thing. Variety is the spice of life and in 2006 my set contains more variety than ever before. That's why with our new album, we're visiting new countries like Russia, Dubai and Brazil to showcase our sound to as many people as possible."
BK
: "There is still some great material out there and the variety is bigger than ever. One of the most exciting things about harddance is that it can always evolve with the times. With harddance being so varied at the moment, it opened up lots of new doors. I'm playing all types of gigs and will often be the only tougher dj on the bill. This allows us to play to a whole new audience and spread the word."
­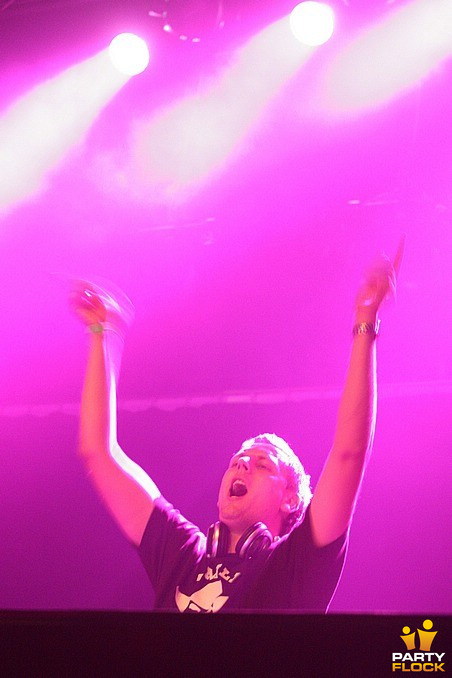 ­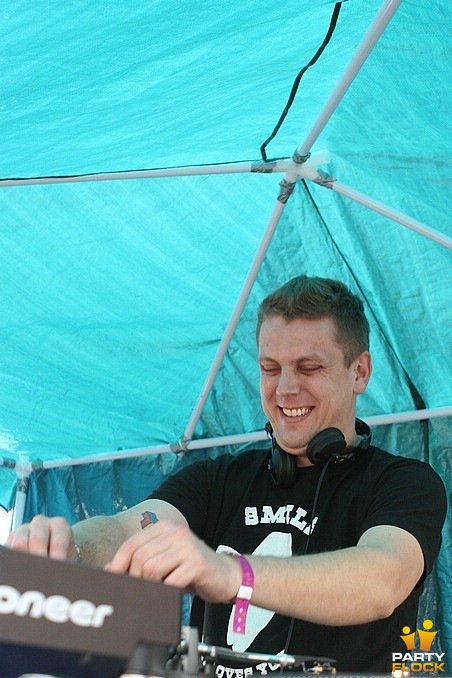 Ed Real
Nukleuz Records became one of the leading labels of hardhouse, the both of you receive quite a big part of the credits for that. You also both left Nukleuz a few years ago to start a new label called "Riot!". Just how difficult is it to start your own new "empire"? Do you think Riot! would have also been as successful as it is when you hadn't been famous due to your Nukleuz achievements?
Ed Real
: "It's crazy to think that in just over eighteen months of releasing music on Riot!, we're about to embark on a twenty date world tour invited by some of the biggest promoters on the planet to showcase our sound. I'm sitting here in Australia writing this in the middle of the biggest tour I've done in five years of visiting the territory. The impact of our parties, music and overall ethos to pushing boundaries and kicking ass on the dancefloor has been worldwide, and to achieve this in such a small time really surprises me.
Nukleuz is part of our collective history. We can't change that and we're proud of being integral parts of the biggest selling dance record label the 21st Century will ever see – why wouldn't we be? The dance scene will never see a label release four records a week, each selling up to tenthousand copies, ever again. If Riot! Records makes half the impact we will be very happy… but the scene is not the same and probably won't be again."
BK
: "Its only been eighteen months since we began and I'm still surprised how much we have achieved. We have artists on the label like
Judge Jules
,
Lisa Lashes
and
Nick Sentience
to name a few. These are some of the best in the business. At a time when labels are struggling we seem to be releasing a broad variety of styles and a consistent quality. Obviously we have learnt from our time at Nukleuz and apply that to knowledge now. The markets are different now so things will never be the same but they are still as exciting as we embrace new ways of working. We have a different challenge."
Riot! has had some very strong releases over the last two years, in which we could hear a huge evolution. BK, you even did a remix of "Unfinished Sympathy", where did you get the idea to update this classic to Riot!-2005-style? What did Massive Attack think of the remix?
BK
: "We actually covered the track. All the vocals and music were re-recorded for our version. Scott and myself were on tour in Australia and both thought it would be a great idea. The trouble with doing covers like that, is that they will never compare to the original so you have to take your own slant on it. It's more of a "hats of" to a classic."
Five years ago, no one could suspect that the harddancescene would change as much as it did over the last few years. When you compare the old releases to the new ones, there's just an immense gap between them. How do you think the music will be in five years from now? Will the basics of the music be the same or will the youngsters change the music even more than they've already done?
Ed Real
: "Music will always change, since 2001 this kind of music hasn't stopped evolving and as with evolution, different strands appear. Those different strands will always cross over between each other and young people will always love to dance to tougher music. You do the math and see how exciting the future will be if this continues…
Also, in 2006 the hardstyle scene – which is an important division of harddance – is using the same old-skool samples and rave influences to rock insanely huge crowds around the planet. That's the same vibes as Nukleuz and Tidy had around 2001 with a unique European production style and that's wicked. I love it and really enjoy playing Q Dance parties. The UK and Holland have a similar taste to dancing all night to banging music, but we have a different perspective and history. That makes things really exciting and a trip to Holland is always an education for me – the local DJ's and producers always give me ideas on how to make our music better and vice versa. Vive la difference!
Riot! Records has also adopted a techno or trance base for our releases and that shows just how open minded the scene is. Both exist and the biggest producers and DJs in both scenes are still very much in demand."
BK
: "As a producer a lot depends on what technology is available. Five years ago I was more limited than I am now. But I also believe that as equipment becomes easier to use and more readily available producers will have to work harder to be more individual as everybody will have access to the same sounds."
As founders of a record label, could you explain the lack of UK hard music in our recordshops in Holland? As three years ago, we used to get new tracks from the UK every week, but now we're lucky just to be able to buy five good releases a month. Why is that?
Ed Real
: "You have hardstyle. You have trance. You have techno. The pure source of all these comes from Holland and mainland Europe and at the moment there's no demand for the UK hybrid sounds. However, I will bet money that in five years time there will be a fusion from the UK that will be incredibly popular in Holland and the rest of the world. That's the rave scene baby! And people like ourselves at Riot! and
Danny D
at
HQ
and
I Love Hardhouse
are working on the future."
BK
: "For me the harddance ethos is all about moving the sound forward and keeping the attitude. The labels that didn't are no longer releasing records. Also as we have said before: our scene now demands variety that appeals to everyone. Although Riot! releases tougher music, each release is different. We are constantly working to find that new edge."
What do you think of the complete domination that hardstyle and hardcore have of the market in Holland? As it is only in Holland where hardstyle is king, but the rest of the world is more open minded towards different harder styles.
Ed Real
: "I think hardstyle and hardcore are brilliant! Extreme music is what turns me on! On tour in Australia I am rinsing DJ
Zany
,
Walt Jenssen
and
Clive King
productions alongside new tracks from
BK
and
Nick Sentience
. As a music lover and a DJ there is no difference – it rocks or it sucks! I can understand that if there is one dominant sound in Holland, then it might be too much. It's the same for me and I react against the same old shit. But for me the answer is to mix it up and try and show people that there's more to dance to. I guess that that's an aspect which still boosts my DJ career nowadays."
BK, you're going to do a very special live set at I Love Hardhouse vs Riot on Queensday, 29th of April. What can we expect? Will your set be a mixture of your own records and productions of other artists or will you do an exclusive selfproduced set? And what is it exactly that you do "live"?
BK
: "It's a mish mash of all my own material from the Nukleuz days to the present day. I've re worked loads of material to work in the live format and had a wicked time doing it. It's amazing how many well known tunes you can fit in an hour. Because of the advances in technology I can remix material live.
­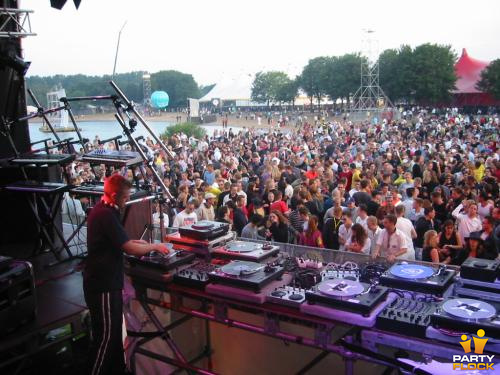 ­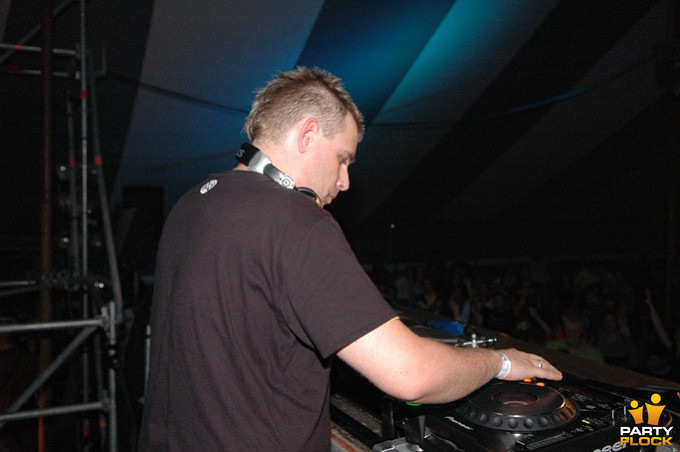 BK
Ed, you started a new digital download service called "Trackitdown.net". What did you expect the label to grow out to when you started it? And does it still match your expectations nowadays?
Ed Real
:
www.trackitdown.net
is a digital download website that sells music from twothousand labels to twentythousand customers in onehundredandseventy countries around the world. Legal downloading is the future of dance music; more variety and cheaper music to fans in the world who aren't as lucky to have the same income or exposure to vinyl as us in the UK or in Holland. In the next two weeks we are launching version 2.0 which will revolutionise how you can listen and buy dance music. Right now, I only play CDs most of which are sourced from our website – and this is the same for ninety percent of all UK DJs. The biggest DJs in the UK are customers of
www.trackitdown.net
and we're damn proud of that!"
You've been living in this industry for a big part of your life now. What are your future plans? Can we expect more new (digi)labels to be founded? Will you be performers for the rest of your lives or will you move to the background doing a managing job in the music industry eventually?
Ed Real
: "My business will evolve as the industry does. If three years ago, you would have told me that I would be one of the pioneers of digital music distribution then I would not have believed you. But that's where we are now… I am very happy to be playing records in clubs and raves for ten years now and see that mega-stars like Carl Cox are still playing records when they are ten years older! It gives me hope and gives me something to continue to aim for."
BK
: "I'm not a member of the
www.trackitdown.net-staff
, so that doesn't go for me, but I do feel the same about the rest Ed says. You keep finding new goals to aim for."
The party at Kingdom Venue, 29th of April, is the launch of your first Riot! album. Why has it taken so long to release the first album?
Ed Real
: "Although we've been holding Riot! parties for five years, the label is now reaching a level whereby we have so much great music that we can combine the two; putting together two disks of awesome music by some of the biggest names including
Judge Jules
,
Lisa Lashes
,
BK
,
Nick Sentience
, Mark Sherry (
Public Domain
) and many more, and then taking the show around the world to promote the sound and the vibe of Riot!
The album is called
'Filthy House For Dirty Stopouts'
and it covers everything from tough house, trance, techno and hardhouse and we hope it shows why we think our label is one of the most exciting on the planet. Who else has their music supported by such a wide range of DJs as Paul van Dyk, Carl Cox, Judge Jules, Tidy Boys and Deep Dish? Well, we have over the last year through our releases and remixes and once again: we're extremely proud of that. The linking factor is a love of late nights and loud music – if that's your bag then check it out!"
­
­
­
­
I asked the Dutch harddancefanatics to send me their questions for you, so here are some of the things they wanted to know:
KRL: Ed, where does your neverending enthousiasm come from? You always have the biggest smile when you're playing of just visiting a party, doesn't matter when or where. Was that the reason you were voted "The industry's biggest party animal"?
Ed Real
: "I love the energy of a good rave! Some DJs scratch or make mixes last for five minutes long, but I make some fucking noise and try to involve everyone in the party with my love of the music. We're all dancing to the same beat and I am so happy that it's my beat. That's why I am smiling."
*Animaniac*: BK, where does your constant inspiration for your tracks come from? You've produced so many tracks, you'd say your inspiration has to run out sooner or later.
BK
: "Like already said: variety is the spice of life. I just try to get a different mood for each record I make. Some are good for a warm up set, some are peak time, some are hard and some are cheesy. Quite often I will identify what music is missing in my DJ sets and make a track to order. It's very easy as a producer to try and compete with the success of previous releases, I just try and forget about the last release I made and concentrate on the next one. More than often I just go with the flow."
Jim_Justice: BK, how do yo feel about VSTi softsynths replacing hardware in many studio's? Have you sticked to hardware or have you gone fully digital too?
BK
: "I made the move about three years ago now. Before then I was writing my music on an MPC 60 with all the hardware. Now I run a G5 with Logic and loads of plugins as well as some out board gear. Technically things are easier nowadays, but you have to be very careful with plugins, they are a lot more ready available with preset sounds. That makes it easy to be lazy and not be as creative. When I first started you had to programm a lot of your own sounds. I think this is still important, other wise your material will have no character."
Nazzz: What's the exact reason you left Nukleuz and decided to start all over with Riot!? And what do you think of Nukleuz's trance- & hardtrancereleases over the last few months?
Ed Real: "When you enter into any industry, you hope that one day you will be your own boss. I don't play the music released by Nukleuz, but I also don't play the music from Tidy. However, thousands of people do and that's great. Without them, the scene would be a smaller place… if either of them released stuff that I liked, then I would play it tomorrow. We're in slightly different head spaces."
BK
: "I haven't played a new Nukleuz record for a long time. One of the reasons why I left was because I am a creative person and the sound we made well known had become stagnant and had not progressed. That's not to say lots of people dont like it. It was just not for me any more. If they released stuff I felt did fill that I liked, I would definitely play it. The fun and the challenge for me was creating a new sound and vibe, which is what we now do with Riot!"
Time for the more important things in life. Please pick one of the two options mentioned.
CD or vinyl?
Both: "CD."
Cheese sandwich or meatloaf?
Both: "Meatloaf!"
"Paradise By The Dashboard Light" or "I Would Do Anything For Love?"
Both: "Erm… neither!"
Producing of DJ-ing?
Ed Real: "DJ-ing", BK: "Both (sorry!)."
Orange or White TicTacs?
Both: "Orange."
Dance Valley or Creamfields?
Both: "Dance Valley!"
HQ or Riot!?
(expect threatening emails of partypeople when you choose Riot!) "We like both equally (how diplomatic haha!)"
DJM 600 or DJM 909?
Ed Real: "600. Why change perfection?", BK: "Both, and running a laptop at the same time haha!"
2000 or 2006?
Ed Real: "Pass!", BK: "Is it 2006 already???"
MSN chatting or using the good old telephone?
Both: "MSN for the endless files of new tracks from around the world."
And the usual last one I ask every interview: music or women?
Both: "Today? Music."
Ed Real
will make appearance at both
I love hardhouse queensday streetrave
and
I Love Hardhouse vs Riot
BK
will perform his liveset for the first time in Holland during
I Love Hardhouse vs Riot
.
www.bkworld.net
www.trackitdown.com
www.riotinlondon.com
­