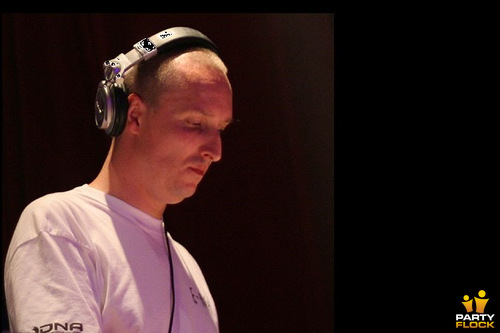 The Rebel Alliance
· 30 juli 2005
| | |
| --- | --- |
| Naam | Erik Ypma |
| Functie | DJ, producer |
| Geslacht | man |
| Aliassen | Dione, SRB |
| Lid van groep | DNA DJ-Team |
| Geboortedatum | |
| Leeftijd | 47 |
| Herkomst | Nederland |
| Site | djdione.nl |
| Aanwezigheid | |
| Affiliaties | 4 |
| Lid | E-Noid |
Recensie
E-Noid - E-scapism
· 14 januari 2007
Liefhebbers van kwaliteit opgelet! E-Noid brengt ons zijn album 'E-scapism'.
Hardkaze Festival #1 ·

War for Mystery

1872
Zénith Oméga de Toulon, Toulon
A-lusion, Adrenalize, Andy The Core, DEATH BREAK, Deetox, eDUB, F. NĝIzE, Frequencerz, Lady Dammage, Meggido, Partyraiser, PYRA., Rebelion, Refuzion, Scope DJ, Sefa, SRB, Stephanie, The Clamps, The Fallen
Footworxx ·

The Underground Festival

1315
Le Cadran, Luik
A-Kriv, Angernoizer, Anhatema, Blaster, Bloodcage, Chok Dee, D-Fence, Darktek, Deterrent Man, Detest, Dr. Peacock, EddyHardcore, eDUB, Evolver, F. NĝIzE, FrenchFaces, Future Kickz, Goetia, Hardbouncer, Hatred,

en nog 21 andere artiesten →

I:gor, Insane S, MBK, Miss K8, Noise Stylerz Activities, Repix, Sandy Warez, Sei2ure, Sjammienators, SRB, Stolen Cult, Switch Technique, TerrorClown, The Punisher, Trouble G, Tymon, Unproven, Vandal, Vandalism, X-Mind, [KRTM]
Noisekick's Terrordrang - Germany
650
Mikroport.club, Krefeld
Dexcore, Dissoactive, Doctor Terror, Groan-er, Junkie Kut, KlereHerrieKrew, Kurwastyle Project, Lysergide, Members of Noisekick Records, Nekrosystem, Noisekick, NSD, Paranoizer, Ralph Brown, SRB, Striker (nog niet compleet)
This is Uptempo
1258
Time Out, Gemert
Andy The Core, Angernoizer, Bane, Bombsquad, Chaotic Hostility, Cryogenic, D-Fence, Deadly Guns, Destructive Tendencies, Drokz, DRS, Estasia, F. NĝIzE, Hardbouncer, Hyrule War, Icha, Lady Dammage, Meltdown, Noisekick, NSD,

en nog 14 andere artiesten →

Partyraiser, Scarphase, Sefa, Sjammienators, Spitnoise, SRB, System:Overload, Tha Watcher, The Sickest Squad, The Syntax MC, The Vizitor, Tieum, Vandalism, Violence
Phoenix ·

The Hardest Outdoor Festival

1587
Vorstengrafdonk, Oss
Act of Rage, Aggressive Act, Andy The Core, Apexx, Arzadous, Bodyshock, Bombsquad, Brutale, Caine, Cryogenic, Crypsis, D-Fence, D-Sturb, Deadly Guns, Deetox, Degos & Re-Done, Delete, Destructive Tendencies, Digital Punk, DRS,

en nog 57 andere artiesten →

Endymion, Estasia, F. NĝIzE, Focus, Frequencerz, GPF - Greazy Puzzy Fuckers, Hardbouncer, Hatred, Hyrule War, Icha, Jack of Sound, Jason Payne, JDA, Korsakoff, Kronos, Lady Dammage, Luminite, Malice, MarLoose, Ncrypta, Neophyte, Neroz, Noisekick, Noize Suppressor, Nolz, NSD, Organized Chaos, Partyraiser, Paul Elstak, Phuture Noize, Radical Redemption, Re-Mind, Rebelion, Repix, Requiem, RG, Riot Shift, Rooler, Sefa, Sins Of Insanity, Sjammienators, Spitnoise, SRB, Sub Zero Project, System:Overload, Tha Playah, The Pusher, The Sickest Squad, The Syntax MC, The Vizitor, Thyron, Tieum, Unresolved, Vandalism, Violence & Bane, Warface, €LIT€
58 waarderingen
[NL] IlleN~G [NL]:

Big massive and PowerFull Terror King Of Kings

...:

D-Fact | 50 %Noise­making Criminals | TN:

in mijn ogen beetje ondergewaardeerd!! Top Producer/DJ

Ryan-D:

RIGHT BACK UP IN YO MOTHERFUCKIN' ASS!!!!

MC Visionary A.­K.­A The Flux:

echt een super lekkr setje op WWWMB

T-ERROR:

Darkcore met de hoofdletter D

Dr Darkness:

samen met NEGATIVE A egt heldenset gegarandeerd

nl-presilla-nl:

E-noid Vs negative A Heerlijke setjes blaze ze samen altijd

D.V.D:

dione,,e-noid,,SRB: maak me nie uit,altijd dikke muziek!! meesterlijk gewoon!!

Dycore aka erwin:

<[Microgun]>:

No one other like this DJ

all his stylez OO awesome

Chris C:

Top producer, top dj en een toffe gast

voor jou

Emoticons Stole My Face :):

gwn darkcore met passie

DJ M-PACK -Hardcore Gives Freedom:

ging lekker op hard2beat

Terror Nijntje Terreur TNT:

İ@$:

_­0_­

Trip-X:

geweldig

' Make'm die slowly.­:

Held

Flying Dutchmen:

E-Noid = Dione

Psychonaut:

E-Noid - Mixmasters

pizza666:

nog even een VETte waardering voor die geweldige set op hellraiser (vechtsebanen)

Boswald:

4woorden: DE MAN heerlijke basskes!!!!!!!!!!!!

De mazzolll:

geweldig!!! RESPECT!!!

nicky-janssen:

echt zeer goed maat jij bent mijn favoriete dj

:bier: Vlugge Japie :banana::

een van de beste darkcore dj's die er is!

STRAFF:

Held

EL Zjwaffelear:

why

A-Dronix:

Vette ragge nummerrss

zowel e-noid als S.R.B.

Soep:

Scream..­ super vet nummer! ook highway 666 remix van srb is super!

;)marky:

respect

Bubje:

N-666_­hardcore devil:

Dione =­ goed, SRB is beter, E-noid is de beste

sportfriek:

goeie rag nummers maakt hij.­

Crazyrobin:

E-noid en SRB, helemaal geweldig, vet veel respect!!

barry white:

Verous:

in 1 woord: TOP

FironX:

GE WEL DIG!

Da HaRdCoRe MaNiAc:

Een fucking HELD!!

PartyAgenda²:

liever dione dan e-noid

The Musketeer:

[ DIONE × E-NOID × S.R.B. ] mijn favorite dj

Back Up

Deeply Disturbed:

Mike' D:

Goed bezig Erik

Top DJ- Producer

E-Noid / SRB

Terror_­Worldwide:

Dione

E-Noid

ma vo S.R.B

MiSs Little E:

nog een harde vent

Respect ook voor deze Dj

Megalodon || Oppers­tamper:

genialiteit en krankzinnigheid liggen dicht bij elkaar

Hardcore PintO!:

dione & e-noid

mijn favoriten egt SUPERR­RRRRRRR!!!

:

:

:

:­

:

:

:

Basje [Omistettu]:

!!!! E-Noid !!!!!!

<REMCO>1985:

E-noid

Pietervz:

DNA RECORDS

Dr.Bob:

Met een Pioneer nog altijd heer en meester

fons de badspons:

geweldig

iGwenda:

D N A

MoniKaatje:

voor onze Hometown DJ! He's the best!!!

hardcore_­holland1986:

hoe noemt precies die nummer 'die hij heeft gedraaid (e-noid)

LSDf:

Respect voor deze man..!

FLICKA:

sTAATus :rot::

:repect:..

Scanhead™:

Erik
63 opmerkingen
E-Noid - Agressive Behaviour

Gewoon Fucking geniaal die gast ..

super

DNA Theory!!!

Erik

E-Noid Of Dione maak niet uit allebij goed

juist !!!!

mixmasters

SeeYa
Zonder E-geen Noid
I wanna 100000miles inhoure Intergalactic Spacyness (SRB) remix

E-Noid - Efficient Methods
komt trouwens binnenkort een dj plague remix van

Uitspraak
van
Emoticons Stole My Face

op zondag 24 mei 2009 om 15:45:
komt trouwens binnenkort een dj plague remix van
staat op de nieuwe tit cd

hoor niet zoveel terug van de track behalve de vocals


The Ghost and Darkness has COME!!!

D-Fact | 50 %Noisemaking Criminals | TN



Dr.Z-Vago - Flying High (E-Noid Remix)

Heeeeeerlijk wous nummertje

zin om te feesten!


Give Me Pain Till I Die!!!
vind ik wel veruit zen minste alias! Geef mij maar gewoon E-noid !!!!

Benieuw voor hardshock!!

Eensch