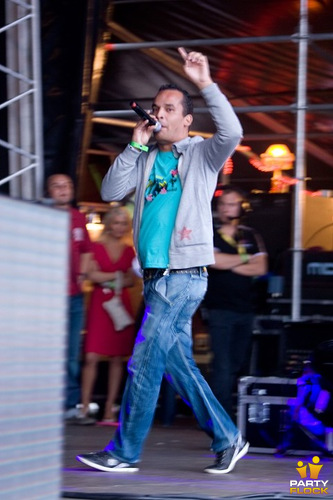 Breda Live
· 11 juli 2009
Biografie
Inspired by the likes of MC Marxman and MC Stretch, MC Gunner successfully grabbed the mic for the very first time in 2004 on the Black Hole Recordings truck during the famous Rotterdam Fast Forward street parade. His performance did not go unnoticed and within a very short period of time his name featured in the line-ups of internationally known festivals like Mysteryland, Impulz Outdoor, Dance Valley and Trance Energy, while at the same time the larger venues and clubs like Matrixx, Escape, Powerzone, Panama and many others wanted MC Gunner on stage to boost their party atmosphere.

MC Gunner's reputation by now had reached the point where the world's best DJs like Tiësto, Armin van Buuren, Paul van Dyk, Marco V, Judge Jules, Eddie Halliwell, Cor Fijneman and Markus Schulz all booked him to MC during their sold out live sets.

In 2008, MC Gunner got hired by Tiësto no less than three times: for his four hour live set at Mysteryland, at his In Search of Sunrise concert in Antwerp and at the Dance4Life Fundraiser in Amsterdam. By December that year, MC Gunner managed to take New Year's Eve in Timioara, Romania to a whole new level at the Future Mask party where the response of the visitors fully confirmed his star quality MCing. In the meantime Gunner became the in-house MC for the Black Hole Label Nights with the sole purpose to ensure a continuous, positive call and response between the Black Hole DJs and the audience; an assignment that took him all over the world and has so far introduced him to Russia, Norway and Romania.

In 2009 hosted all the Alda Events, called Citymoves, where he was the MC of choice for various styles, from house to techno to trance. The performing DJs were Armin van Buuren, Sunnery James, Ryan Marciano, Marco V, Richard Durand, Rank 1 and many, many more. The combination of their shows with the skills of Gunner resulted in a fabulous party atmosphere, event after event. In the summer of that same year Gunner featured as the MC during Tiësto's performance at the Breda Live event and a bit later he again made his appearance at the annual Mysteryland event, where he hosted the High Contrast stage.

2010 saw MC Gunner's first appearance on the main stage at Trance Energy, where he performed with acts and DJs like Above and Beyond and Sander van Doorn. And if that wasn't enough, Gunner was also booked to MC at Tomorrowland on Armin van Buuren's A State of Trance stage. His successful MC'ing there resulted in an assignment from Marco V, who wanted MC Gunner to host the official launch of his T.A.O. Recordings label during a packed event, held an open-air theater.

The year 2011 will have a lot in store for MC Gunner, with already a confirmed booking for the upcoming first edition of Energy The Network, where he will host the Play stage with Tiësto, Sander van Doorn, Moguai and Avicii.In 2011 he also hosted the second big stage at Tomorrowland 2011! On Friday he did Carl Cox and friends and on sunday the stage was heat up for Paul van Dijk presents Evolution!Between the two days on Tomorrowland Gunner also hosted the High Contrast stage at the almighty Sunrise Festival 2011!! One thing is clear: with his perfect timing, contagious enthusiasm, crystal clear and articulate voice, MC Gunner has shown time and again that he knows exactly when to step up to the mic, and when to keep things minimal. His performance will genuinely energize an entire show and strengthen the bond between the DJ and the audience!