Hij is labelbaas van Outburst, dat vijftig releases in twee jaar kende, daarnaast ook een nieuwe zijtak: Techburst en vele optredens over de gehele wereld...
Mark Sherry
is een bezige bij. Wij kregen de kans even kort met hem te spreken terwijl hij op een volgende vlucht zit te wachten. Lees over zijn labels, de artiesten en natuurlijk ook over het onlangs uitgebrachte 'Prism Vol.1'.
Afternoon Mark, thanks for jumping on the line with Partyflock this afternoon. How are you...and where are you!?
I'm currently in Gatwick Airport in London waiting for my flight home. I've just been to the US Embassy to renew my US work visa for another three years. Great news but it's always one of the most stressful things to mentally and physically deal with in this industry. For the US gigs though, always worth it!
We're here to talk about a few things, but first and foremost is your new album Outburst Pres. Prism Vol.1. There was probably a lot of reasons, but what was the primary one you had in launching this mix-comp series for the label?
I suppose it's always the logical next step to take when you launch a label or labels. It's a great way of showcasing some of the biggest releases on Outburst/Techburst so far, and now including Outburst Twilight, and to also give you a peek into the future and let you hear what we've got coming up on all of the labels. It's a great combination of both aspects.
Outburst Records really seems to have taken the scene by storm over the last couple of years. How, in the overstuffed trance label market place, have you managed to get the label to stand out and stand out to quite such a degree!?
I think the key is just 'quality control' to be honest. Every single release gets treated as it's one of my own. Whether it's down to me giving suggestions or advice to the artist/s on how to improve their productions or if it's just a case of me improving on the mastering, then it's something that I always do no matter how busy I am! Also, the artists that I'm pushing are highly responsible for the label doing well. I feel like I've rounded up a really talented group of artists that I love working with, so it makes my life a lot easier. Combine all of this with my own releases too and some really amazing artwork from my designer, then you end up with a not bad label haha!
Outburst has been very busy. You've put out almost fifty releases on the label in under two years and that's before we even get to Techburst. For the label, what do you see as the most catalytic or momentum pushing of those releases?
I don't really want to show favoritism among the artists that I've signed, but there are a few standout tracks for me on the label so far from
Alex di Stefano
and
Jamie Walker
, their releases have been big sellers and done very well with support and in charts et cetera. Plus my own biggest releases like 'Follow Me', my 'Acid Air Raid' (
Scot Project
collab) and 'Let It Come' (Space Bros collab) and most recently 'Gravitational Waves' have all been some of my biggest ever releases, so these have all really raised the profile of the label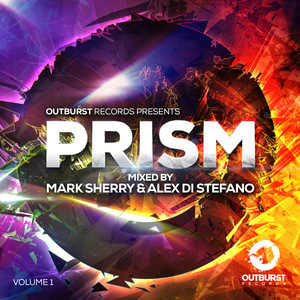 'Prism Vol.1's out now, so first up what's in a name? Why did you choose that title for it?
Easy answer: when you shine white light through a prism you get a full spectrum of colours - and I feel that Outburst gives you the full spectrum of trance music. Slow and chunky tech-trance, faster/ uplifting trance & tech-trance, plus some techno too. All bases are covered within the Outburst 'prism' of sound.
And how have the label's fans and the broader trance scene been reacting to its release?
The reaction has been amazing so far! Everyday my Twitter feed has been full of people taking snapshots of them holding physical copies of the album - it's really great to see haha. Facebook has been full of positive comments as well, it's been a great feeling and very encouraging!
From your mix, what tracks do you think epitomize the label and characterize the mix most clearly?
That's too hard a question I'm afraid, I can't put it down to one single track or even a few tracks, but I do think that now when people hear a track they'll probably know right away if it's an Outburst release or not. I try very hard to only select tracks that have that true 'Outburst' tech-trance sound.
You've done a minimix for the album, haven't you? Where would we go to find that?
The mini-mix is on the Outburst Records Soundcloud page, my personal SC page and also the Black Hole YouTube channel.
The label really seems to have properly broken some new artists too, we're thinking Alex di Stefano in particular here. Was that an intention when launching the label or a happy byproduct of doing so!
I had always planned to launch a label one day but everything felt right in 2014 with the awful EDM boom kicking off etc. I felt that it was time to try and bring some underground tech back to the forefront of the trance scene after me being so heavily influenced by it back in 1999-2006. I had more or less just discovered Alex so wanted to get him involved right from the start - and after him delivering his incredible remix of 'Live & Learn' for OUT001 he was an obvious choice to get some more releases lined up. I asked him if he would be up for doing some tech-trance projects and the rest is history, as they say. He's become a really good friend and we've almost completed our first collab together..so watch this space!
In terms of other future stars of Outburst, who would you suggest we kept an eye on?
There are loads of releases and remixes lined up from myself, Alex,
Scot Project
,
David Forbes
,
2nd Phase
,
Tempo Giusto
, Ikorus,
Stephen Kirkwood
&
Mallorca Lee
, Joseph Mara,
James Dymond
, Everlight,
Allan Morrow
,
ReOrder
and Second Sine ...just to name a few!
We mentioned Techburst earlier, which seems to be near equally beloved amongst the trance frat, albeit a different cross-section perhaps. What is the primary difference between the two labels?
Easy answer again, Techburst is purely for techno around 128-130bpm and Outburst is for tech, trance, psy and very occasionally techno - tempo means nothing on Outburst though, 128-145 is fair game!
Thanks again for talking to us again Mark – a real pleasure. Best of luck with the album and the rest of your summer!
Thanks for featuring me again guys, you've given me loads of support over the years and I really appreciate it - cheers!