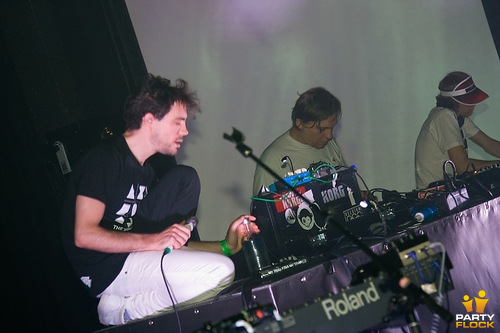 A different Lektroluv nite
· 22 oktober 2008
| | |
| --- | --- |
| Naam | Wiebe Loccufier, Jeroen De Pessemier & Hadrien Lavogez |
| Functie | DJ, live act, groep |
| Groepslid | |
| Herkomst | België |
| Genres | acid, electro, techno |
| Site | thesubs.be |
| Aanwezigheid | |
| Affiliatie | 1 |
Biografie
Since their eponymous debut album Subculture landed at the dusk of 2008, The Subs have………
Played more than 160 shows, travelled to 14 countries, used 12 different airline companies, 2 tour buses and 1 private jet. Between the three of them, they've mailed about 250 post cards and drank about 80 bottles of vodka. On the road, they've lost 5 iPhone adapters and 6 pairs of earplugs. 480 T-shirts were sold and they've counted at least 12 stage invasions and 13 scuffles with venue security. The band remembers 10 speeding tickets and were questioned by the police at least 3 times. They've made 6 music video's, launched 1 blog and recorded 3 videocasts. Their audience took home 3 shoes and ripped 2 pairs of trousers from Papillon's body, who did vomit on stage once.
7 live shows ended with a broken wireless microphone and 2 AX-7 keytars got smashed up. A total of 68 rolls of Gaffer tape were used, about 100 glitter balls were 'customised', more than 70 interviews were given and their tunes featured on 78 compilations. About half of the past 730 days they've spend inside a studio, 45 demo's were made and 21 different versions of new artwork got rejected. About 28 hours were spend discussing the definitive, 11 songs counting track list… but it's here, the second album by The Subs: Decontrol.

A lot has happened to the crew from Ghent, Belgium, since their electroravepunk-whatsinaname powered train started rolling: they celebrated 10 years of Fabric with the give-away Mitshubitchi track, for instance. But also released their acclaimed Vomit In Style EP, featuring stellar remixes from Mixhell, Don Rimini and Les Petits Pilous. Together with the latter, The Subs hooked up for the release of a banging double biller, My Body Is Gonna Remember/Rototom.
But stressed about the most important evolution, the band agree unanimously: their maturation into a fully fledged, all hands on deck live band. "It's our fingerprint", the band says. "Our ticket to open doors and roads. Gone are the freshmen days of 'two CD-J's and a microphone', travelling from one church tower to the next. With this live setting, we can travel anywhere in the world and show the people what the heart, mind, arms and legs of The Subs truly are.".

Are the new tunes that make up Decontrol the fall-out of The Subs' live incarnation? "Not exactly", stresses Papillon. "Playing a live show is not the same as recording an album. They're two different worlds. Electronic music doesn't evolve from four guys jamming together in a shed, it's the fruit of many dark hours sitting behind keyboards and computers", the singer/producer/jumping jack flash adds laughingly.
All the new tracks have been road tested though. Sometimes the band stretched soundchecks into a three hour tweaking session, before unleashing new bits and pieces to a live audience later the same evening. There's been a lot of (soul) searching, trying to find the right tone and feeling of the new album, for which Papillon claims that, besides a new found love, chaos was the main inspiration: "All creativity is born out of chaos. When you allow yourself to give up control, unexpected, beautiful things happen." Creativity from chaos; it almost echo's Malcolm McClaren's famous 'cash from chaos' manifesto - "Well, we don't know about the cash, but there's always plenty of chaos surrounding The Subs", the band agree on, grinningly. And this: "Decontrol is much less a 'fuck you' album than Subculture, and more an 'I'd like to fuck you' album.".

A prime example of the rewarding, creative chaos surrounding The Subs is the smash single The Pope Of Dope, cooked up with the notorious DJ-squad Partyharders. Papillon explains: "They're such fun guys to hang out with, we wanted to collaborate on something sooner or later." It turned out to be sooner than later, when one night, the boys started fidgeting with a stray disco sample and Partyharders chief Le Colonel performed an on the spot recording of his mischievous vocal. During the summer of 2010, the result went from underground oddity to big room carpet bomb and festival favourite in no time, taking everyone, all three Subs included, by surprise.
The dopey pope is absent on Decontrol, but he gave his blessing to the too cool-for-old school house cut Don't Stop, the hyperactive rave jam that is The Hype, the hard hitting techno beats of The Visible Man and the French movie soundtrack-inspired Hannibal (And The Battle Of Zama). There's even some profound philosophies hidden inside Decontrol – the universally appealing club anthem The Face Of The Planet, for instance, or Lemonade, inspired by a quote from American skater/artist Ed Templeton: 'if life gives you lemons, make lemonade'.

"We make music for the shuffle generation", concludes Papillon. "Decontrol covers a lot of bases, but at the same time it definitely serves as a whole. We've become more positive thinking the past few years, I can't wait to infect our audience with that sensation."

The Subs are Jeroen De Pessemier aka Papillon, Wiebe Loccufier aka DJ Tonic and Hadrien Lavogez.