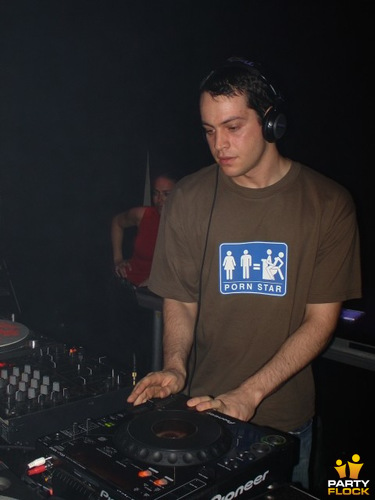 Groovefactory
· 19 maart 2005
Biografie
DJ Amok is well known as one of the founders of the German Hardtechno scene. His work was vital in establishing the scene during it's early days. After ca 20 releases in his first year he already played on several major festivals, including I Love Techno.
With a background in classical music (he learned to play the violin), Amok developed a form of Techno both extreme and unique. His style showcases a sophisticated understanding of music not often found with Hardtechno DJs. His sets work on a deeper level and take the audience on a fierce ride on the thin red line between Techno and Industrial.
His labels Artillery Records and Crowbar with a combined 50 releases have become household names with Techno and Industrial Hardcore DJs as well.
In 2006, Amok started Artillery Bookings with his long time friend ViperXXL. A side project at first, the agency quickly grew into one of the the most important booking agencys for the style, presenting some of the best artists in the scene.
During this time he joined forces with Dutch legend Rude Awakening and released two hit singles on Third Movement and Artillery which pioneered a Mix of Hardtechno and Industrial Hardcore.
Health reasons forced him to slow down and 2009 saw an extended break from DJing, but he stayed active on the vinyl market with the hit "Cleansing the Sphere" produced with Stormtrooper.
After a multi year hiatus due to surgery and health issues, Amok is returning to the stage in 2014.
Career highlights as a DJ include: I Love Techno
, Ground Zero
, Olympic Stadium Barcelona, Mayday (HU, PL), Mysteryland
, Time Warp (GER), Monegros
, Montagood Festival
, Hardtechno Festival
, Syndicate
, Awakenings
, Defqon
, Decibel
, Club r_AW
, Pro-Jekt
, Bass Leader
, H2Zone Festival
, DJ Parade (RUS), Sonic 10
, Imperium
, Hard Noize (New York), Konvolve (San Francisco)
Countries visited: Germany, Netherlands, UK, Belgium, Russia, Ukraine, Poland, Slovenia, Croatia, Bulgaria, Spain, Austria, Czech Rep, USA, Slovakia, France, Serbia, Italy, Malta, Switzerland, etc
7 opmerkingen
Ik vroeg me af waar ie gebleven was al die tijd....­
Hij duikt weer op bij Q-base!
heb toevallig met hem gesproken op Q-base 2011, toen vertelde hij dat hij er een tijdje uit was om privé-redenen maar weer 'back on track' is!