Where it takes others years of playing in local bars and community centers before they, when lucky, make it to a decent club, 1988-born Matthias Billan aka Kodex suddenly appeared at Loudness, being his first Dutch gig. Followed by Defqon.1 Festival. While most others that want to succeed as producers endlessly send demo's to all big labels around the globe, only to watch their hard work disappear in the garbage can, Kodex' first demo (a collab with Sasha F) was pressed on Sigma Records, the second one on StraightOn's Next Chapter and handing out a demo to Showtek resulted in him being part of Dutch Master Works Digital now. Everything Kodex touches seems to turn into gold. Time to find out more about this new name in hardstyle that is for sure gonna be a big one: mark our words!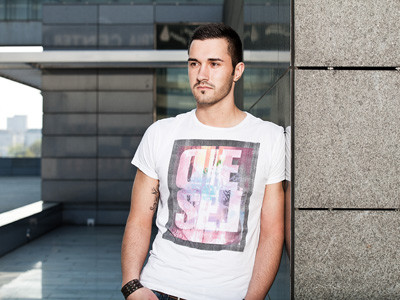 Hi Matthias! Let's go back to the start of this impressive story. That would be 1988, Austria, right? Where did music enter your life?
"Hi there Partyflockers! Yes, I was born in Austria and after two year or so we moved to Munich in Germany. We lived there for about six years and then moved back to the lower part of Austria. It was around that time that I got in touch with music, so I was still very young. MTV and Viva TV covered a weekly show about clubbing and I was very fascinated by what the DJ's were doing. Dance music was already being played on the radio back then, but it wasn't as cheesy as the commercial handsup nowadays. It had a nice hardtrance flair.
Rocco
&
Bass-T
,
Mauro Picotto
and those kind of artists really appealed to me. In the years that followed I was always listening to dance charts and I honestly never heard other kinds of music. It was all EDM. I also came to know hardcore and I really liked it."
When did you decide you wanted to make music yourself?
"When I was 14, we moved back to Vienna. When I was just in high school there, I bought my first turntables. After practicing and spinning for three months I already wanted to create music by myself, so I started browsing every website on the internet I could find about producing. I bought a lot of books about sound design and synthesis and spent most of my free time reading. People advised me to start with Fruity Loops Studio, they said it was easy to handle and a good program to start with. While my friends were hanging out, chilling or playing football after school, I was always behind my pc, trying to create something. I was mainly working on hardcore in the beginning."
How did hardstyle cross your path?
"While surfing the internet for interesting websites and forums about music and producing, I bumped into globalhardstyle.com. The forum had a producer section and I uploaded my first self-made hardcore track. I received a comment from a Dutch guy from
Venlo
who really liked the melody. He was producing music too and asked me if I felt like working on something together. I was sixteen years old and doing an internship in
Mönchengladbach
at that time, which was close to Venlo. I met up with the Dutch guy and we worked on a hardstyle track together, which was my first experience with this genre. The track turned out pretty cool. Hardstyle and I was pretty much love at first sight."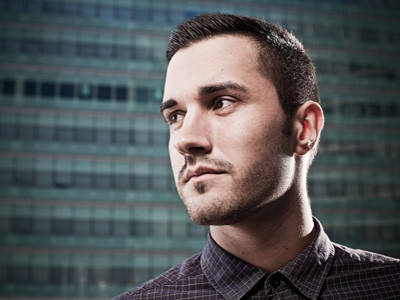 Can you try to explain what was so cool about hardstyle that you decided to make the switch from producing hardcore to hardstyle?
"Definitely the melodies. I've also always been a big fan of distorted kicks, which are pretty typical for the newer hardstyle. I know a lot of early lovers will say the opposite and hate those distorted kicks, but I wasn't in the scene back then. My first experiences with hardstyle were with guys like
Headhunterz
and I really liked the combination of the melody and the kicks being pitched up or down. So I started practicing in producing hardstyle by myself. When I was 18, I met
Sasha F
, also through the internet. I sent him a demo of a hardstyle track I created and he said he liked my sound and wanted to do a collab. We did and the result was 'Trauma', which was released on Sigma Records. I mean, how cool is that? From that moment on I knew I was gonna stick to hardstyle and I was even more motivated to improve my sound."
Were you also still motivated to finish your school?
"Ehhh well, let's say I only did what was necessary not to get left back. I didn't care about high grades anymore, as I was more interested in producing music that would be rated with a high grade (laughs). After high school, I went to University to study architecture. Besides music I was painting and drawing a lot and I was very good in creating things on the computer. But the theoretical part of that study was really boring. For technical stuff I always got A-grades, but I wasn't able to get through the theory. We started at 8am in the morning and I fell asleep in class most of the time. After two semesters I realized it was better to quit school and get a job, so I could spend the money I made on equipment for my studio. I found a technical job at the biggest mobile phone company in Austria and I still work there fulltime."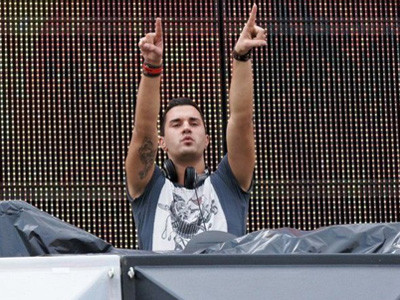 Pretty busy life!
"Yeah indeed. I work 40 hours a week and from the moment I come home from work 'til I go to sleep I make music. Ok, somewhere in between I also manage to make some food, eat and play poker with friends twice a week. In the weekends I'm working on my music as well, plus I'm going out whenever I can. I really wish it will be possible some day to work 20 hours and spend the rest of my time on music."
So you like to go out yourself. Can you tell us something about the dance/party scene in Austria?
"It's for sure a whole lot smaller than you guys are used to in Holland. We have some big open air festivals but those are mostly rock and punk orientated. Drum & Bass and dubstep is doing pretty well here too. I used to go to hardcore parties and that scene is a bit weird. It's a small scene but with many subgroups and organizations. There aren't that many hardcore parties, once a month or so."
What about the hardstyle scene?
"Hardstyle is still underground in Austria, there are parties only twice a month or so. In the club scene hardstyle is a little more present, although the crowd is mainly interested in the biggers names like
Headhunterz
,
Showtek
,
Noisecontrollers
,
Zany
and
D-Block & S-te-Fan
. The clubs that book them aren't in the big towns but more on the country side."
Can you still enjoy a hardstyle party without constantly listening how tracks are built up and produced?
"Oh yeah: it's all about the alcohol! When I'm not drunk I pay attention to that more, otherwise I just wanna party my ass off. Which is mostly the case, as for most Austrians (laughs)."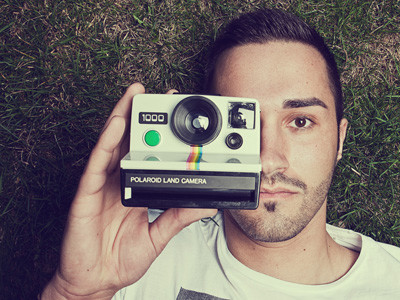 You guys dig alcohol over there?
"Austria is on the second spot of countries with the highest beer consumption I think. In Austria you can get alcohol on every corner. Vodka as well. When I first visited a Dutch supermarket I was surprised you couldn't buy hard liquors. Bad stuff!"
Ok, before we'll both get thirsty: let's go back to your music. After your first track on Sigma, you had two releases on Straight On Recordings and in 2010 you joined Dutch Master Works Digital. That's a big name! How did that happen?
"I know a guy here in Austria who is doing a lot of DJ bookings and he told me
Showtek
was coming. He asked me to send him a new track so he could hand that one over to the boys. I gave him the track, but I thought it was just blabla and I didn't expect anything to happen. After a week though, this guy called me and said '
Showtek
is interested, they asked you to write them an email'. I still didn't really believe it, but I sent a mail and received an answer the same day! They couldn't release the track I sent them because it was a remix of an old R&B song that I made for a remix contest. So I sent them 'Run The Flow' and I hardly had to change anything, they liked it and released it. That was pretty awesome."
You sound surprised. Did it already hit you, looking at the fact that everything you touched turned into gold so far, you could be one of the big names in the hardstyle scene?
"I'm still very surprised and have to pinch myself every now and then to see if I'm not dreaming. Ever since I started producing and sharing my work, I received a lot of positive feedback. Of course everyone has a different taste and when I produce a harder track, people that aren't into that sound might not like it. But production-wise most comments are good. Not only from the crowd, but also the response from the big artists.
Crypsis
and
Deepack
played my tracks at Defqon.1 last year, I really was like 'what the fuck!'. My tracks being played for such a huge crowd, I couldn't believe it!"
Then you must have been even more surprised when you were booked for this year's Defqon.1 Festival...
"I received an sms from my booking agency, asking me if I already checked System One. I thought maybe I would have a gig in a nice club or something, but when I opened the website I was like '
Loudness
?
Defqon.1 Festival
? Dude, WTF?'. I truly thought it was a joke. When it turned out to be real I was both super exited and fucking nervous, I never played in Holland before. My main focus was producing, although I did play some hardcore sets in local clubs in Austria when I just started music and I also did a few hardstyle sets over there. So I was experienced, but not in front of such immense crowds."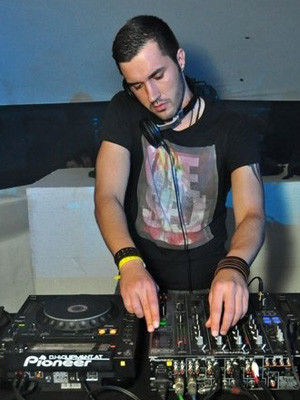 Did it work out?
"The response from the crowd was very good! But unfortunately my flight was delayed and I arrived at the stage 20 minutes late. That really sucked, I had many more tracks that I wanted to play but I couldn't. I've been at
Almeerderstrand
a few times as a visitor and the weather was always good, so I left Vienna this year with some t-shirts and sneakers. Wishful thinking: I had to say goodbye to my new Hugo Boss shoes, that were transformed into Muddy Boss shoes within five minutes. I was better prepared for
Dance Valley Festival 2011
last weekend which, unfortunately, turned out to be necessary as well. What a rainy festival season Holland is having."
Yeah, welcome to Holland! What you also must have noticed here is that hardstyle seems to be splitting up into subgenres. How do you feel about that?
"I don't really care about it honestly. I'm doing what I like to do, one day I feel like making something melodic, the other I feel in the need for a harder track. It's always different. I like it this way, I don't wanna do only melodic tracks or only harder kicks. I don't want to change it. I do think it's cool boundaries within hardstyle are changing though. I like many styles and I'm very open to new things. When something new is coming up it's possible I don't like it, but I won't say it's bad. It's all a matter of taste. I'm glad to see that a lot of guys within the scene are experimenting. I'm working on a track with Mark (from
The Geminizers
) and
Chris One
at the moment, we're trying to create a straight beat with very low kicks, combined with dubstep. Dubstep really works, I listen to it a lot when I'm at home.
Do you think there will still be something like 'hardstyle' in five years or so, or will we only know the subgengres by then?
"I'm pretty sure there will be more subgenres, but hardstyle is so popular right now that I don't expect it to totally change. Some will go more raw, others are going into the other direction. I'm very interested in new sound designs, I really like what
Showtek
is doing lately for instance. Slower BPM, deeper kicks, music that's more accessible for people outside of the hardstyle scene as well. I also liked
Pavelow
's dubstyle experiment, although that subgenre seems to be fading again after a short hype."
Speaking about Showtek: are we gonna get a new similar act? I read you were producing a track with your brother as well.
"We're producing together, yes. My brother started with UK hardcore and made the switch to hardstyle half a year ago. But we're not planning to go out and perform together. My brother prefers to do everything by himself and I'm focusing on my
Kodex
project. I'll be performing by myself, but I always liked to do collabs and will continue to do so. Tracks with
Chris One
and
The Machine
are coming up and
Crypsis
and
Adaro
were interested in working together as well, so who knows what will happen... I've only just started!"

www.2-dutch.nl
www.dj-kodex.com