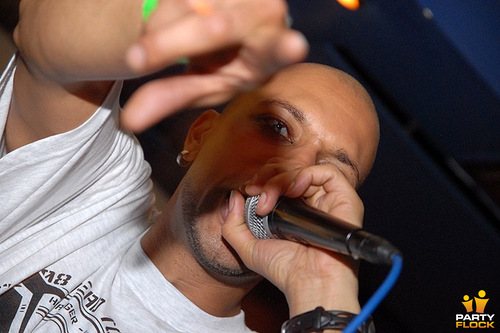 Head 2 Head project
· 19 april 2008
Defqon.1 Weekend Festival ·

Maximum Force

19
2113
Walibi Holland, Biddinghuizen
380 Volt, Activator, Adaro, Airtunes, ALLSTVRS, Alpha Twins, Andy Svge, Andy The Core, Angerfist, Angernoizer, Art of Fighters, Arzadous, B-Freqz, Bass Chaserz, Bertocucci Feranzano, BillX, Billy the Kit, Bodyshock, Bombsquad, Caine,

en nog 127 andere artiesten →

Ceazar, Chris One, Code Black, Crude Intentions, Crystal Lake, D-Block & S-te-Fan, D-Stroyer, Da Mouth of Madness, Da Syndrome, Da Tweekaz, Dano, Dart, Dash, Degos & Re-Done, Deluzion, Derb, Diesel, Digital Punk, DJIPE, DL, Dolphin, Dr. Peacock, Dr. Rude, Drokz, Dune, Dutch Movement, DV8, E-Force, Ecstatic, Eindshow, Emphasis, Euphorizer, F. NøIzE, Focus, Frantic Freak, Galactixx, Geck-o, Hard Driver, Hatred, Haze & Abyss, Imperatorz, Isaac, Jappo, Jason Payne, Jaws, Jebroer, JNXD, Killshot, Kutski, Lady Dammage, Legion, Livid, Luca Testa, Luminite, Luna, Mad Dog, Main Concern, Mark with a K, Max Enforcer, Mental Theo, Mind Dimension, Mindustries, Miss K8, MKN, Ncrypta, Neophyte, Neroz, No-iD, Noisecontrollers, Noisekick, Noize Suppressor, Panic, Pat B, Pavo, Physika, Plug 'N Play, Power Hour, Prefix & Density, Primeshock, Radical Redemption, Radrz, Ran-D, Ransom, Rebelion, Rebourne, Recoder, Regain, Rejecta, Requiem, Rotterdam Terror Corps, Ruffian, Ruffneck, Ruthless, RVAGE, Scale, Scarphase, Scot Project, Sephyx, Sloperij Janssen, Somniac One, Sound Rush, Spitnoise, Sub Zero Project, Sunny D, System:Overload, Tatanka, The Beholder, The DJ Producer, The Outside Agency, The Prophet, The Sickest Squad, The Teknoist, The Viper, Thrasher, Thyron, TNT, Toneshifterz, Unresolved, Villain, Vince, Warface, Wavolizer, Waxweazle, Wildstylez, Yoshiko, Zany, [KRTM]
Ruhr-in-Love
36
Olgapark, Oberhausen
Acoustic Armageddon, Adaptiv, Alari, Alice-D, Art Frequency, Averro, Baby Raw, Barber, Basslovers United, Ben Dust, Bjorn Torwellen, BlueEyes & Sushi, BONEYARD, Brian Sanhaji, Cardan, D-Ceptor, Dalora, Dan Winter, Dark Connection, Dennis Herzing,

en nog 101 andere artiesten →

Der Dad, Der Kaiser, Dissoactive, Distiller, Distortion, DJessy, DMNK, Doctor Terror, Dominic Weichselbaum, DRS, Emin, Emphaser, Erik Erixon, Erin Tasmania, Estasia, Evolution, Exhilarate, Fallen, Fappe & Bru, Flug, FRDY, G4bby, G4bby featuring Bazz Boyz, Harald F Punkt, Hardbouncer, Hatred, Heatwavez, High Roller, Hotte, Julian Brand, Juliana Yamasaki, Kahlkopf HC, Klanglos, Klaudia Gawlas, Lab-E, Lil'k, Lost Identity, Lunakorpz, Luxxer, Madnezz, Marathi, Marc Vision, Mark Kallweit, Mecanical Animal, Michael Sturm, Mindblast, Murder Tribe, Mystery, New World Order, Niereich, Nikkel, nknwn.freq, Noisekick, NoizTrAiN, Oliver Magenta, Pappenheimer, Paranoizer, Pyrodox, Quitara, Raphael Dincsoy, Red Hood Squad, Rene Raggas, RML, ROBUN, Ron, Rotterdam Terror Corps, s'Aphira, Sam Leary, Sandy Warez, Sebastian Groth, Serenade, Signa, SRB, Stefan303, Stevo Newman, Stinger, Stu Patrics, Suicide Rage, Sunset Project, Sven Wittekind, Swen Willner, Tensor & Re-Direction, TerrorClown, TESFY, Tharoza, The Dissident, The Fuze, The Wishmaster, Thyron, Ti-Mo, Tiefblau, Timster, TNT, Tommy Libera, Twinx, Tyfon, Unleashed Fury, Unproven, Vandalism, X-treme, Ysiss (nog niet compleet)
Megarave ·

The Reunion

2
54
Music Dome, Kerkrade
Amada, Amnesia, AniMe, Bass, Bass-D, Bountyhunter, Breakstyle, Buzz Fuzz, Cardan, Chemical Gorilla, Cryogenic, Da Weasel, Dione, Dissoactive, Distortion, DRS, Estasia, Exhilarate, Franky Jones, Gizmo,

en nog 24 andere artiesten →

GyZe, Headbanger, Insanity, Jeff, Lunakorpz, Madnezz, Minupren, Noize Suppressor, Paul Elstak, Promo, Rawraver, Rob & MC Joe, Rotterdam Terror Corps, Ruffneck, Sloperij Janssen, SRB, Suicide Rage, System:Overload, The Dissident, The Wishmaster, TMC, Typherix, Underground Vandalz, Unleashed Fury
Hardcore will never Die ·

The Parade Edition

Eventhalle Bülach, Bülach
Adrien, Batch, Buzz Fuzz, D-Silent, Dano, Deadhead, Distortion, El Diablo, Estasia, Futurevoice, Hektik Brothers, Jeff, Jessy James, Lem-X, Like a Bulldozer, Lucifer & Ray, Mata Hari, Obvious, Piranattack, Promo,

en nog 5 andere artiesten →

Razthard, Rotterdam Terror Corps, T-Scream, The Wishmaster, Underground Vandalz
Hell Festival
7
Mondsee Hohenmölsen, Hohenmölsen
BMG aka Brachiale Musikgestalter, Craig Mortalis, Die Gebrüder Brett, Dr. Motte, Kopf & Hörer, Korsakoff, Minupren, Noisekick, Reche & Recall, Rotterdam Terror Corps, Stormtrooper, Westbam, Zahni (nog niet compleet)
25 waarderingen
34 opmerkingen
ey lekkerding we gaan wreed feestuhhhhhhhhhhhhhhhhhhhhh hahahaa ofniet

Hé lieffie,

Alles goed? Ik zal eens kijken of ik de 26e die kant op kan komen, heb je al weer veel te lang niet gezien.­

Dikke kus van mij.­
I love ya always hihihihi............­
je weet het!!!
tot snel liefie......­
je dinnetje 4life
tali
k w8 nog steeds op je telefoontjuh sgat hahahaha ....­
love you ...­je mattie voor altyd je weet zelluf thali
­
Heb ik nog belooft he!!

vooral als tie dronken is kan je met m lachen!
leuke gast
skull dominium

echt dik gezongen
Heey Sier, met Sanderien! Ik heb ook eindelijk maar eens PartyFlock genomen, LOL. Anywayyy...: gezien het feit ik je geen prive-berichtje lijk te kunnen sturen (?!?), nu maar een publiek bericht. Alles goed met je?? Met mij wel!

Ik zit er aan te denken om misschien 5 Sept. naar MegaRave te komen... wie weet. Nou, misschien tot horens/mailens weer eens. Xx San.
Koek-koek!! Leef je nog (enzo)?!? Ik kom inderdaad naar Megarave a.s. zaterdag. Kep er zin in!! Hoe ist nu met jou?? Hier alles goed!

Nou, misschien loop ik je zaterdag nog wel ergens tegen het lijf daar, en zo niet, dan niet. PS: Je mag ook best terug-mailen hoor, hier, of op Hotmail!!!


XOXO, San. Ciao!!

waardeloos geschreeuw onstage

dat ze maar gauw al die MC's afschaffen


dat ze maar gauw al die MC's afschaffen
Totaaaaaaaaal NIET mee eens...!!!!

Ben juist gek op MC's: zwepen de boel lekker op!! Vind het zonder maar een wat saaiere boel...
Enne, b.t.w.: Sier, you ROCK!! And you know that, he...

Kusje, "Sanne".


shame on you mattie???

ben je dood ofzo?

Verneukt de meeste setjes een beetje maar dat is MIJN mening

iedereen zn eigen smaak