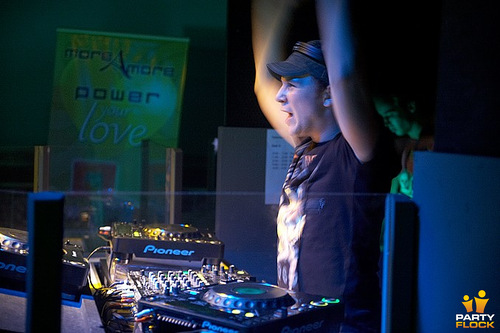 Erotic Festival Vibe
· 3 november 2007
Uitgaansagenda Basti Lourenz
8 opmerkingen
..BASTI LOURENZ This musical talent was discovered in the summer of 2006. On the beautiful island of Curacao to be exact. A local club owner, who loved his fresh and uplifting sound, gave him a chance to spin a few nights at his club. It was then and there Basti Lourenz' DJ career got it's proper lift off. It did not take long before promoters started to take notice and other bookings followed. Within a couple of months this upcoming 'stranger' was playing at several big parties and started to become more and more familiar by the day.
The following years he managed to shove several residency spots under his belt. It all started at Bliss Deluxe but later on events like Zondagskriebels, HOT, House Criminals, Creme de la Crème and Lekker also got to embrace the sound of this energetic/entousiastic man behind the decks.
Nowadays Basti Lourenz is causing some serious dance floor damage at clubs like Escape, Powerzone, Off Corso, Panama and Club Rembrandt. Recent performances at festivals like Giga Dance, Full House and Zomerkriebels prove that he is in demand and very capable of rocking large crowds. Next to performing alongside the cream of the crop in the Dutch dance scene he is also very proud to have worked next to international DJ's Kid Massive and Sandy Rivera .
Basti Lourenz is also spending a lott of time in the studio these days. Keep your eyes and most importantly your ears open for his first official release hitting the streets very soon. It is most likely to go and turn heads…believe that!
BOOKINGS
CRUNC AGENCY
T +31 (0)6 24 69 18 30
F +31 (0)8 48 35 54 66
E
INFO@CRUNCAGENCY.NL
MANAGMENT
NIELS PERIER
+31 (0)6 24 69 18 30
E
NIELS@CRUNCAGENCY.NL
PROMO'S, REMIX REQUESTS OR PB'S
BAS@BASTILOURENZ.NL
WWW.BASTILOURENZ.NL
WWW.TWITTER.COM/BASTILOURENZ
WWW.HYVES.BASTILOURENZ.NL
WWW.FACEBOOK.COM/BASTILOURENZ
WWW.MYSPACE.COM/BASTILOURENZ
WWW.SOUNDCLOUD.COM/BASTILOURENZ