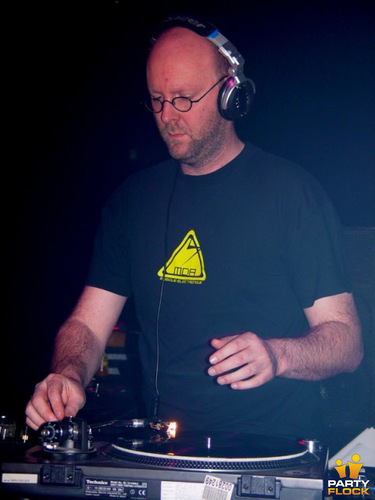 TechNoNonsense
· 5 maart 2005
Biografie
T-Quest's earliest musical influences go back as far as Kraftwerk, Fad Gadget, Nitzer Ebb or Liaisons Dangereuses. The short-lived but fierce New Beat era and the acid house period further sharpened his appetite for electronic dance music. In the early 90's T-Quest started out as a DJ on a local radio station with 'Behind The Beat', a two hours non-stop program with the latest and upcoming sounds from the underground. At about the same time he started working in the Music Man record store and a couple of years later moved on to the A&R department of the Music Man label for which he created the instant-recognisable 'silver' outlook. Since 1994 Stefaan signed artists such as Secret Cinema, Cherry Bomb, Metro Dade, Sound Associates, Percy X, Steve Rachmad, Green Velvet, Steve Stoll an did compilations with Dave Clarke and Jeff Mills. He holds a residency at Kozzmozz, played in Belgian's most famous clubs (Food, Cherry Moon) as well as festivals (10 Days of Techno, I Love Techno). He travelled the world with his record bags and was invited to New York (Limelight), Paris (Rex), London (The End) and Moscow. For his first studio production, Stefaan Vandenberghe joined hands with Frank De Wulf. 'Play' was released on R&S records as Frank De Wulf vs T-Quest. His second release, a solo effort, first surfaced somewhere at the end of 1996 as a limited twelve-inch (500 copies). Due to popular demand 'Upiter' was re-released on Music Man Records in March '97 including Steve Rachmad and Bandulu remixes. Later on Stefan produced an exclusive track ('Cakewalk') for the Kozzmozz compilation under the moniker of SubSurf. T-Quest is resident on the fuse level at Fuse since January 2001.
Dr. Lektroluv
150
Effenaar, Eindhoven
Dr. Lektroluv
Dr Lektroluv
72
Paradiso, Amsterdam
Dr. Lektroluv, Mason
Elektrik World
53
De Kroepoekfabriek, Vlaardingen
Ben Kenobi, Beswerda, Dr. Lektroluv, Exotic Gourmet Cartel, Koudio, Niko Dadiani, Schiebiza, Vinnie Mikra
7th Sunday Festival
8562
Festivalterrein De Roost, Erp
Andy Svge, B&No1, Ballsroom Dj Team, Ben Sims, Benny Rodrigues, Bizzey, Boogshe, Boogy Fever, Boomshakalak Soundsystem, Bougenvilla, Brennan Heart, Brocco, Brooks, ChildsPlay, Chip x Dale, CMC$, Da Tweekaz, Daisy, Darkraver, Daster,

en nog 97 andere artiesten →

David Ghetto, Dawn Panty, De Grote Karaoke Show, De Manager, Dennis, Die Grote, Diskopogo, Dr Phunk, Dr. Lektroluv, Dr. Robinson, Flamboyant, Freddy Moreira, Frequencerz, friendson, Galactixx, Gozert, Gunz for Hire, Herrie met Gerrie, Hoscult, House of Rock, Irwan, Jax Jones, Jay Reeve, Jebroer, Jerome, Jewelz & Sparks, Jimmy Spliff, Jonna Fraser, Joris Voorn, Joshua J, Josylvio, Julian Jordan, KAAZE, Keezus Christus, Keizer Skarel, Kennèh, Kill The Buzz, Kom-Plot, Kraantje Pappie, Kruzo, KURA, La Fuente, Licious, LNY TNZ, Lockar, Maddix, Marco Kraats, Miss K8, Modoman, Naughty Nik, NicoDisco, NIXUS, Nora En Pure, Nuno dos Santos, Park & Sons, PartyfrieX, Phenleau, Pieter Ellis, Praia del Sol, Puinhoop Kollektiv, Quintino, Rapper Sjors, Rararasputim, Rebourne, René Amesz, Roga, ROOG, Sam Feldt, Sander Kleinenberg, Sebastian Ingrosso, Secret Cinema, Showtek, Sick Individuals, Sidney Charles, Silque, Sjannies, Slam, Steve Aoki, Sub Zero Project, Suyano, Team Rush Hour, The Allstarz, The Outsiders, The Partysquad, Tim Herfst, Tjen, Tom & Jame, Tony Junior, Twenty Sicks, Van Lariekoek, Vato Gonzalez, Victor Coral, Villain, Vinnie Rouge, Wolter Kroes, Yung Internet, Zanger Kafke
Vestrock
248
Eiland Buitenvest, Hulst
Altobelli, Curt, Dr. Lektroluv, Equal Idiots, Green Lizard, Jacin Trill, Johan, Lydmor, Rowwen Hèze, Rudeboy, Tom Odell, WHITE
8 opmerkingen
dat kun je vinden maar denk dat er weinig mensen zo over denken!!!!
De Doktor rules the scene
Heb je hem uberhaupt ooit horen draaien als T-Quest? Als dat het geval is kun je de opmerking van NOS080 alleen maar beamen. Als Lektroluv is het simpele mainstreamplaatjes plakken, maar als hij ipv een telefoon een koptelefoon gebruikt en zijn technoplatenbak induikt dan is het smullen geblazen.

De Doktor rules the scene

Als T Queast gewoon een vd dikste techno DJs !!!!!!
ach hoe kan jij dat nou weten..je heb hem nooit live gezien was voor je tijd manneke

ach hoe kan jij dat nou weten..­
je heb hem nooit live gezien was voor je tijd manneke
Bijdehandje ben jij toch eh..