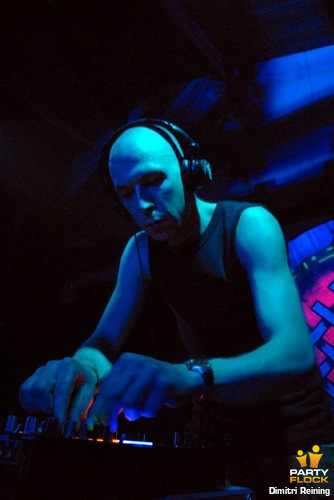 Treats Open Air
· 16 augustus 2008
Biografie
Rob is a 33 year old, SICK / BooM! Records label Dj from Groningen
. Being a Dj since the year 2000, he played at many parties in different countries like Mexico, Morocco, Nepal, China, USA, Canada, Macedonia, Germany, Belgium and The Netherlands of course.
His style is between atmospheric, powerful, deep groovy till melodic, uplifting full-on psychedelic. He has been able to play alongside many great artists of the psychedelic trance scene like: Astrix, Xerox & Illumination, Cyrus the Virus, X-Noize, Chemical Drive, Sesto Sento, Eskimo, Fractal Glider, Rastaliens, Principles Of Flight, Amadetzana, Anti-Gravity, TnT, Ecliptic, Lamat, Sharigrama and many more...
Apart from being a DJ he also busy with multimedia design and other psychedelic flyer artwork. When there is some time left, he is working on his own organization called Up-Projects. Watch out for this artist in the future!!.
BooM! Records is the longest independently running psy-trance label in the Netherlands, homebased in Groningen. BooM! Records was founded in 1996 by Dj Matt BooM! and Remko.
Committed to the original spirit and vibe of psychedelic trance, their releases have featured both well established artists from the trance scene as well as many talented newcomers who they have discovered during their travels around the world. Many of these newcomers have become well respected artists.
Tracks for release are selected on their dancefloor merits. The label sound is varied, but tends towards hard but melodic and uplifting tracks that make the dancefloor rock and the party people smile. An element of humour is another unmissable factor in many releases, partying is supposed to be fun after all...
Some of the many artists that have been featured on BooM! Records so far include: Principles of Flight, Fractal Glider, Rastaliens, Solar Spectrum, Braincell, Logic Bomb, Battle of the Future Buddhas, Chi Ad, Cosmoon, Quadra, Mindwarped, Synchro, and Ubar Tmar.
3 opmerkingen
Rob.. Twee puntjes om hem vooral niet te verwarren met de Rotterdamse naamgenoot en collega. Maar ook omdat dit een dj is, die altijd de puntjes op de spreewoordelijke i lijkt te zetten. En dat is te horen. Naast dj is hij ook samen met dj Ven organisator van o.a. het roemruchte Festival Treats. Maar ook resident voor Mindwarp en ontwerper van menig prikkelende flyer voor verschillende feesten. Dit keer prijkt zijn naam op mijn flyer en feestje
https://partyflock.nl/party/210853:Miss_Mana_Birthday_Bash
.Welkom dj Rob..