Het is alweer even geleden dat Deetron de eer had om Balance 20 te mogen mixen. Vorig jaar is ook zijn zoontje geboren. Deze twee dingen zijn genoeg reden om Deetron, ook bekend als Sam Geiser het hemd van het lijf te vragen.
Hello Sam, after a lot of DJ gigs and making music, you were honoured with the role of mixing the "Balance 20" compilation. First of all, how are you feeling at the moment?
I'm feeling very good at the moment.
How did your DJ career started? Do always wanted to be a dj?
My first musical passion was Hip-Hop and I was instantly fascinated by the DJ-culture of the scene. It took a while before I was able to convince my parents to buy me a set of turntables which is why I had to cope with a tapedeck and a belt-drive turntable in the very beginning.
Balance 20
You were asked to mix Balance volume 20? How did this happen?
We have been in contact with Tom from Balance for quite a long time because of licensing and the deal for Balance 20 was finally closed when we met during WMC in Miami last year.
You have mixed "Balance 20" but do you have any favorites among the other nineteen compilations?
I absolutely loved
Will Saul
's Balance - he's a great DJ actually - and Joris' Balance is an impressive body of work too of course.
If you have to choose a DJ/producer for "Balance 21", who would that be and why?
Four Tet
, because his Fabric mix was ace and I'd like to hear more of it!
How is the sound of the "Balance" compilations changed over the years? What makes this compilation series so special?
The interesting thing about Balance is their variety in musical styles. They go from underground Techno and House over such eclectic DJ's as
Agoria
back to the more progressive side of things.
Further
more the 2 CD format allows you to represent much more of your DJ set and they give you complete artistic freedom.
The compilation features two discs, one with digital and one analogue. Why such a setting?
The intention was to showcase the whole spectrum of my dj'ing, musically and from the technical point of view. When I play out I use a lot of edits, tools and accapellas, which I play from cd as well as vinyl obviously so that's the reason why I chose to show the two different approaches to my dj'ing.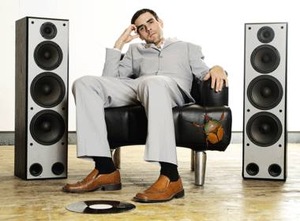 How did you select the tracks for this compilation?
It started out with a lot of real and virtual "crate-digging". I went through hundreds if not thousands of tracks as well as my whole record collection. It was important for me to choose tracks which can stand the test of time and not just the big records of the moment. I believe it's important for a compilation to have a longer lifespan than say a podcast or radioshow.
What's your favorite track of the compilation?
That's a tough question but if I really had to choose just one probably
Todd Terje
's 'Ragysh' would make the cut.
Music and Technology
With all the new dj gear, the CDJ 2000, music on USB and no longer on CD, is there anything you miss a the moment when you are dj ing if we are about technology?
Sometimes when I see DJ's play digitally only it can be a bit too predictable or perfect I think. The live element sort of goes missing. I really like the rough edge, which dj'ing with vinyl adds, the round sound and I think even if there may be some mistakes or jumping needles it can add that little extra live feeling to it, which I miss quite often these days.
Which equipment do you use when you are playing?
CDJ's and turntables.
One of my favourite Deetron productions is "Collide"? What can we expect from Deetron in 2012, when we are talking about productions and remixes?
I'm currently about to finish a new single which should be released in the first half of 2012 and I've got remixes coming up for
Marc Romboy
&
Rodriguez Jr
. on Systematic, PBR Streetgang on Hot Creations and Candi Staton on Defected.
A few years ago you did a "Fuse" compilation. How differs your "Fuse" compilation from the "Balance" you just released? Has Deetron's sound changed over the years?
The Fuse compilation represents the sound of a transition period I was in during that time and I think I have really found a distinct sound - maybe you want to call it melodic techno - for my DJ-sets as well as my productions.
Summer 2011
The summer season of 2012 is coming up how was the summer of 2011?
It was absolutely amazing because our son was born in August.
For almost every year Ibiza is the place to be for dj's in the summer? Did you play on Ibiza last year?
I had most of the summer off this year so I didn't get to play in Ibiza in 2011. You're likely going to see me on the island this year though.
When you are on Ibiza do check other parties than the ones that you have play? Do you have a favourite dj to go and listen to?
I'm a huge
Theo Parrish
fan and I really like
Derrick May
as well. Other than that I would have loved to see
Caribou
play at We love and how that worked out on Ibiza.
Which new talent do we have to keep an eye on?
Gerry Read
- his identity is kind of mysterious but the few releases he had recently all completely blew me away. I think there are big things to come from him this year.
Which track made your summer of 2011?
Caribou
- YeYe
Ibiza is special to a lot of people. If you have to choose one track that represents the Atmosphere on the island, which track would that be?
I guess I have to mention
Todd Terje
's Ragysh - it's the perfect Ibiza track in my point of view.
Personal Life
When you are at home, what kind of music do you listen?
I listen to a lot of old Jazz and Soul, contemporary Hip-Hop from the likes of Madlib, FlyLo and
Dimlite
, lots of great new electronic Pop by the likes of
Metronomy
, M83 and countless other things.
If you have a day off, which means no djing, no studio time etcetera. What do you do on such a day?
Spending time with the family.
The life of dj is quite hectic. How do you combine your family life with your dj career?
I get used to little sleep, get early morning flights back home and thankfully I'm at home during the week, which is a big advantage!