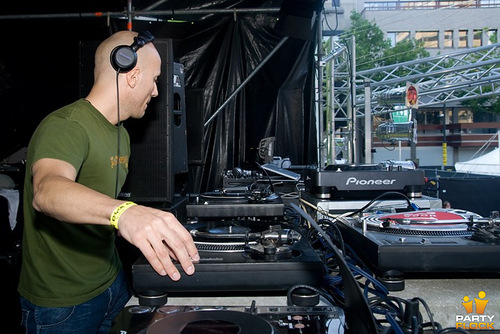 E-troit Festival
· 23 augustus 2008
Biografie
Juncaj discovered the rich history of Detroit Techno by going straight to the source. Through a friend he was introduced to the world of 2030, one of Detroit's most famous outlets for electronic music, and through the store's association, introduced to the world of Underground Resistance. He was initiated into the Submerge crew and never looked back.

He began DJ'ing around Detroit and was introduced to the world via the "Somewhere in Detroit" mix series on Submerge Recordings. The SID mix was the world's introduction to DJ 3000. Until this point in his DJ career, Juncaj had always gone by his given name when performing, however UR co-founder "Mad" Mike Banks decided that Juncaj needed a DJ name. UR and Submerge had just relocated their headquarters to 3000 W. Grand Boulevard in Detroit, so in honor of that, and to let the world know that Juncaj was part of delivering the sound of Submerge and UR to the masses, he was dubbed DJ 3000. Since the release of the SID mix series, as well as with the success of his "Electric Soul" and "True Colors" mix, DJ 3000 has moved crowds across the world from Japan to Greece to the Balkan region all the way back to Detroit where he has headlined various stages at the Movement festival in Detroit.

Founded in 2001, Motech Records takes the vision and influence provided to him by Detroit and his parent's immigration from Yugoslavia, Juncaj has become known for creating a new hybrid breed of Techno/Electro/Funk interspersed with the soul of Albanian and Middle Eastern rhythms. Through his own releases, and through collaborations and contributions from some of the best up-and-coming producers across the globe, Juncaj and Motech Records have forged their own unique identities.

Notable projects from DJ 3000 and Motech have included "Migration" – Juncaj's first full length album on Submerge Recordings, "Blood & Honey" his follow up full length release on the Motech Records imprint. "Galactic Caravan," Juncaj's most recent full length on Motech Records, spawned a full double length remix album that included remixes from Ben Sims, Alexander Robotnik, and Orlando Voorn. Motech's "Broken Research" series has produced two full length compilation efforts which act as a showcase for the global spectrum of producers continually involved in the label's success. Juncaj will release his fourth full length record, "Invisible Moods" next year on Motech Records.

DJ 3000 has also collaborated with such artists as Gary Martin, Gerald Mitchell, and Ursula Rucker as well as being part of numerous remix projects for artists across the globe, most notably remixing "People are People" for electronic music pioneers Depeche Mode.

Motech Records, through its music, as well as through its mission of providing a voice for the under-represented and over looked, will continue to expose the world to the sounds and beliefs of the working class producer and DJ.

Combining the technology of the present with the influences of our past, Motech pushes the boundaries where there are no boundaries to be pushed. Traversing the globe with music as our only means of survival, Motech is always looking forward and striving in the image of progress. While we may not speak the same dialect, through the means of our music, "We Speak Your Language."
Recensies
15 Years of Motech
· 5 mei 2017
15 jaar Motech Records. DJ
3000
heeft een scala aan onbekende artiesten geselecteerd om dit jubileum te vieren. 15 tracks die het Detroit-gevoel naar boven halen. Van abstract tot toegankelijk en van statisch tot juist heel dansbaar. Laat je verrassen en ontdek de volgende generatie floorfillers.
DJ 3000 - Besa
· 11 februari 2014
Heb je ook wel eens van die momenten dat je even geen drukte aan je hoofd wil maar wel ee lekker muzikeje wil luisteren? Detroit techno op standje 'easy-chill' ipv vol gas vooruit. DJ 3000 doet het gewoon...gewoon...omdat het kan.
3 waarderingen
| | | |
| --- | --- | --- |
| | d0nlov­es2vla­m: | wat een lul joh alleen maar mixfouten geen goede overloop wat een slechte vertoning op awakenings en dan ook nog als afsluiter... |
| | ..::MuCk::..: | kromme amateur kan niet eens platen strak legge |
| | Magic Psilo: | Wat een wanvertoning op Awakenings gister, erg slecht |
9 opmerkingen
Beste set Extrema outdoor 2006!!! Woont hij trouwens nu in ned?Hij draait laatste tyd zo vaak hier voor onder 10 euro entree

Daar kunnen ze hem never voor boeken vanuit usa met vlucht

Ok cool!&­weet je ook waarom?
Ok cool!&­weet je ook waarom?
Omdat hier nou eenmaal meer te doen is op techno gebied dan in Detroit.. raar maar waar!
Omdat hier nou eenmaal meer te doen is op techno gebied dan in Detroit..­ raar maar waar!
Ja dat was toen eigenlijk ook al zo op n paar warehouse party's na dan