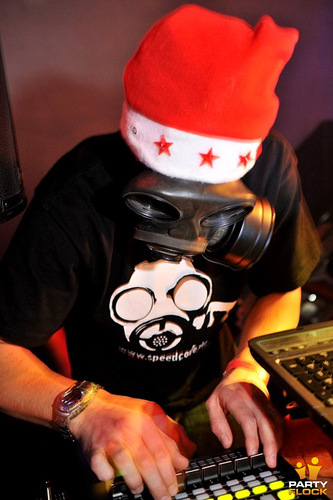 Ik ben je bitch niet
· 26 december 2009
Naam
Lars Lüdtke
Functie
DJ, live act, producer
Geslacht
man
Geboortedatum
Leeftijd
36
Herkomst
Duitsland
Genres
speedcore, terror
Site
terrormasta.de
Aanwezigheid
Affiliaties

6

Lid

TerrorMasta.de

(25 jan 2014)
Biografie
TerrorMasta started producing in 1997 with some cheap software. Keeping practising with other software, he released some tracks on CDs at Mascha Records, Cerebral Destruction and his own label Braindestruction Recordz. Playing on several partys in germany he became better known and played at places like Italy, Austria, Switzerland, United Kingdom, Russia and Holland. After releasing the vinyl "Druckerzeugnisse" together with Materialschlacht, which got rated with 6 from 6 points by the german well known music-magazine "raveline", he released various Vinyl-EPs and appeared on several CDs and Vinyls on labels like Epileptik, Speedcore, Darkcore, Special Forces, TerrorNoize Industry, Kopfkrank, Braindestruction Recordz and other.
Innerforce ·

Hardcore will Never die

13

XPOST
Keulen
Amiga Shock Force, Brutale, Canadian Speedcore Resistance, Gabba Front Berlin, Lunakorpz, Meccano Twins, Passenger of Shit, Qualkommando, Section Grabuge, Simon Underground, SRB, TerrorMasta, The Masochist, The Sickest Squad, Tommyknocker, Traxtorm Legends, Wicked Minds (nog niet compleet)
15 waarderingen
18 opmerkingen

ausrasten

3 phasen fick freundin *­hrrhrr*­

love the german lyrics in it

real fuclparade style

Du hast gute tracks!!!
Fan sinds 2005!
Xenomorph



Die abrechnung, phase 3 fickfreundin,...­ Eigenlijk alle nummers zijn vet!!