De Amerikaan
Lenny Dee
is in Nederland bij velen bekend geworden om zijn werk in de hardcore scene. In de mid-jaren 90 was hij vaste prik op de immense hardcore feesten en nog steeds is Lenny een graag geziene gast op line-ups. Toen afgelopen jaar zijn track 'The dreamer' (in een frisse 2007 jas gestoken door
Promo
) op zo'n beetje ieder festival en feest voorbij kwam, kreeg ook de jongere generatie een hint van de Dee-man z'n kunsten. Maar dat deze kleine en bijdehandte man met zijn Brooklyn-style houding een veel grotere impact heeft gehad op de scene is bij velen minder bekend. Toen ik onlangs de kans kreeg om de beste man een aantal vragen te stellen kon ik deze kans natuurlijk niet laten glippen.
Bij gebrek aan het bestaan van een Brooklyn-proof woordenboek zijn de antwoorden van Lenny in het oorspronkelijke Engels gelaten.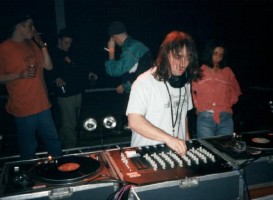 Disco en electronische muziek
Het is eind jaren 80, electronische muziek staat nog in z'n kinderschoenen als in New York ene Leonardo DiDesiderio in aanraking komt met house.
"I started playing disco, Electro-Body and early House 12 inches. It was just about us (red: Franky Bones & Lenny Dee) making & doing the tracks as we were feeling them and inventing it as we went along. We would take old bass lines & influences from disco records. I would use a new drum machine at the time (909, 808, linn drum, dmx etc)."
Samen met Frankie Bones dook Lenny de studio in, scratchend op een draaitafel werkten ze oude disco platen om tot energieke drumloops.
"We were just doing our thing so were surprised to have hits on the UK charts with tracks like our Looney Tunes releases (XL-Recordings). I also did loads of stuff for Fourth Floor, Nu Groove, R&S and Netwerk Record's as well as doing music for David Morales' Def Mix Productions."
Het was een periode waarin men voor het eerst tracks als extended mix op single zette om deze zo voor DJs makkelijker mixbaar te maken. Hoe was het DJ-en toendertijd?
"Bones & me I think were one of the first to really exploit sampling & bringing the influence to electronic music. DJing was a lot tuffer then as records were made with gear that was not so tight in syncing. A lot of tracks were live & made into dance formats, so you had to be really up on each track as breaks in the records were short. Hence the early hip hop DJs extending those classic beats using two records."
Over oude disco gesproken, klopt het dat je ooit in de legendarische Studio 54 in New York hebt gedraaid? Lenny lacht,
"Yes I did, it was before my time, but they reopened the club for a short time in 1992, so the (very young) Industrial Strength Records (ISR) teamed up with promoter Matt E Silver & threw an ISR party. It was me, Carl Cox, Oliver Chesler & John Selway. It was amazing.
" Niet de minste namen dus…
Hoe ben je er eigenlijk aan toegekomen om hardcore te gaan draaien?
"Well, it was not called hardcore when I started pushing the sound. It was still techno. Renate from R&S Records coined the name at Mayday in Germany after I spun as I played ISR tracks, many of Marc Arcadipanes earliest tracks, mixed with my own, plus many German records too. I played it all back to back, non stop which gave the music that feel. When it was played like this, it was hardcore for sure."
Je hebt het over Mayday in Duitsland, toendertijd één van de eerste grotere feesten in de scene. Wanneer was je eerste boeking in Europa eigenlijk?
"1988 was my first DJ booking in the UK and first time in Europe. I played at the Rock Garden & Heaven in London."
Wie kwam op het idee om je over te laten vliegen voor een set?
"I was booked by Tim Taylor (now of Missile Records) from JSE who booked big acts like KLF at the time. My first foreign booking was at Heaven which was the club that changed it for me. It was the first AKG Turbo Sound club, which was owned by Richard Branson (red: eigenaar Virgin) at the time. It was really an experience I cannot put into words as I never saw people react to my music before in this way. Back home our music was too underground & electronic music was still too young, but in the UK, it was gold! I couldn't believe the kids & DJs all knew my music."
Op welk moment besloot je om je leven te wijden aan muziek? Had je misschien een andere carriere voor oog voordat de muziek ging lopen?
"Well I was going to be an artist. I even went to art school, but then I discovered music and it all changed. I had one job at my uncle's place, and I used this to get money to buy turntables. About a year after, I got a job as the resident DJ at the roller rink in Brooklyn. You have to remember I was very young, ha ha"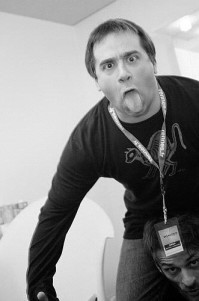 Tegenwoordig kunnen mensen op internet fora terecht voor de basics, tips & tricks van het produceren van muziek. Eind jaren 80 moest je het doen zonder hulpmiddelen als het internet, en enige regels voor electronische muziek waren nog ver te zoeken. Hoe ben je in die tijd te werk gegaan? Ik las dat je een opleiding aan het 'Institute of Audio Research' in New York hebt gevolgd?
"Yes I went to school, it was great and also showed me what I really wanted to do, as they taught a broad view of engineering but it was up to you to choose which field. I was also lucky to learn from the best after that as I worked in big New York studios like 'Skyline Studios', which at the time was the home of one of my idols Nile Rodgers (who produced people like Chic, Madonna and David Bowie). Then I worked for Arthur Baker at Shakedown Studios and worked on projects such as New Order, Brooklyn Funk Essentials and Al Jarreau."
"When you work in big studio's it's about the vibe & the ideas, but mostly you really have to have a lot of gear so you achieve the right sounds for the productions, as it wasn't just about a computer and samples."
Veel artiesten noemen vaak jouw naam als één van hun voorbeelden, maar wie zie jij eigenlijk als je voorbeelden?
"In electronic dance music, Arthur Baker, John Robie, Kraftwork, Tom Moulton, Jellybean, Aldo Marin, Shep Pettibone, Georgio Moroder. These guys ripped it for me in the early days, man u never heard djing until u have heard Aldo's mix tapes. I mean, when u play records with live drums with no noticable transition, crazy tape edits, you can really hear who the masters are."
Zijn er stijlen, buiten de electronische muziek, waarin je je thuis voelt? Voor de vroegere gabber zag je er met je lange haar uit als een rock artiest. En onlangs had je nog een nieuwe 'punk' look, inclusief groen haar.
"I actually really like real world music believe it or not. I think it hold the true human essence of music in all forms. It has a passion, sadness and aggresion from a deeper musical level."
In Nederland ben je vooral bekend als hardcore artiest. Dit is eigenlijk een veel te summiere omschrijving van je carriere tot nu toe. Op welke andere dingen in je leven ben je vooral trots?
"I am still here!"
roept Lenny lachend!
"I think that is a big achievement in itself. I think the creation of Industrial Strength being the first label to release hardcore, to be the first to see people like Unexist and Manu Le Malin as the great Artists and DJs that they are and release their music, to release the first speedcore & what they call terror, to have the honour to release Richie Hawtin & Daft Punk on my labels. I am happy for what I have done, but I think I always have to look ahead & focus on what's next."
Het eerste hardcore label ter wereld
Je label, Industrial Strength Records, heeft een speciale reputatie in de scene. Het was één van de eerste, zo niet HET eerste hardcore label ter wereld nietwaar?
"Thank you and yes absolutely!

ISR001:
- Mescalinum United -We Have Arrived
- The Mover – The Nightflight (Non-Stop To Kaos)

Released in 1991 baby!"
Wat is het verhaal achter deze eerste release en het opstarten van Industrial Strength? Je hoorde de track 'We have arrived' van
Marc Acardipane
langskomen en die moest je gewoon releasen?
"I was seeking something new, as I was slowing leaving the UK scene (as the music went more Drum&Bass) and the rave music from Belgium became stale. I was playing things at the wrong speeds looking for a harder sound, Renate from R&S hooked me up with a gig in Germany. I went with my friend Neil (who later produced the last 3 Prodigy LPs) and we met up with Mike from PCP by accident. He took me to his shop in the Dorian Grey @ Frankfurt airport. I started to DJ in his shop. The lines were out the door, the owner even came in to see what they hell was going on. In short, Mike called Marc Arcadipane, to say 'hey u have to come here & check this American guy'. Then I met Marc and it was a great meeting. He showed me his tracks and I told him I had this new idea for 'Industrial Strength' and he busted out the tracks from hell, Man, magic. I never in my life will forget that moment. Marc is truly is the master of the core.
"
Inmiddels zijn we 17 jaar verder. De hardcore scene heeft het nodige meegemaakt in die tussentijd en inmiddels staat de muziekstijl als nooit te voren. Welke richting gaat Industrial Strength tegenwoordig op?
"Diverse hard electronic music.
"
"We have more releases planned from Artist 'Tymon' from Australia, who I think is one of the most talented new producers out there. Also ISR76 is out soon by 'The Sick DJ Team' from Italy who rock. We are working with more American producers, which is cool like Satronica, Dan Physics, Broken Rules, Fiend, Cik & Forsaken Is Dead.
"
"We have several CD releases coming up and are also repressing some of our classics including some of my old tracks, with 'Toda Rhythm' (me and the infamous Darkraver) as well as a Buzz Fuzz remix of 'The Dreamer' on ISL15. And on IST we have Martyn Hare
as well as X-Tension.
"
Industrial Strength zit dus verre van stil. Dit is wel eens anders geweest, rond het jaar 2000 was het een tijd stil rond het label. Vanwaar de pauze?
"Whew, if it could go wrong it went wrong. At the end of the 90s I was burned out from traveling non stop. My partner & I split, the distribution went sour due to lack of payments… But I learned a lot about myself & what I really wanted. I take nothing for granted anymore. My partner Jules was really a big influence to coming back, and also Jappo pushing for ISR's return (we also did ISE (red: Industrial Strength Europe) together). I thank them both for that.
"
Als men de Industrial Strength website (industrialstrengthrecords.com) bezoekt valt direct op dat er een groot aantal sublabels zijn. Hoe houd je een dermate grote collectie labels up to date?
"Now we mainly focus on ISR, IST & ISL. We don't have any new releases on the other labels (but they are available to buy digitally) and I will also repress some EPs/titles for the fans & collector's that cannot find the older ones. ISR is well…ISR. IST is more industrial techno & other diverse techno music, ISL is the remixes & special projects.
"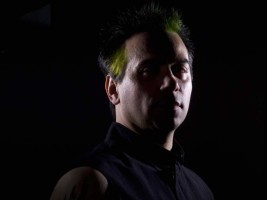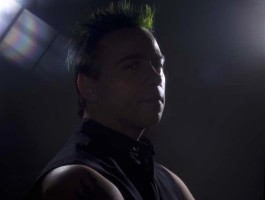 Zijprojecten en Electronic Pigs
Speciale projecten, doel je hiermee op de samenwerkingen die je in het verleden al vaker hebt ondernomen? Een hoop mensen zullen je tracks met
Promo
,
Neophyte
en Paul wel kennen, maar je hebt ook in de studio gezeten met artiesten als
Radium
en Manu Le Malin.
"Yes I love to collaborate full stop. This is also a great way to create new ideas & relationships. I am very thankful to the guys for having me over to work on music and I give them ultimate respect.
"
Naast tracks als 'Moments of silence' die je samen met
Promo
hebt gemaakt, zijn jullie ook samen als Electronic Pig de studio ingedoken. Wat was de insteek hierachter?
"He he, well, if you have ever saw me in the studio, I think the title really fits. The lyric for this were a mesh of some life experiences, thrown in with some fun lyrics to make a crazy new sound. I think the fuse of these elements make it a special record, Promo is a wicked producer, def one of the all time greats. To have worked with him on it, was the best & only way to pull it off. His production skills are really the true power behind the music end, with my loud as fuck voice. Well….. I get down u digg!
"
Nog nieuwe Pig-tracks in aantocht dan?
"We have worked on a few tunes, but our expectations are high, so every time we meet we plug away until it is perfect! Watch this space……soooooon come!
"
In september van 2006 trad je op Club r_AW voor het eerst op als Electronic Pig, was dit ook de eerste keer dat je de vocals live voor rekening nam?
"Yes it was, & man was I nervous, we had no instrumentals, so Promo had to re-edit, & we had to re shape the tracks, which made all the vocals happen differently than on the wax. We had to learn this in two nights before the show, also Chris aka the Boar had to free style on the guitar, so it was a nerve racking experience, but i think we did a great job. Hehe
" Heb je nog toekomstplannen qua optreden, of was dit MC-debuut een eenmalig iets?
"I also hope to do ISR LIVE which is still in the works. Unexist, Christian from Art of Fighters & me. I think it is going to be a sick show - so get ready!
"
Naast de muzikale samenwerking met
Promo
hebben jullie ook samen het label Industrial Movement opgezet. Wat was de insteek hierachter?
"It was to fuze TTM & ISR, but in a more experimental way. Not to be like our main labels was a tuff order to fill. But I think it worked out nicely, the music selections were very diverse.
"
Nu je stem inmiddels redelijk vaak in tracks is verwerkt, probeer je soms ook nog boodschappen in de muziek te verwerken?
"Sometimes yes, & sometimes maybe.. he he, I use them as twisted elements to a twisted track. I use different lyrics to express the things we're doing in the studio. I guess you can hear that example to it fullest in 'The friends of Jappo' on Third Movement!
"
24 Jaar achter de decks
Inmiddels staat Lenny al bijna 24 jaar achter de draaitafels, een carriere waar menigeen alleen van kan dromen. Naast al het feestgebruis zou je denken dat Lenny inmiddels een boek kan vullen met anekdotes.
Je hebt op veel plaatsen en in landen over de hele wereld gedraaid, welke optredens hebben nu echt een speciaal plekje in je geheugen?
"Some Dutch parties are high on my list including Hellraiser, Thunderdome, the r_AW parties, Multigroove parties and the RoXy (my first gig in Holland). Mayday Germany where I played the first ISR tracks, man, very great night for me, the Janes Addiction tour was a great experience for me. Heaven in London, this really broke thru many uncertanties about myself & my musical direction.
"
Over goede herinneringen gesproken, je hebt in de
Sporthallen Zuid
, Amsterdam gedraaid. Herinner je je deze feesten ook?
"Man, I loved those parties ! I was a crazy guy back then, it truly did capture the Holland scene for me ! The people were great, the sound was ear breaking. In fact I almost thought I was going to be deaf after Hellraiser.
"
Beleef je na al die tijd een optreden anders dan toen je net een paar jaar bezig was? Zie je het nu zeg maar meer als werk of sta je nog elke keer met kippevel achter de mixer?
"Oh no, I look forward to it for sure ! Job, naaaaa, a job is something you do to make money. I do what I love & am lucky to make money from it.
"
Je draait vaak op feesten in Europa, welke landen binnen dit continent zijn de grootste Dee-enthusiasten?
"All in many different ways. I think France I have a great connection, Scotland, man for sure and of course Holland.
"
CD of vinyl?
"10000% vinyl. I love it. I like the pops, the skips, the analogue feel. I think you have a true feel when you play records. I don't like the sound of CD's on big sound systems.
"
Hoe kijk je naar de jongere generatie DJs, welke vaak al standaard draaien vanaf CD of langzaamaan de switch maken?
"I must admit I find it a bit sad actually as I think they have no idea what they are missing. It will also make it hard to labels to sell records, but I am sure new things will present themselves over time. Hey Ableton & Final Scratch have already replaced CD's for some!
"
Als DJ en vinylfreak heb je ook het grootste drama meegemaakt wat je men maar kan voorstellen, je verloor zowel je studio als je platencollectie door een brand. Dit gebeurde inmiddels al jaren terug; was het eigen schuld of hadden je buren 'pech'?
"Man it was the worst. I wish this on no one. Got a new studio space & this asshole neighbor did not want to pay his electric bill, so he jacked the electric from a breaker, which caused a big fire which led to the sprinklers to set off 9000 litres of water. A lot of this came into my room destroying my records & my classic analogue gear. It took me years to get paid for the damage. I can't replace the records, but I managed to get new gear & just last week I am back in action with a new studio. Here I go again!
"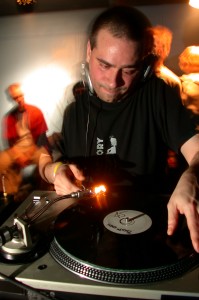 In en uit de studio
'The dreamer', 'Forgotten moments', 'Dope man' (met Dj Paul) en 'Fuckin hostile' zijn maar enkele tracks van
Lenny Dee
en sinds hun release uitgegroeid tot enkele van de grootste klappers op de early rave-lijsten. En dit is nog maar het topje van zijn inmiddels indrukwekkende discografie.
Muziek maken in de studio, hoe benader je dit tegenwoordig?
"Depends, on the project, if I work alone or with somebody. I take each interaction as it needs to be. When i worked with Jappo & Tommyknocker on our new release coming out soon, it was a fuse of my samples, Tommy's slick parts, Jappos drums, then I added some vocals, boom we all did our thing. When I am alone I tend to experiment more, as I have the time. When I work in Europe I have more pressure to make something in a short time. I like both ways. Keeps me on my toes.
"
Frankie Bones heeft wel eens gezegd dat 'The power' van Snap geïnspireerd is op samples en beats die jullie samen hebben gemaakt. Klopt dit?
"Yes we did a breaks record (which was very new back then), called DRUM DROPS VOL 1 & TWO. We made loads of samples & out takes form our collections & re vamps of a few beats. the DRUM DROPS VOL1 & TWO contain the samples they used in 'Snap I got the power'. Some of our other loops can be found on many records made after it's release too. So if your looking for old classic beats, check this out!
"
Hoe omschrijf je zelf je geluid?
"Crazy, hard, pounding, relentless, diverse, silly, fresh, dark, sometimes funky he he he, I think to say one thing would not be accurate. I have done & do make so many different records, maybe 'crazy' is the best word to use.
"
Gevestigd in één van de bekendste wijken van New York, Brooklyn, heeft Lenny in al die tijd een andere kijk op de hardcore ontwikkeld dan de Nederlandse invalshoek. Is er eigenlijk zoiets als Brooklyn-style hardcore?
"I think so. I think it's the foundation for the hardest kore ever made. Speedcore, terror, industrial, these terms came from ISR, DOA & our Brooklyn music sound.
"
Na al die jaren in de studio zou je je kunnen voorstellen dat je misschien wat uitgekeken raakt om weer met een drumcomputer als de TR909 aan de slag de gaan. Wat houdt je deze dagen scherp in de studio?
"Hell yeah. man. I started doing these crazy vocals, I did this back in the day, or I would use other people to do them, but I needed to explore this as I felt movie samples weren't doing it for me anymore. I like to make techno again too, so I like to fuse all these new elements together, which i think works, & sometimes not, but i am much more open to things in the studio. I think it really makes me get into it again, plus it creates something new, & that is what it is about.
"
Dus, nieuw werk in de pijpleiding?
"We just released Tekno Killah which is a collaboration with myself, DJ Randy from Italy and Neo Genesi from Italy. We're releasing an album and music video later in the year for it too. I have a track with Unexist & Tommyknocker as well as some collaborations with Messy Stench and hopefully Frankie Bones again too.
"
"I am finally building my new studio again, so am ready to get in there and bust out some hard-ass kickin beats!
"
Videogames en extreme terror
Dat je met muziek meer kan bereiken dan alleen een single of album release bewijst
Lenny Dee
en zijn muziek wel. Van videogames tot het linken van je naam aan software, Lenny heeft zich in al die tijd al vaker in de wat vreemdere uithoeken van de muziek business gegeven.
Wat is je link met het spel Grand Theft Auto?
"Grand Theft Auto (San Andreas) used my 'Morning After' track under my psydenom "Fallout' (which was me and Tommy Musto). This was one of my very early tracks, which was a big hit in the UK.
" En daar bleef het niet bij, Lenny laat ook vallen dat de wat onbekendere game 'Ultimate Doom' z'n track 'Extreme Terror' heeft gebruikt. Een track met een verhaal apart.
Vaak gebruikt als de ultieme 'oprotplaat' is deze bak intensiteit het voorbeeld van maximale intensiteit in een hardcore track. Wat is het verhaal achter 'Extreme terror'? Klopt het dat, in tegenstelling tot wat veel mensen denken, de stem in deze track niet door Oliver Chesler (
The Horrorist
) gedaan is?
"Yes that is correct. Oliver did extra takes on his versions. Darrien Kelly & I came up with the hook in Carl Cox's house. I went back to NYC and I asked Sal Mineo to produce the track for this concept project. Sal's mates just got out of the army, so armed with a loud ass kick drum & a case of beer they let all hell break loose. So, for the record, & for the fans who want to know, the original vocals were done by Kevin Grieg & Carl Dachtler.
"
"It was a group project. My only goal was to give the people something really hard when most songs & producers went towards a happy vibe at that time. We wanted to terrorize them with real hardcore. I think we did!
"
De artiestennaam bij dit project, 'DJ Skinhead' zal niet bij iedere hardcore liefhebber een positief beeld aanhalen. Echter is dit nooit zo bedoeld, toch?
"The Artist name was a reference to the bald headed guys I saw at the holland parties which I thought was a fun twist as none of us were bald, but all actually had long hair. It doesn't & NEVER had ANYTHING to do with actual 'skinheads'. I just wanted to make it clear as I feel many people see this as a fucked up name.
"
Hoe zat het met de
Lenny Dee
(hardcore) editie van het toendertijd populaire Magix Musik Maker? Ooit daarvoor wel eens je gezicht op een verpakking gehad?
"Ha ha, wicked, that was a first. I happened to miss my flight & stayed in Germany at Octoberfest. I went to drink with Rene the promoter from Rave City & I happened to meet this software guy. We started to drink, next thing he tells me about this software he made to teach kids about music, so I extented my stay, we met up & I convinced him to let me have a go. It was tuff work for one month, but it was great experience.
"
Hoe kijk je tegen downloads aan, legaal en illegaal?
"I would much rather people did not share the music for free ! It's a problem for indie labels like us when music is shared as labels and artists don't get compensated for their work, which makes it harder for Artists to survive and make more music. With that said, legal downloads are a positive way to reach out to people via the and it's a great way for people to buy our music who aren't DJs. I think it is about managing it from the label perspective & treat it like a separate way of selling music in conjunction with tangible formats.
"
­
Dee-day, Lenny Dee – 40 years of life
Op 11 april is het eindelijk tijd voor een feest op Nederlandse bodem wat geheel in het teken van
Lenny Dee
staat. Ter ere van zijn 40ste verjaardag die maand geven Third Movement en Industrial Strength het feest Dee-Day in de
Melkweg
Amsterdam! Heb je er al een beetje zin in?
"I am fucking looking forward to it ! I wish we had more time to have other friends come and play, but i am very happy to have the guys come out and share a crazy night with the people of Holland. The club intimate, so all the guys that play are coming for my birthday, so the people can expect a really diverse, crazy night one on one. I hope the people come, I know they will enjoy it.[i]" Is dit de eerste Dee-Day? [i]"No, the first was in Chicago, and at least one in New York and maybe also France. It's a bit of a birthday tradition. I could tell you some stories about the one 10 years ago in NY with people Manu, Marc Arcadipane, Nebula 2, Torgul & the rest of the ISR crew……but maybe I shouldn't heheheh
"
Wat kunnen de mensen verwachten deze nacht?
"Well the lineup says it all. Industrial. hardcore, Dark, techno, classics, industrial, speedcore, man it will have it all, but in one room. Like the old days, so it will not be boring… Plus it great to present a mixed music event in a small club in the center of Amsterdam.
" Op het eerste gezicht is de line-up een combinatie van niet alledaagse artiesten, heb je daar zelf iets mee te maken gehad?
"I guess so, these are my friends, so they come to play from the heart, I think the people who come will feel this.
"
En dan is de tijd op, ook al weet ik nog maar iets meer van deze levende legende, Lenny moet weer door. Wie weet ooit een vervolg. Voor nu moeten we het doen met de vooruitblik op Dee-Day en jaren aan nieuwe Industrial Strength releases.
Ook al heb je een immense staat van dienst, heb je nog doelen die je graag zou willen behalen?
"To keep on pushing music. I hope to start working with more songwriters & vocalist this coming year. Keep banging out the beats.
"
Vooruit, nog een paar korte vragen dan;
Ook al draait je leven om muziek, toch moeten er nog momenten zijn dat je even aan iets anders wil denken. Waar besteed je je vrije tijd aan? Nog hobbies?
"Going crazy ! he he he . i do the label with Jules, that takes a lot of time. I like to chill out at home, whenever I can and I love to cook for my wife. It brings me to another place when i am in the kitchen. plus if it tastes good, it is a plus!
"
Was je eigenlijk bekend met de Partyflock community?
"I know it for sure. It's great to see what parties are on and who is playing. It's so well maintained too. I wish I spoke Dutch to understand the comments better. We use an online translator sometimes but it never comes out correctly he he - I love it!
"
Nog enkele (beruchte) laatste woorden ter alsfuiting?
"Whew, !! A long interview for sure. but... I really hope to see u guys on Dee-Day, it is gonna be a fun night - time to drop the bomb!
"