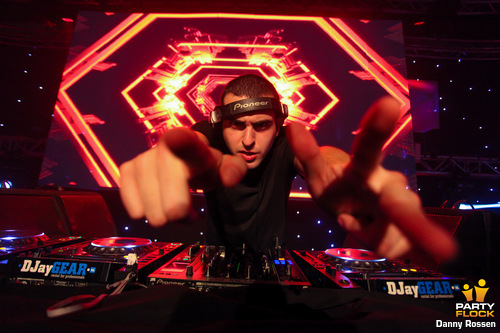 Vendetta
· 31 januari 2015
Naam
José Gonzalez
Functie
DJ, producer, live act
Geslacht
man
Herkomst
Spanje
Genres
hardcore
Site
djwastedmind.com
E-mail
booking@mostwanted.dj
Aanwezigheid
Affiliatie

1

Lid

Wasted Mind

(16 apr 2015)
29 waarderingen
Almere90998:

wasted mind kom terug!!

Jesper Scholten:

zeer goed

CiRiXxX:

Great producer, love the kicks

maddog87:

i give you Geweldig

because it is geweldig

Great hardcore

Passion 4 Core:

Great set @ Masters of Hardcore NL

Leeleelee:

Here we go!

vaage erik:

Nice kicks

NrdwHC:

Geweldig!

RickK:

Masters of Hardcore 2014

Gurt:

De tracks van hem zijn zoo lekker en dan droom ik altijd nog weg op dat setje van Dominator 2013.­ GOUD!!

mieskuh:

zoals die jongen voor me zegt epic new hero,Verry nice hardcore music

Tim ..!:

Epic new hero!!

heeschenaar:

you are the best spanish DJ

trybeforeyoudie

BarryPoten:

Lekkere Tracks, Heerlijke Melodiën, Mooie Kicks en Heerlijke Lyircs.­ Wat wil je nog meer ? Petje af voor deze Spaanse Held.­

---Ralph---:

Awesome tracks!! Especially Despite you is one of my favorites! Hope to see this guy playing at more parties!

Antraxsniff:

dj of the year to me!!! I love the screaming synthesysers u use man, keep it up!!

Pasquale di Natale:

Reason and rayo de sol kicks ass

Robbertjeee:

Super dikke intro met een mooie liveset!

Smoellie:

Dikke set op Dominator 2013!!

In één klap favoriet!!

.­•° DJ Shir-eL °•.­™:

Your tracks are just F*CKING EPIC

You Knowww

See you soon my friend

' JD:

Tha master

HERO !!!

T-ERROR:

super artiest, kan niks slechts over gezegd worden

Evolver:

Dikke set op Dominator 2013

hsdfh832sdl:

JAAAAAAAAA!

hardco­redraa­kje:

Op masters of hardcore was je voor mij echt de held van de avond WAUW !! ik kijk niet normaal erg uit naar dominator!

The Bass Machine - The Bass Creator:

You are Awesome

platnoize:

epic...­!! hell of a set..­!! came to see him play..­!!

willems:

I was looking forward to see this guy in action.­ Last masters (13-04-2013) was that moment and I was blown away, what an extreme set!!! Energetic, melody and a fresh new and hard bass! I hope to find this guy on the summerfestivals this year!

Wasted mind--Pascal:

awsome
85 opmerkingen
Laat de boekingen maar komen

D-Fact | 50 %Noisemaking Criminals | TN



Weapon X - Hell Awaits (Social Suicide Remix)

Paradox, heldentrack!

Wasted Mind - You know


Hardcore as it should be


Wasted mind - Despite you

Hij moet meer nummers maken zoals Strange
ik vind ze allemaal kneiters

Despite You, Upside Down, Paradox and, especially, Rayo de Sol are F*­
CKING AWSOME!!



AWESOME TRACKS!
despite you & go boom
zwaar goed te doen

Im a great fan of your music! Keep on going
Me to,This music keeps you movin,and give you a lot of goosebumps,Wasted mind

Me nieuwe held





Naaa niet normaal hoe erg ik naar zijn setje uitkijk op Masters of hardcore zaterdag!

Ik heb via de stream alles geluisterd... toen was jij aan de beurt : -> Wat een fyne doorram beukset was dit! No nonsense hardcore met een hoog tempo. Ik vond t vet!

Beste set van Dominator 2013!!!
You.. yesterday.. @ Decibel.. h4l..

My fav dj.­ Awesome tracks! Looking forward to see you at HDE and Fucking bastards!!!
Waarom niet op dominator?