We hebben de laatste tijd weinig nieuws vernomen van de Italiaanse hardcore formatie
The Stunned Guys
. Dat betekent niet dat ze stilzitten! Ze hebben een nieuwe compilatie uitgebracht in opdracht van Digidance en zijn zeer druk voor hun Traxtorm label. Een korte kennismaking en wat achtergrondinformatie over deze Italianen die aangeven dat zij zelf hun belangrijkste bron van inspiratie zijn.
How did 'The Stunned Guys' originate?
Year 1993, we were spending our nights in a small, wet basement, where our first "home" studio was based, creating new and different music, following our only dream to become part of that uprising techno scene which had just started. During that period Maxx was attending university and he was working in a small recording studio in Milan as sound engineer and Giangy was DJing at Number One club and, during the week, he was doing military service.
Why the name 'The Stunned Guys'?
This is a funny one: we didn't choose it. When Buby went first to Midtown to offer our record, he decided our artistic name by himself, together with Midtown's A&R. But then everything grew so quickly that we decided to keep the name "
The Stunned Guys
"….which, by the way, we like!
Who or what forms your source of inspiration?
We listen to a lot of different music, from rap to metal, and from movies soundtrack even to some classical.
DRE

:
Is there an artist that had a major influence on your sound?
Yes, we had!
perspektiv
:
What ever happened to DJ Buby?
After the first release on Rotterdam Records he decided to leave the group, everything was so unsure but to go on it needed a lot of work and dedication, and he wasn't able to be 100% into it. Now he is a lawyer…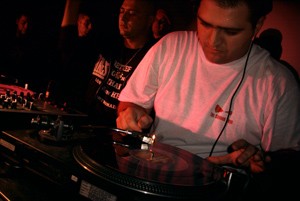 Could you tell us more about the way you guys produce tracks?
We just go in the studio and play as long as something good comes out: I never start a new track before I finish the one I'm working on.
TheHand
:
Do you have any tips for starting producers? What are the do's and don'ts?
Make your sounds as dynamic as possible, always work at 24bit until the final master, don't use too many plug-ins on a channel and, most of all, always look at the dance floor!
dr macabre
:
Do you prefer big festivals or small intimate clubs? How, for instance, did you feel about being the closing act at the Thunderdome ten year anniversary?
We just prefer good parties, it doesn't matter if it has three hundred or fifteen thousand people, it all has to do with the atmosphere and the feeling between the crowd and us. About Thunderdome: we hopefully will be the closing act of the 20 years anniversary!
Where do you get booked most, Italy, Holland or…? Do you notice a difference between organizations and public between various countries?
Main countries for our bookings are Holland, Italy and Spain. Of course publics are different, but all of them are 100% on our music, and of course we love it. We also make CDs in different countries, as now in Holland with 3xHARD3R Chapter 3: we don't adapt our style and our tracklist to the country the CD is supposed to be released, we are one way straight on the music we like.
What are the ultimate highs and lows of your career?
In fourteen years we've never had big highs and lows, our only regret is about all the tracks we haven't produced….yet!
*From The Beach*
:
What's the weirdest thing that ever happened during one of your gigs / bookings?
So many crazy things happened… I just tell one story. A few years ago we were on a tour in the USA, we were in Los Angeles and we were supposed to fly to Seattle the next day for the next gig. Well, at 6:30 a.m. we missed our flight to Seattle and the girl from the flight company gave us two tickets to Rhino (which is right in the middle of a desert) telling us to go there for a connecting flight to Seattle a couple of hours later. No fuckin' connecting flight was there and we got lost in Rhino for 10 hours without mobile phone so we couldn't speak with the promoter, having no idea how to go to Seattle in time for the gig, as no flights to Seattle were scheduled for the next hours. We finally reached the club in Seattle at about four at night and we played our set as a last act of the night.
perspektiv
:
Your latest 'Traxtorm Revamped' release contained a never released track 'Hardcore xtc'. What's the reason it was never released? Can we expect more of such never released tracks?
It was a surprise for us too: a few months ago we were reorganizing our track archive, and suddenly a few DATs from the old days came out containing unreleased tracks which we completely forgot about: yes that's crazy! We have some more unreleased music coming out soon on Traxtorm Revamped, stay tuned.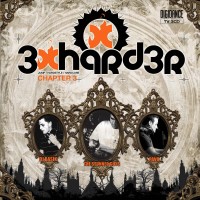 We haven't heard many new productions from you lately. Are you guys toning down a bit now you're getting older? Or are you planning on doing more compilations like '3xHARD3R Chapter 3'?
The reason for this is very simple: nowadays Traxtorm takes a lot of our time: don't forget that we release music of
Tommyknocker
,
Art of Fighters
, DJ
Mad Dog
,
Meccano Twins
, Amnesys, to name but a few. We spend a lot of work on every single Traxtorm release, so the time we can spend on our own tracks became less and less over the past few years. But don't worry, we're always here producing our tracks the best we can. Which I guess is still good enough… It was an honor for us to be asked to mix the 3xHARD3R Chapter 3 hardcore cd, we see this as another sign of the good job we're trying to do. We haven't mixed any cd's in Holland lately, so it was cool for us to be asked by Digidance to mix the hardcore cd of 3xHARD3R Chapter 3. But our gigs in Holland are very good, we play a lot there, and in the last years we produced a few trax which became big hits in the hardcore scene….we never die!
BIOCANDY
:
What will be the future of the genre hardcore?
Over the last few years many sub-genres came out, and some of them already disappeared, in the future again new sub-genres will show up, but our point of view is that hardcore was born to be party music, people want to dance to it. As long as people will dance, it doesn't matter the sub-genre, the hardcore scene will be alive, and this is going to be forever.