Twee mannen uit Engeland laten al jaren achter elkaar de harddance scene op zijn grondvesten trillen. Sinds hun eerste vinylrelease zijn hun producties niet meer uit de platenzaken weg te denken en hun semi-live optredens zijn nu al legendarisch. Sinds hun optreden op 4 Elements, wat al weer tweeënhalf jaar geleden is, ben ik een grote fan van ze en volg ik alles wat ze doen. Omdat ze aanstaande zaterdag weer in Nederland zijn, heb ik ze eindelijk kunnen strikken voor een interview. Het werd een behoorlijk hilarisch gesprek en de foto's die ik opgestuurd kreeg werken daar natuurlijk helemaal aan mee. Ladies and gentlemen, prepare yourself for the Organ Donors!
Gentlemen, how are you doing? Lots of people know you two only by the name of "The Organ Donors", but who are you in real life? Please tell us something about yourselves and what you do besides your music-related activities.
Hey mate! Well it's me (Scott) and my good brother Matthew who together make up the "Harris Organ Donors".We are 29
and 30 (Matthew) years of age and we are based right down near the beach of Bournemouth in most southern England. We've lived here almost our entire lives and from this we have a large social circle of friends with whom we party with at all available opportunities. We do love to party, and party hard you might say, but also have other hobbies of which we console ourselves in. Matthew is a keen fisherman, on the hunt for slippery adversaries, he's regularly losing himself in the beauty of mother nature, but more regularly losing massive fish of which I have to endure the stories of "the one that got away" on our plane journeys!
Until recently due to a back injury, I have been a keen rollerblader, often found rolling along the sea front of our beautiful beach with friends, and although I look like a twat, I've found it to be very relaxing and good for the mind and body.
­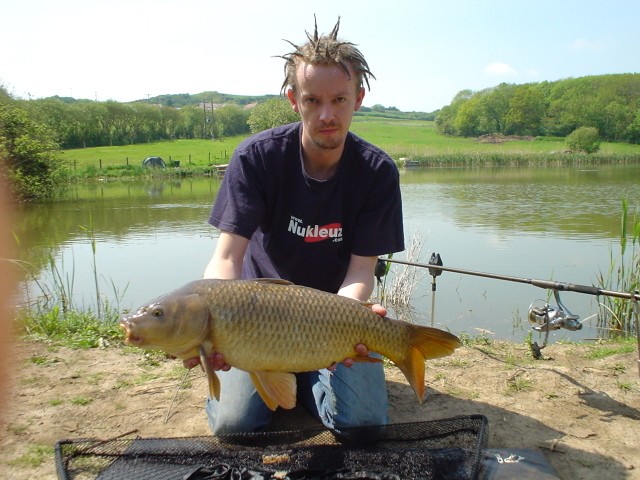 Matthew and a very big fish!
The first time I saw you perform was at 4 Elements in 2003. You played at the Fire-stage, which was hosted by HQ, alongside some big names like Nick Sentience, Energy Dai and Tom Harding. However, afterwards everyone was talking about the set you guys did. You introduced a whole new way of playing semi-live sets, but how do you do your work on stage? Does one of you mix the records and does the other one do the tricks or… ? What equipment do you use? Do you practice some tricks at home or is it all "on the flow"? Please tell us all about how it works because we are dying to learn about this!
Yeah 4 Elements was a true legend for us and a real turning point in our career, it was one of the first DEX&FX performances we have done and were just thrown in at the deep end at this massive event, we were shitting ourselves!
From having such a producer's reputation at the time, we were under pressure to do a live show from our agents and labels. Matt has been a die hard DJ since the age of 15 and had no intention of losing his passion for mixing. This left us in an awkward position, if we set up a live show, we thought it might take over the bookings because that's what everyone was asking us for. We were struggling to get straight DJ sets, so we just decided to try to develop some kind of new show somehow that would take elements from both DJ-ing and live-performing. This was how our DEX&FX show was born; it was a hard journey and took a long time to develop both with the equipment we could use, and the techniques of how to perform it. But we absolutely nailed something when we discovered the revolutionary Audio Signal to Midi Clock technology, this would become the backbone of our show, enabling us to synchronise sampled loops and sounds with what was happening live on the turntables.
I think the biggest advantage we have is there is two of us, any DJ knows that there is limited time and fingers for just one man to tackle during mixing, our two man show really gives us space and some serious potential for tweaking.
­
Organ Donors at 4 Elements
2003
Your style is a blend of hardtrance, techtrance, uk hardhouse and some pounding harddance, but is dance the style with which you started when you first started DJ-ing? When did you become DJs, did you both start your careers at the same time?
We're always being asked as to what style we're playing, and it's a long answer, I suppose it's the same as what style music we write, which is really across the board, for us it's not about a single style, its about what we think are decent tunes of any style.
And it's always been like this for us, though over the past years, there was never such diversity and subgenres within the music. We have always just been playing dance music basically yes, which includes the acid house and electro pre-rave/ dance genres!
Matt was DJ-ing in youth clubs by the time he was 15, the early original rave sound of Rave Signal etc; he was also big on the Dutch hardcore when it hit the UK in the early nineties. I was also DJ-ing for a similar time period doing my own thing, but basically in my older brothers shadow, it was only when I set up a big production studio in the late nineties that we both came together as a team and just started hammering it to death, we just got something that works I think.
How and where did you learn the scratch- and beatjuggletricks? Did you try to copy a famous scratch-DJ or did you just practice until you dropped?
Matt has been scratching for as long as I can remember really, years before he even got his first decks in fact, I remember him on our old dears Hitachi shit hifi thinking he was f*ckin Herby Hancock! But like actually scratching up all the records! We were into hip hop and break-dance before dance music was about, Malcolm Maclaren and Bambata were the kings, Matt would try and imitate the scratch techniques in the records, and from there he just never stopped practicing his scratching, even at the family meals he was scratching his balls under the table! It was clear to see he had a natural ability you know.
We were into the music and scene so much back then we even had our own break dance crew called WHCB, West Howe City Breakers! We were shit ha, god we even done some shows at school and bingo halls, me and Matt would basically just roll around the floor like a couple of twats, waiting for our mate Jake to come in and save us with his back flip for the finale! Ha, but the passion for it was there anyway and what set us up into dance music really.
­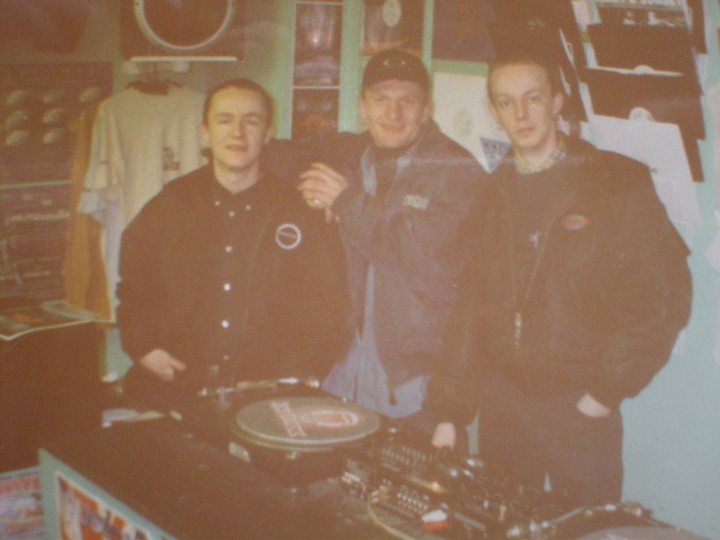 Back to the oldschool!
You played a smashing remix of "We Cannot Get Enough" by Marxman and Laidback Luke. Was this an exclusive one-time-appearance or can we expect this one to be pressed on vinyl? I also read some news om the board of the Tidy-website that you and Alex Kidd teamed up to create a remix of "Technotronic – Pump Up The Jam", what can you tell us about that one?
No the Laidback Luke remix was just a one off DEX&FX special we had prepared for our return to dance Valley, as it was the anthem of the last DV we played in 2003 and held special memories for us.
The track we recently done with Alex Kid is under our asubom "The Surgeons" called "Boot up the Jam". We didn't really realise at the time the vocal had been used in a few other dance tracks and somehow forgot it was the song from the annoying Crazy Frog adverts! But hey, we all been playing it out in our sets and getting some great feedback so sod it.
I already mentioned the fact that your style is quite broad. Hardtrance, techtrance, uk hardhouse and harddance are the main styles you play on stage, but also the records you produce are never two of a kind, which your album Plastic Sugeons also prooves. When you compare "4 Tribes" to your monsterhit "99.9", you hear two totally different tracks. How do you manage to create new, freshsounding productions and how do you come up with the ideas for new tracks?
Our taste for dance music spans the entire harder spectrum, we are into every element each style has to offer, more to the point: it doesn't matter what style the song is, we're into trance riffs, techno riffs, techno loops, big breakdowns, short breakdowns, epic songs, anything that we think is good.
When you have so many possible options for a direction in a production, you can go anywhere, we never really know how a production is going to turn out, we just set at writing a track and go with the flow of it, whatever style it seems to be heading. All we try and do is keep it hard, interesting, original and dance floor friendly, that's exactly what we are about.
­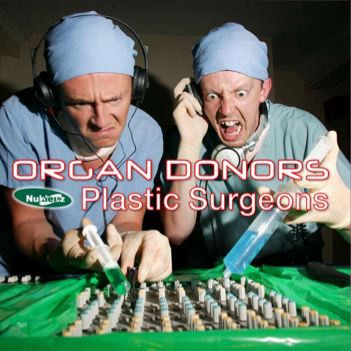 Their first album, to read the Partyflock review click here
You get to play at the best of the best parties you can ever imagine; Dance Valley, HQ, Impulz, Hardhouse Academy… don't you ever think: "What is happening to us?!". Do you take it for granted! I mean, you play at the best of the best parties, almost every single record you produce sells out in no-time, aren't you ever afraid that it will end someday? And what are you planning to do when your DJ-careers are over, will you keep on producing or would you start all over again in a whole other business (like real estate or "serious" stuff like that)?
Well thanks, that's a big statement, although we've worked long and hard for what we've achieved, we're still very and always appreciative of everything that comes our way, and with the people we meet, and yes it's sometimes hard to take in. The lucky things we get to do and the places we go, but you have kind of been doing it for so long and experienced so much over the years, sometimes you just cant help but take it a little for granted. I mean for example, you might come to expect a certain level of service from promoters, and say, if the service is below what you come to expect, you could easily find yourself mumbling under your breath like a grumpy old man. I suppose it just comes when your so familiar with the business, but we always put each other straight, we certainly never kick up a fuss and never take the piss, we've been with so many other DJs over the years that have verbally and openly complained about hotels, set times, transportation etcetera and we've witnessed first hand as to what the promoters then say about them afterwards! For this we'll never get into that habit, well not just that, we're not those kind of people anyway and hey, you really got to be mad to be complaining about DJ-ing for a career right!
If the music business went tits up, god we would be in trouble ha! We both have no GCSE's, no qualifications, and no work experience in anything other than music! This is obviously not due to our ability to learn haha, we were always bright at school, we just never applied ourselves or any motivation into anything other than music and entertaining!
I think Matt would become a professional fisherman, and I'd have to get into adult entertainment maybe, though im not overly endowed or anything ha!
­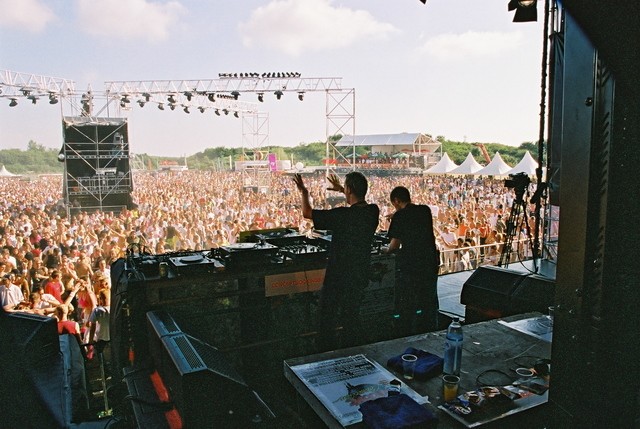 Rocking at Dance Valley!
The near future… Of course all your fans were very happy to hear that the Organ Donors are on the lineup of I Love Hardhouse in the near future. The 24th of September will be all about the best of the best harddance, presented by good old HQ. The other DJs will be Ed Real, Dark by Design, Danny D and lucky me (very excited!!), so almost all styles of harddance will be represented that night. But what can we expect from you? Brand new tracks? New own productions? New hardware that will kick the shit out of the soundsystem? Tell us, because lots of your fans can't wait to see you again (so they told me).
Yeah this is such an exciting party for us, it's HQ, the guys that brought us to Holland for the first time in our career all those years ago and have always been supporting us ever since and believed in us. We were very young the first time we came, we had been following the Dutch scene all our lives and to go there and to the legendary record shops was very emotional for us. We have become very close friends with the HQ gang ever since, and have followed all the trials and tribulations that they have been through, so to have this new HQ presents I Love Hardhouse venue is as exciting for us as it is for anybody at HQ and we cannot wait to play there and hang with the gang once again.
­
Organ Donors
at
High Quality
, September 2002
For our performance, we got some great new productions and remixes to air, some clever bootlegs of past and present anthems which have just been so hot recently on the dance floors. We're not bringing in twentyseven CDJs no haha! We're just gonna be doing what we do best! Rippin that shit up! Come check it!
­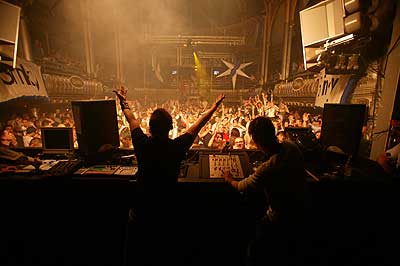 Ok, a regular section in the interviews I do: Charly's Choice List. Please choose between the two options:
Beer or whiskey?
Zambi!
Korg or Pioneer?
Scott: Korg, Matt: Pioneer, Our Mum: Hitachi
Mohawk or bald?
Is that a dig at Matt?

Dance Valley or Hard House Academy?
Nothing tops DV!
Producing or DJ-ing?
DJ-ing
Diesel or Replay?
Neither!
Friends or Seinfeld?
Lexington Steele haha!
E-mail or MSN?
MSN
Get up at 8 AM and go to bed at 11 PM or get up at noon and go to bed at 4 AM?
Get up on Friday, go to bed Monday!
Playstation or Xbox?
Playin with myself!

Oldschool walkman or MP3-player?
Neither, but if they ever develop pocket vinyl…
Adidas or Nike?
Adidas
And the toughest question a DJ can get: music or women?
You know that's just impossible to answser! Hehe!
Thanks guys, it was a great pleasure to do this interview!
Right back at ya mate!
­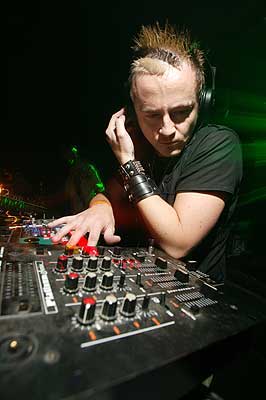 ­