So Tom, you just got back from doing a tour in Asia and Australia and saved the best for last. How was the tour and what did you think of our own Dutch "Sensation Black"?
The tour of Asia and Australia rocked. We'd been planning it for ages and it was really great to be able to go and play in all these amazing new places. Over a five-week period I played in Tokyo, Osaka, Shanghai, Taiwan, Jakarta, the Phillipines, Perth and Sydney. Sure it was pretty tiring and there was lots of travelling to do but to be honest: the time went really quickly.
While the tour was great fun, NOTHING could have prepared me for Sensation Black. I'd never been to a Sensation event before so didn't really know what to expect. It only really hit home to me just how big the event was when we were driving from my hotel to the venue and I could see the Amsterdam Arena on the horizon with it's whole roof flashing and thousands of people dressed in black walking along the sides of the road. When we arrived at the stadium we were walked in through the artist's entrance, which lead straight into the royal box looking out over the stadium. It was then that it REALLY hit me. It's almost impossible to put into words the feeling you get from looking out over 40,000 people all dressed in black dancing to one DJ and then realising that they are going to be dancing to you in just over an hours time!
It was a mixture of excitement and terror. Anyway, just like every big gig that I play, as soon as I got on the decks the nervousness went out of the window and I had an amazing time. It was quite strange playing in a DJ booth that was continually revolving through 360 degrees but this made it possible to interact with the whole of the crowd wherever they were standing. After my set finished we stuck around to check out some of the other DJs who were playing after me. Deepack did a mental set with live percussion and amazing scratching which was really cool and Outblast nearly tore the roof off at the end. I'd just like to take this opportunity to thanks Olga and all the crew at ID&T for looking after us so well at the event… those guys surely know how to throw a party!
I assume you place your gig at Sensation in the same category as Dance Valley and Impulz, festivals at which you played at several times. You are even one of the very few people who got to play every Dance Valley since its birth. What does Dance Valley mean to you? How would you describe the feeling you have once every year waking up and knowing: "Today I get to play at Dance Valley again!"?
To be honest while Sensation was amazing, for me nothing comes close to playing on the HQ stage at Dance Valley. Sensation is an indoor event that happens at night whereas at Dance Valley you are playing outside as the sun is setting. There is no other feeling like it. Dance Valley is always the DJing highlight of my year and I look forward to it for several months beforehand. When the day finally arrives the excitement always turns into nerves before my set, which helps to focus me. After all that planning you want to make sure that you give it your best and get the crowd jumping. Just like at Sensation, as soon as I get on the decks I start to really enjoy myself and by the end of my set I'll normally be jumping around all over the place. I'm really looking forward to this year's Dance Valley as I have been given the honour of closing the HQ stage. I'm just putting the finishing touches on my set, which I'm really pleased with. I'll keep you guessing about what tracks I'm going to play but you can expect a mixture of brand new upfront hard dance with a few classics thrown in for good measure.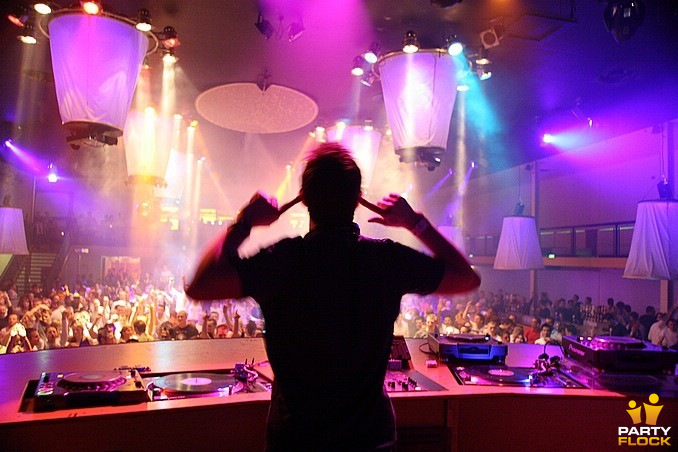 You haven't been playing over here in Holland a lot lately. What have you been up to besides the tour?
Two words: getting married! My wedding was two weeks ago and it's taken so much planning to get everything sorted in time. That said, my wedding was the best day of my life and it's such a great feeling to be a married at last.
Next to being a dj for profession, you have also been producing a track of your own every now and then. Anything new in the pipeline?
Just recently I've been so busy with the Asian tour, Sensation Black and planning my wedding that it's been almost impossible to find time to make it into the studio. Once things get back to normal towards the end of the summer I should hopefully be able to get back in the driving seat and get some tracks finished so watch this space!
You collaborated with people like BK, Chris Hampshire and Marzz, do you still have anyone on your wishlist to collaborate with? If so: who is that person?
The producer that I'm really excited about at the moment is a young guy called Jamie Taylor who releases tracks on Ed Real and BK's Riot! label. I really like his sound… it's forward thinking hard dance with a lot of techno influences. I've been playing a lot of his tracks in my sets recently and they always get an amazing reaction from the crowd, so he is definitely someone that I'd like to work with in the future. Having said that I'd also like to work with BK again… he is and always will be the master of hard dance production. Again: watch this space.
You seem to have refound the pleasure in playing Uk Hardhouse. After a period of techtrance and techno you are definitely back in the hardhouse game, but what about the techtrance? Do you only play that style when you perform in other countries or can we expect a techtrance set at Dance Valley this summer?
In 2003 I started to bring elements of techtrance and techno into my sets because at the time the hard dance scene was a bit flat and there wasn't that much good new music out there. This worked well at some clubs and events but not so well at others, including HQ, my main residency. Since then a whole new breed of hard dance producers like Jamie Taylor, Gaz "Dark By Design" West and Alf "Technikal" Bamford have broken through and in doing so they have brought a new energy to the scene. With all these great new producers making tracks that I wanted to play, at the end of last year I made a conscious decision to only play hard dance at UDC events (including HQ and Dance Valley) and to leave playing techtrance for guest bookings. At the end of the day people who come to hear me play at HQ or DV are expecting hard dance and so I think it's important to play music that they crowd is passionate. Yes I still do play techtrance and techno in my sets but normally only if the promoter of the event has specifically asked for it.
One of the other main reasons why I expanded the style of music that I play back in 2003 was to allow me the scope to play in certain clubs and countries where I had not played before. This was to help develop my career as a DJ. Back then I'd been playing at certain clubs in Holland and the UK on and off for nearly a decade and I was keen to branch out and play in some new places. UKHH is quite a niche style of music that is very popular in the UK, Holland, Canada, Japan and Australia but a lot of countries simply don't have a hard dance scene or any clubs that book hard dance DJs. By evolving my style to make it more 'exportable' I suddenly found that I was getting booked to play at lots of new clubs that I hadn't played at before. This is how the tour of Asia came about. At some clubs I was playing straight up UKHH but at others I was playing a mixture of styles to suit what the crowd was into.
As far as Dance Valley this year is concerned I'll be playing a UKHH set consisting of a load of brand new tracks from some of my favourite producers alongside a few classics towards the end. I can't wait!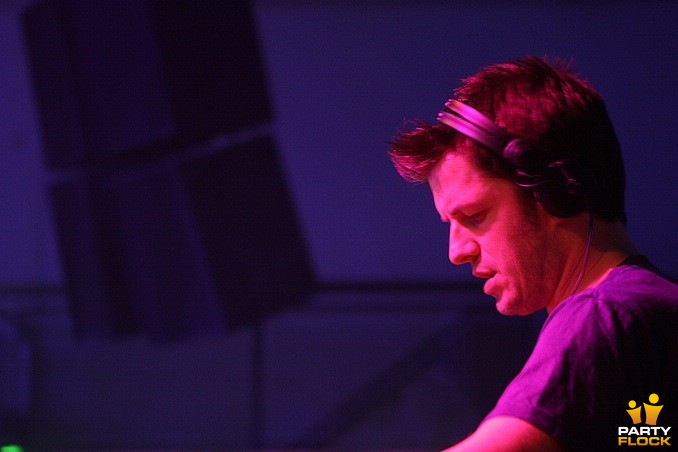 Everybody knows that you are one of the people who made HQ what it is today. Can you explain what you feel when you see the people in front of you right before you start your set at an HQ-party?
It's a truly amazing feeling and one which I will never get tired of. I love playing at HQ as it holds so many great memories for me. Unlike some bookings you can always count on the crowd being 100% behind what you're playing which means that you can get away with playing tracks that you couldn't anywhere else. I always look forward to playing at HQ, it's without doubt my favourite club event to play at.
You've been a member of the HQ family for over 10 years now. What has changed in these years? Did it become better? Or did it become just a little different but still as good as back in the old days?
The whole scene in Holland has changed so much over the last ten years that it's almost impossible to make comparisons between 'then' and 'now'. When I first started playing at HQ nobody knew who I was, nobody was playing the music that I was playing and nobody had heard of UDC or Dance Valley. Back then I was essentially playing underground dance parties for people who where 'in the know' about the dance music scene in Amsterdam. Jump forward ten years and I'm a well-known name on the Dutch scene, hard dance has a big following and UDC is one of the biggest party promoters in the world. It's simply not possible to say whether it has got better or worse… it is just different. For example when I first started out, while it was very fresh and exciting, we were all still finding our feet so perhaps the sound or production might not be as slick and professional as it is now. These days everything that UDC does is so polished and well practiced that nothing ever goes wrong.
Please choose between these options, you have to pick one of the two options everytime:
McDonalds or Burger King?
Burger King
Impulz or Dance Valley?
Dance Valley, always
Hardhouse or Techtrance?
That's a tricky one, but Hardhouse will always be closest to my heart
Both a nightmare, but which one would you rather loose at an airport during a tour? Your lucky pair of Diesels or your headphones?
My headphones definitely… I can always buy another pair whereas my Diesels are irreplaceable!
Amsterdam or Bristol?
Bristol… it's my home after all!
Tidy or Nukleuz?
At the moment definitely Tidy
Pioneer DJM 600 or Dateq Apollo?
Pioneer DJM600… it's what I'm used to using…
Red Bull or beer?
Beer of course!
Amstel or Heineken?
Heineken
Dark by Design or Technikal?
Another tricky one… I'd say Technikal but only just…
Vinyl or CDR?
CDRs are very useful but you still can't beat good old fashioned vinyl when it comes to sound quality
BK or Chris Hampshire?
Although Chris is a mate it would have to be BK… he's one of the best producers in the business
Women or music?
Impossible to answer

Thank you for the effort of answering my questions Tom, and be sure to rock 'm HQ-style this weekend at Dance Valley!
TOM HARDING WILL BE HEADLINING THE HQ STAGE ON SATURDAY NIGHT AT DANCE VALLEY FROM 21.30 UNTIL THE END.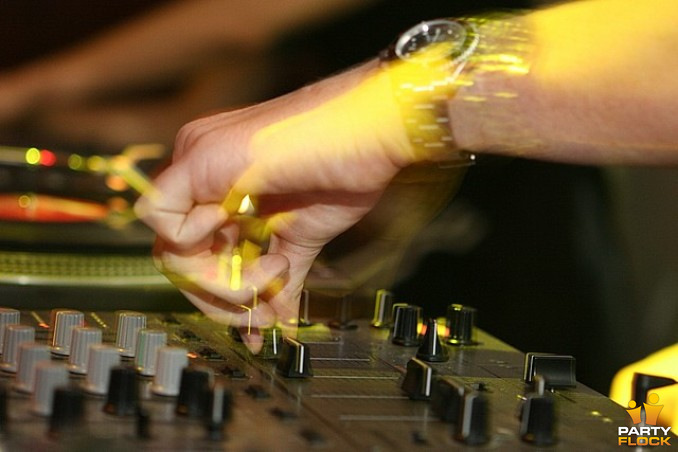 Pictures taken by
®aven
(Denny Yau).