Marc Romboy
en
Ken Ishii
hebben recentelijk hun nieuwe album, genaamd 'Taiyo' uitgebracht. Wij van Partyflock willen alles weten over deze Japans Duitse samenwerking en alles daaromheen. Immers Japan en Duitsland liggen een eindje uit elkaar.
Congrats on the new album 'Taiyo'. How are you feeling at the moment?
Marc:
Oh, I'm very very glad and happy because I haven't expected such an overwhelming feedback about this album. Not that I expected nothing but 'Taiyo' is a concept album and you need to take your time in order to dive into the music. But apparently people do so.
Ken:
Marc is right. I'm really happy with what we have musically done and those awesome reactions to the album. There is no compromise in this album, just our pure creativity in it. That's a great fact that it is accepted and liked by the listeners.
How did you guys meet each other? How did the album 'Taiyo' come together?
Marc:
The initial happening was the matter of fact that I addressed Ken in order to get a guest mix for my radio show 'Systematic Session'. Ken, please continue, what happened afterwards?
Ken:
Then Marc gave me an idea to make a track together. It was a bit of surprise because we still had never met each other face to face at that stage, but I was curious for what chemistry could come up with Marc and I said yes. Of course I knew what he had been doing on his label and loved his attitude towards music. Anyway, when the first track Taiyo was done, we both had a feeling we musically clicked with each other and we should start making a full album. It was a natural procedure for us.
Has the collaboration led to new ideas? Will there be more projects of Ken Ishii and Marc Romboy in the future?
Marc:
First of all I'm content that the album is finished and in stores now. But hey, sure, the day will come and we continue our collaboration. It was huge fun to work together.
Ken:
Of course there will be more one day! However, as Marc said, we just gave a birth to our baby so we need to feed it to grow now!
Do you have other artists in mind who you would still like to Collaborate with?
Marc:
I'm very lucky with people like
Stephan Bodzin
,
Blake Baxter
,
Rodriguez Jr
. and
Kink
besides Ken. From now on I will rather focus on solo releases until the end of the year. However working with vocalists is still something which piques my interest!
Ken:
I'm always open about collaborations. Last year I did some collaborations with a singer and jazz musicians for my other project called Metropolitan Harmonic Formulas, so I'm a bit more interested in collaborations with electronic musicians for this year.
Do you have any special projects for the future in mind?
Marc:
The soonest project is a b2b show at Nouveau Casino in Paris March the 23rd! I'm very very much looking forward to this show and very curious how it will run.
Ken:
Yes, this is what I'm looking forward to right now! This will be the very first time for us to play together. Also, 'Taiyo' album will be released in Japan in a double CD format in April. I have asked three Japanese artists for remixing - DJ Sodeyama, DJ Wada and
Hideo Kobayashi
, and I will do my own version of the album title track.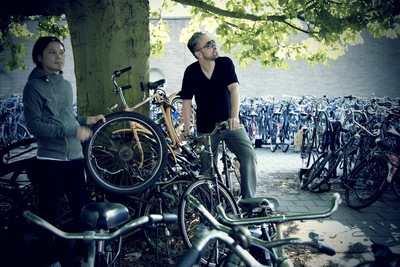 At what age did you start making music and how?
Marc:
Oh, my god, I'm not sure if you really want to know this. Well, I started to produce my own music in 1991. It was a project with three friends of mine. The record came out on Ramon Zenker's No Respect imprint and you really should not listen to it (smirks).
Ken:
Haha, I didn't know that Marc! Now I'm curious and will probably search for your first release on YouTube or something. I think I started making music on my own in '86 when I was 16 years old, with an electronic guitar, BOSS effectors, small rhythm machine (Yamaha RX21) and Tascam or Fostex multi-track cassette recorder. I was trying to do something like King Crimson's Robert Fripp's guitar arpeggios with repeating beats, but of course the result sounded super cheap.
Have you ever had a musical education?
Marc:
I cannot play any musical instrument. My intention was always the interest in music, especially electronic music. My first record was a 7' single of
Kraftwerk
's 'The robots'. It was back in 1978 when I entered the record story, together with my mum, and sang the song to the shop man. A benchmark in my life, no question!
Ken:
Not at all. I was always a bad student in a music class of my schools. Electronic music changed my view towards music itself. In the late '80's I did some part time to save money and finally bought keyboards etc to start making electronic music. At that time there was still no techno scene, labels or whatsoever in Japan so there was no teacher for me. So I completely taught myself how to make music.
Do you play an instrument?
Marc:
Pioneer CDJ 2000 (laughs)
Ken:
I retired from playing a guitar when I was 18, because my fingers hurt
What did you do first, DJ or producing?
Marc:
It was a kind of mix of both as both things happened simultaneously. But when it comes to direct the jobs professionally I'd say producing!
Ken:
I started producing first. As I said above, I wasn't doing house or techno in the beginning. Then the techno era came in the late '80's, I changed my style of music and was attracted to DJ.
Which of the two do you prefer now?
Marc:
Yeah, the classical question you cannot really reply to. I def. need both things. What about you, Ken? I assume the same as me?
Ken:
Right, it's hard to tell which I prefer. These are two different kinds of fun, big fun! I get real happy when I see/hear something new on working in my studio, and I also get so high on DJing in front of crowd when I see they go mad at a flow I make. Can't compare.
When you produce, do you work intuitively / spontaneously or do you make a schedule?
Marc:
100% intuitively. I let it flow. I want to follow my heart. I did work with special aims in the past but it bores me nowadays because you do not let it flow. 'Taiyo' is an album made with hearts and I'm sure people who are on our frequency can feel this.
Ken:
When I make music for my own stuff, like singles or albums, I just do what I want to do. If I do it for something else, such as games, films and art/expo projects, I try to follow their schedules. Making music is still one of my biggest hobbies, so I can enjoy it for any purposes.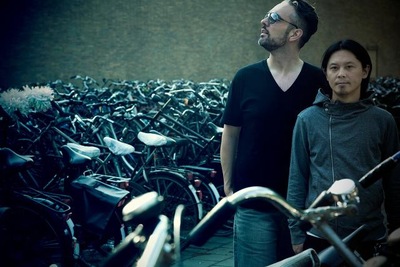 Who is your biggest inspiration / example in music?
Marc:
Once again, although many people would answer the same:
Kraftwerk
! They are from Düsseldorf, my home town where I bought my records and went to the university. I'm proud of them, they are the most influential band of the last century, besides The Beatles!
Ken:
Kraftwerk
, of course, they are THE pioneer of our kind of music, but for my case, as a guy who grew up in Japan, the biggest one were Yellow Magic Orchestra. They were real huge over here especially around the early '80's. They were like Japanese Beatles in a way. I was just a normal kid but their music turned me into a music kid. So I can tell I'm an electronic music native person.
When it happens that you can't find inspiration, what is your solution for this?
Marc:
Oh, this is pretty easy. I just do something else. You cannot force creativity and should accept this if it is the case!
Ken:
I go to contemporary art museums. Watching some cutting edge ideas gives me some refreshment to my brain and makes me want to go back to my studio.
What is your favorite place to DJ?
Marc:
To be honest there is not
the
club where I love to play. There are so many! In example in Holland there are many clubs I love, i.e.
AIR
and
Studio 80
in Amsterdam or
Simplon
in Groningen. But there are many more.
Ken:
It's one of the difficult questions to answer for me too, because magic can unexpectedly happen anywhere! However, if I have to give some options, Japan and Spain are the countries I get top excitement these days.
Are there places you absolutely do not want to DJ?
Marc:
Well, I can tell you a little story. A couple of weeks ago my wife and I went to an Italian restaurant we do like a lot and the waiter asked me, hey Marc, what is your job, DJ? I said yes and he asked me whether I'm playing ski huts in Austria and Bavaria? And I said no (laughs).
Ken:
Haha! I actually played in a pub of a big ski resort in Japanese mountains recently and it was really awesome! They don't usually get real dance music and they were waiting for it. Anyway, a place I don't want to play, mmm...difficult. I can tell you one place I don't want to come back to. Many years ago I played at this club, the gig went just OK, and the VIP area was full although the dancefloor wasn't. When I got into the VIP area after my set, what I found out was 80% of the male customers were carrying small guns shown on their waists. One of the guys asked me to go to an afterparty together but I politely refused. I can't name the city as I want to stay safe.
What was so far the best moment in your career?
Marc:
When it comes to my career it was for sure the decision to establish Systematic Recordings. I still don't know where the idea of the name comes from. One morning it was just in my head.
Ken:
Wow it's hard question. When it comes to the 'best' one it's a bit too many to choose from, but I can give the 'most memorable' one, instead. The moment I received a FedEx envelope, which was the first time to see FedEx in my life, with a contract from R & S inside. It was in '91 and I was a student. I remember I literally jumped around in my house, showing it to my family! That led to my debut as a professional recording artist.
What are you top 3 favorite tracks of the moment?
Marc:
Rodriguez Jr
. 'Hartwood', Rachel Row 'Follow the step' (
Kink
Remix) and Romboy/Ishii 'Gosa'
Ken:
Heiko Laux
& Diego Hostettler - Chicken, Understood [Kanzleramt],
Alexander Kowalski
&
Dosem
- Skyroom Soundfate,
Marc Romboy
&
Ken Ishii
- Seiun [Systematic Recordings]
What is your ultimate way of relaxation?
Marc:
Hanging out with my daughters! Sleeping! Doing nothing!
Ken:
Lying on a beach in a warm place, drinking beer and reading an MMA magazine.
Is there something you love to have in your life, would like to do or learn?
Marc:
More time to get to know the places I visit more intensively!
Ken:
Good food from all over the world. I always try local food on tour. I also cook myself a bit and want to improve!
If you could give advice to upcoming DJs, what would you say?
Marc:
Follow your heart and be self critical!
Ken:
Better to have a deep listen to lots of music, not only current stuff but classics, and check every little movement of DJs you admire.
Did you have any new years solutions and how is it going so far?
Marc:
I made a Ayurveda treatment by beginning of the year and still partly live after this, let's call it, philosophy! I want to be more responsible to my body, although it's a tough one, to be honest!
Ken:
Nice one Marc, but I haven't done anything special yet. I decided to stay lazy without work for a week or two after the busy NYE period. Maybe that was the one!
Any last words for the Partyflock community?
Marc:
Dear Holland party posse, I love you because you support me a lot during the last years and I carry this vibe in my heart, believe me!
Ken:
Thank you for your continuous support for the music and scene! See you around soon! Bedankt!