Al dertien jaar werken ze samen. Maar liefst 1200 dj gigs hebben ze als duo gedaan, het aantal platen en remixen die ze gemaakt hebben zijn niet meer op een hand te tellen. We hebben het natuurlijk over
Dabruck & Klein
&
Klein
. Hun debuutalbum "2:48AM", hun mixcompilatie voor "In Bed With Space" en natuurlijk Hands On Armada volume 2, daar willen wij alles over weten.
Hi guys, first of all thank you for this interview. How are you guys at the moment?
Hey, thanks a lot too. We are a little bit tired, but of course very happy. What an exciting year 2011!
For people that don't know you, could please introduce yourself?
We are
Dabruck & Klein
&
Klein
...we have been in the music business professionally for thirteen years. Many people know us for our productions, remixes and dj-ing but we are also very busy in the background of the music business, running our own label WePlay where we have acts like
Axwell
,
Steve Angello
,
Sebastian Ingrosso
,
Dirty South
,
Laidback Luke
,
Roger Sanchez
,
Erick Morillo
,
DBN
,
Jean Elan
,
Tocadisco
,
Moguai
,
Laserkraft 3D
to name a few. Stefan is also managing
DBN
,
Jean Elan
,
Laserkraft 3D
and takes care about remixes and musical interests for
Tocadisco
,
The Disco Boys
etc. We run another label called Superstar Recordings before (for nearly ten years) where we signed a lot of tracks. In our whole career we signed over 500 tracks. Puh, not that easy to put thirteen years in a few words.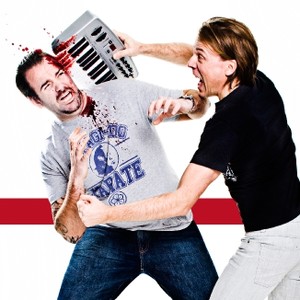 How did you two start your career as a dj/producer?
We started many years ago, like most of the guys in our age, playing in pubs, marriages etc. We started producing many years later.
A while ago you were embraced by the Armada 'family'. How did Armada find you?
Yeah and we are really happy about this. We think it's the most important step we took in the last 13 years, followed closely by the idea to found our own label WePlay. They didn't really find us. We have known Maykel Piron for many years and one and a half year ago we realised that we totally fit together. Like we said before, we are more than happy and we never saw a team like Armada in our whole career.
You have been working together for over ten years now. What did you guys do before you came to Armada? How did the friendship/partnership come along?
Yeah, we have been working together for thirteen years now. We met each other in Lanzarote where Stefan was working as an entertainer in a German holiday village. He had to play shitty music every night and Frank was on holiday there. Before we started releasing our tracks on Armada we released our stuff on our own label, Superstar and of course now on WePlay. We've already done tons of remixes in the last five years.
For the debut artist album '2:48 AM' you've chosen the climax of a clubbing evening. Why 2:48 AM? What is so special about this moment?
2:48 AM is the peak time in the club, when the crowd goes crazy. But the true story behind the album's title is that there is a broken, big watch on the wall in our studio. It's been showing 2:48 for many years. It's a running gag in the studio. So we called the album 2:48 AM. We wanted to call our debut album '
Dabruck & Klein
&
Klein
's Greatest Hits Vol. 2'. Seriously, but many people told us that a lot of people maybe don't understand our humor. Maybe next time.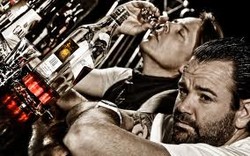 For '2:48 AM' you've worked with various artists like Albin Myers, Joachim Garraud and many others. How did you arrange those collaborations?
Those collaborations were arranged very easily, because Joachim, Albin and many other guys are longtime and close friends of us. So of course we wanted to have some collaborations with friends on the album.
Which track is your favorite track of your discography?
There have been so many remixes, tracks and we did so many favorites. One of the first who worked very well was our remix for Noel Sinner's 'Pullover' and our official remix for Energy 52's 'Café Del Mar' five years ago.
Soon after the release of your debut album, you came with a new project 'Hands On Armada'. How did you manage to remix so many tracks in such a short time frame?
Yes, it was a lot of work and it took five months for the whole project. We have a great team around us, we haven't slept that much and of course we love what we do. That's our drive!
In what way were you influenced by the Previous volume of 'Hands on Armada' mixed and compiled by Alex M.O.R.P.H.?
We have known Alex for a long time, we really like him but he spins totally different music than we do, so there was no kind of influence.
If you have to choose an artist for 'Hands on Armada volume 3' which artist would that be?
Mmmh...this is a hard question. Of course it would be the killer if a guy like
Eric Prydz
, Jack Lu Cont,
Gregori Klosman
or Tristan Garner would do the new volume of 'Hands on Armada'. But there are so many great trance producers in the Armada family. We really like
Sied van Riel
as a person, we met him at ADE for the first time. Also
W&W
,
Ørjan Nilsen
and
Roger Shah
. But we are sure the Armada team already has an idea...
You guys also did a mix compilation for 'In Bed With Space'. How do you select tracks for a mix compilation like this?
That's very easy! We just take the tracks we like the most and which work the best in our sets. Those tracks will end up on in a mix compilation.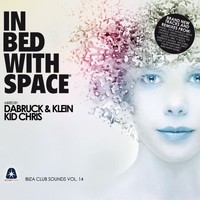 When you are in the studio making new tracks, how do you divide tasks? Do each of you have special talents when were talking about producing?
Stefan is in the studio most of the time and works with a very cool team called Junkx. Frank is never in the studio and is taking care of the organisation stuff, which is very important as well.
Last October you were at the Amsterdam Dance Event. Did you do business at the ADE or were you there just for the Armada Night?
No we had a lot of meetings regarding our label and management work and of course we went out for four days in a row!
Your performance at the Armada Night was spectacular. What is your secret to make a crowd go nuts?
First of all thank you, we are happy that you liked it and we loved this night. But our secret is just that we love dj-ing. That's our history, because we were dj's already before we came into the music business. That's what we love and that's what we want to do all the time. We love traveling around the globe and see people partying and going crazy. Even after all these years and nearly 1200 gigs together we always give our best.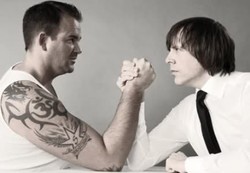 Which new talent should we keep an eye on?
Without a doubt one of our guys:
Jean Elan
,
DBN
or
Dohr & Mangold
. But of course there are great young guys like
Alesso
,
Nicky Romero
and
Arty
. These guys will follow in the footsteps of guys like
Axwell
, but of course this is no secret any more and you don't have to be genius to see that. We also think that DJ
Tonka
will be back in 2012, because he did some amazing remixes this year.
If we take a look at the scene right now, we see and hear a various mix of styles. House with trance beats, trance with house beats, you can mix almost everything in a dj set. How do you think about such a change in the scene during the years?
We personally love this. To be honest that's what we call our music: house with trance influences, we don't care about genres and there is just good or bad music. We changed our style so many times and when we met we played exactly the tracks we've remixed now for 'Hands on Armada'. A few years later we signed and played a lot of house tracks and now we are back to trance-driven records and we still play house. We love that kind of diversity in tracks and genres.
Do your have interesting plans for the holiday season?
Yes we will stay at home, gain some weight, watch TV. Stefan just became a daddy for the first time and of course he wants to stay at home. We only play one more gig on the 28th of December on a private party for a Dutch celebrity in Amsterdam.
What can we expect from Dabruck & Klein & Klein in 2012?
2011 was just the beginning. We already started for our second album and we expect to release it next summer. We have so many plans and ideas for what we want do in 2012 and of course we want to dj as much as possible, fly around the world and even work more than in 2011. See you on the dance floor!
Any last words for the Partyflock community?
Thank you all so much for the support, love and respect we got in 2011. We really hope to play more in the Netherlands and of course we wish you all merry Christmas and a great 2012! And do forget to check our page
www.dabruckandklein.com
.