Twee producers en dj's uit East London zijn klaar om Nederland te veroveren! In Engeland worden deze party animals al één van de meest belovende talenten uit de scene genoemd, met hun explosieve mix van house, electro, drum & bass, dubstep en hip hop. Met hun nieuwste track Amsterdamage hebben ze een ode aan onze hoofdstad gecreëerd. Een stad waar ze elk jaar meerdere malen komen om keihard te feesten. Hun debuut album gaat dit jaar uitkomen. Tijd om de twee broers wat beter te leren kennen!
Street sounds
Konquest General en General Kon, beter bekend als Konquest G en General K, zijn twee veelbelovende artiesten uit de UK underground scene. Samen staan ze als
General Twinz
hun mannetje met hun eigenwijze geluid, een brutale mix van
Dizzee Rascal
, oldskool jungle en Busta Rhymes. Ze zijn niet in een hokje te stoppen, maar kennen de sound van de straat. Hip hop, R&B, electro, drum & bass, dubstep, house en zelfs rock worden door hen vakkundig in de blender gestopt, zowel in de studio als achter de decks. Dat betekent maar één ding: feest op de dansvloer!
Doorbraak
Met drie albums op zak, diverse remixes en optredens in Cyprus (Ayia Napa), Zweden, Griekenland, Los Angeles en overal in Engeland zijn het geen groentjes. Tracks als
'Yes Nice'
deden het erg goed maar hun grote doorbraak aan de andere kant van de Noordzee volgde na het winnen van een MTV remix wedstrijd van de track 1,
'2 Step'
van superstar Ciara. Deze werd goed opgepikt en ook Ciara was onder de indruk. Check hier de opzwepende remix:
Maar de boys willen verder. En aangezien ze een groot fan van Amsterdam zijn hebben ze voor Holland als startpunt van hun doldwaze Europese roadtrip gekozen!
Amsterdamage
Voor hun nieuwste track Amsterdamage zijn de
General Twinz
een stevig weekendje gaan doorhalen in, jawel, Amsterdam. Dat ze van een feestje én een geintje houden is duidelijk te zien in de clip, opgenomen in oa de Winston en diverse schimmige barretjes en steegjes. Waarom de ode aan Amsterdam? Konquest G: 'We love everything about Amsterdam. The culture is fantastic! The architecture and the surroundings are beautiful. The people are awesome. We have made a lot of good friends over the last 13 years of coming to Amsterdam. Nothing more to say really other than we love Amsterdam!' Check hier het resultaat van hun weekend trip: 'It was a crazy three days and by the end of it we was Amsterdamaged!'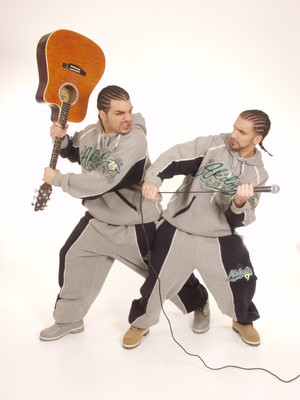 Who are the General Twinz?
The
General Twinz
are two brothers, Konquest G (Demitri) & General K (Chris), and best friends who love everything and anything to do with music.
How old are you?
Ha ha! We would like to keep that secret and keep the people guessing. It's always more fun that way.
How did you two get started in music?
Coming from a musical family, as youths we have always been interested in songs. Konquest G began his career as a drum'n'bass and UK garage MC, taking the mic at every opportunity at friends parties and local clubs in 1995. He quickly expanded his lyrical talents to include writing hip-hop and R'n'B lyrics and later, DJ-ing. Konquest G progressed to a professional level in 2001 where he further expanded his skill base to include music production and music engineering. A young General K was always interested in music but had a keen interest in DJ-ing. He first got involved with music when Konquest G bought him some decks because he was too young to go out and buy them himself! He stayed up all night in his room practising and officially began DJ-ing in 1995. He began producing music and rapping in the year 2000. Soon after that both Konquest & General K joined forces becoming the
General Twinz
.
You have produced a lot of music already, tell us more about your forthcoming album...
Although we have roughly three to four albums worth of material we are yet to officially release an album. But our long awaited album will be hitting this year! With bangers of house, electro, drum & bass, dubstep and hip hop tracks. So keep your eyes and ears open!
You already worked with Ciara, with which artists will you collaborate in 2011?
There are a few artists we would like to work with. Our next release is going to be a collaboration with Band of King. It's going to be huge!
Being a Dutch fan, which Dutch dj's/producers do you like?
Tiësto
is definitely a huge artist that we would love to work with. We love his recent track with Busta Rhymes. So definitely
Tiësto
!
Which ultimate favorite record you would like to remix one day and why?
That is a very difficult question to answer because we have a lot of ultimate favorite records. Although, a music artist we would love to work with is
David Guetta
. We think he is a fantastic music producer and to work with him would be awesome!
What is your goal in Holland?
We would like to DJ and perform live in every club! And it would be fantastic if we were to walk down the street in Amsterdam and we hear someone singing our song. That would be awesome!
What do you do in your spare time?
This year has been very busy so far with the music. But when we do get some free time we love to do sports such as football and basket ball. We mainly love spending our free time in Amsterdam though getting Amsterdamaged haha!
So you know a bit of the Dutch dance scene. How is the English dance scene comparing to the Dutch?
There is a lot of talent in the UK, especially on the dance circuit. The main genre that is beginning to really blow up in the UK is dubstep. We notice that there is a lot of dance and house music in Holland as well. So how they compare is quite similar.
Which Amsterdam clubs you like best?
We really like club
Escape Club
. Music and vibe is always good there. We also really like the naughty hotspot La Vie en Proost, a topless bar. We are good friends with a lot of the girls there. It's a fantastic night out every time!
Which music you listen in spare time and inspires you?
We love listening to all types of music providing it sounds good to us. As far as inspiration goes, anything could inspire us. Hearing a great new song on the radio or having a good night out with our friends. Our inspiration could come from anywhere.
You like to party in Amsterdam, but if you could organise a dream party, with unlimited budget, how would this party look like?
Wow! The country would be Holland, and the city Amsterdam because of how awesome the people and the vibe is there. It would have to be a festival style party so there is room for as many people to come as possible. We would probably make it some kind of fancy dress, for example: back to school or cartoon characters. And the artists would consist of
David Guetta
,
Chase & Status
,
Tiësto
, Black Eyed Peas, Outkast, Ludacris, Niki Manaj and the main performers would be the
General Twinz
. that would be a dream come true!