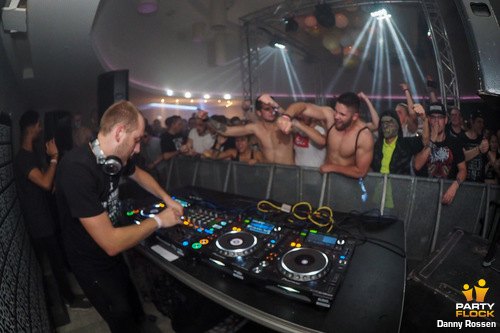 Footworxx
· 24 November 2017
| | |
| --- | --- |
| Name | Gordon van Asselt |
| Function | DJ, live act, group |
| Gender | male |
| Origin | Netherlands |
| Genres | hardcore |
| Site | sjammienators.com |
| Presence | |
| Affiliations | 3 |
Biography
Gordon van Asselt & Lorentz Bökkerink a.k.a. Sjammienators. are two boys from the East of Holland. They are addicted to hardcore from a young age. This duo started in 2012. And since then they kept on producing to master their skills. Keep an eye on these guys because you are going to hear a lot more in the future!

2016 was a very good year for Sjammienators. They played at a lot of party's and some of the biggest festivals. They made a lot of tracks and dropped some heavy Sjammienators & Friends Ep's on Fucking Bastards Records, which hit the number 1 spot on Hardtunes almost every time.

In 2017 everything was even bigger, the party's, more fans and better music. Gordon started his own label Uptempo is the tempo and organized events together with Noisekick Producties. Medio 2017 it was time for a change which led to Gordon and Lorentz splitting up. Lorentz chose a different path and followed his own ambitions, but will always stay a Sjammienator. Gordon always been the producer of the Sjammienators and thinks its time for some new fresh stuff and is now producing his first album and is going stronger than ever, playing at the biggest events like Thunderdome, Decibel, Defqon.1, you name it.
We can still say: "Keep an eye out for Sjammienators, because you're going to hear a lot more of him in the future!"
Party agenda Sjammienators
today:

My Tempo Is Uptempo

24

Metropool
Hengelo
Adrenokrome, Barber, Basspunkz, Dark Connection, Demencia, Digital Violence, K-TeztroV, Noisekick, NSD, Ristretto, Sjammienators, Tharoza, The Sequel, Unproven, Vato

Hardcore4Life

213

Maassilo
Rotterdam
Access One, Andy The Core, Angerfist, Angernoizer, AniMe, Cryogenic, Crypton, Dart, Dissoactive, Dither, Drokz, Evil Activities, Jeff, Kurwastyle Project, Mindustries, Nekrosystem, Never Surrender, Nosferatu, Ophidian, RG,

and 12 other artists →

Rise By Sin, Sei2ure, Sjammienators, Somniac One, Spitnoise, Stinger, System:Overload, The Satan, Trespassed, Tripped, Vandalism, Wavolizer

Frenchcore s'il vous plaît #15

78

Club Rodenburg
Beesd
Adrenokrome, Barber, Basspunkz, Dark Connection, Demencia, Digital Violence, Doctor Terror, Dualcore, Maissouille, Nekrosystem, Noisekick, NSD, Paranoizer, Radium, Randy, Sefa, Sirio, Sjammienators, Stinger, Striker,

and 6 other artists →

Tharoza, The Braindrillerz, The Sequel, The Sickest Squad, Unproven, Ysiss

Sjammienators & Friends on Tour #2

3

Daglicht
Holten
Sjammienators (not yet complete)
Hoe Harder Hoe Beter ·

The Beginning

6

Poema RAW
Utrecht
Estasia, Hard Effectz, Hatred, Jur Terreur, Robs, Sjammienators, The Dope Doctor, The Pusher, Trespassed, Winnaar DJ Contest

Supersized Kingsday Festival

746

Aquabest
Best
Adaro, Alee, Andy Svge, Andy The Core, Angerfist, Angernoizer, Apexx, Aversion, B-Front, Barricade, Bass Chaserz, Bass Modulators, Brennan Heart, Clockartz, Cryex, Crypton, D-Block & S-te-Fan, Daani, Dana, Darkraver,

and 80 other artists →

Dash, Davide Sonar, Dazzler, Deadly Guns, Deepack, Destructive Tendencies, Digital Punk, DL, DV8, E-Force, Embraise, Evil Activities, FrenchFaces, Frequencerz, Helix, High Voltage, Jason Payne, Jeff, Jesse Jax, Josh & Wesz, Jowan, Kasparov, Keltek, Krowdexx, Kuzak, Lady Dammage, Level One, Livid, Luminite, Luna, Mad Dog, Max Enforcer, Mental Theo, Never Surrender, Nosferatu, NSD, OCD, Odium, Outsiders, Panic, Partyraiser, Paul Elstak, Pavo, Phuture Noize, PRDX, Primeshock, Promo, Radical Redemption, Ran-D, Rebelion, Regain, Rejecta, Requiem, Restrained, RG, Riot Shift, Rude Convict, Ruthless, Sefa, Sjammienators, Spitnoise, Streiks & Kratchs, Sub Zero Project, Sunny D, Tatanka, Tellem, Tha Playah, The Pitcher, The Purge, The Sickest Squad, The Stunned Guys, The Viper, Uncaged, Unresolved, Vince, Warface, Wildstylez, Zany, Zatox, ZazaFront
Phoenix Festival ·

Rebels of the Road

79

Evenemententerrein
Nuland
Act of Rage, Adaro, Angernoizer, Bestia, Bodyshock, Bulletproof, Caine, Chaotic Hostility, Cryogenic, D-Fence, Deadly Guns, Degos & Re-Done, Delete, Digital Punk, Dr. Peacock, DRS, E-Force, Estasia, Evil Activities, F. NøIzE,

and 38 other artists →

Greazy Puzzy Fuckerz, Hatred, Jason Payne, Jeff, Killshot, Korsakoff, Kronos, Lady Dammage, Luminite, Malice, N-Vitral, Ncrypta, Neophyte, Neroz, Noisekick, NSD, Odium, Partyraiser, Physika, Radical Redemption, Rebelion, Regain, Renegade, Rooler, RVAGE, Saphera, Sefa, Sins Of Insanity, Sjammienators, Spitnoise, Tha Playah, Tha Watcher, The Syntax MC, Thera, Thyron, Tieum, Unresolved, Vandalism

Hardshock Festival

3
305

Hellendoorn Woods
Haarle
Act of Rage, Akira, Andy The Core, Angerfist, Angernoizer, AniMe, Axys, BillX, Buzz Fuzz, Cryogenic, D-Fence, D-Sturb, Da Mouth of Madness, Dataklysm, Deadly Guns, Death by Design, Delete, Densha Crisis, Detest, Digital Punk,

and 72 other artists →

Dither, Dr. Peacock, Drokz, DRS, Endymion, Estasia, F. NøIzE, Floxytek, Frantic Freak, FrenchFaces, Genox, Greazy Puzzy Fuckerz, Guerrillas, Hungry Beats, Igneon System, Killshot, Lady Dammage, Le Bask, Lenny Dee, M4LEFiK, Mad Dog, Maissouille, Malke, Marcus Decks, MD&A, Mutante, N-Vitral, Ncrypta, Negative A, Neophyte, Never Surrender, Nightbreed, No-iD, Noisekick, Noize Suppressor, Nosferatu, NSD, Ophidian, Painbringer, Penta, Promo, Radical Redemption, Re-Style, Repix, Restrained, Rooler, Rotterdam Terror Corps, Ruffian, RVAGE, Sefa, Sei2ure, Sequence, Sjammienators, Spitnoise, Stolen Cult, Stormtrooper, Sub Sonik, Super Trash Bros, Tha Playah, Tha Watcher, The Braindrillerz, The Destroyer, The DJ Producer, The Outside Agency, The Satan, The Sickest Squad, The Speed Freak, Thrasher, Tripped, Unexist, Warface, [KRTM]

Harmony of Hardcore

1003

Festivalterrein De Roost
Erp
Affix, Al Twisted, Alee, Andy Raw, Angerfist, Angernoizer, Anhatema, Anna Crystal, Axys, Baby Raw, Bass-D, Bazzy, BillX, Blaster, Bulletproof, Buzz Fuzz, Catscan, Chok Dee, Civillian, D-Fence,

and 111 other artists →

D-Hunter & Dryade, D-Master, D-Passion, Darkraver, Dazzler, Deathroar, Destructive Tendencies, Deterrent Man, Detest, Dissoactive, Doctor Terror, Dolphin, Dr. Peacock, Drokz, DRS, EddyHardcore, eDUB, Endymion, F. NøIzE, Floxytek, Footworxx Militant Crew, Francois, Freestyle Maniacs, G-Town Madness, Genius, Gizmo, Goetia, Graat, Greazy Puzzy Fuckerz, Groan-er, Hardbouncer, Hatred, Hitman, Ike, Innovative, Insanity, JDA, Joe, Kasparov, Kristof, La Casa de Hardcore, Li-z, Limewax, Lucy Furr, Lunatic, Mad Dog, Marc Acardipane, Mental Theo, Mic, Mindspitter, Mr. Ivex, N-Vitral, Nekrosystem, Neophyte, No-iD, Noisekick, Noize Suppressor, Nosferatu, Nowaxx, NSD, OCD, Omattic, Ophidian, Panic, Paranoizer, Partyraiser, Paul Elstak, Pavo, PLN-B, Potato, Project Stigma, Promo, Razz, Resonant Squad, Restrained, Rob & MC Joe, Ron, Royal S, Rudi Ratte, Sefa, Sei2ure, Sjammienators, Sjek, Somniac One, Spitnoise, Sprinky, Stinger, Streiks & Kratchs, Striker, Super Trash Bros, Teaser, TerrorClown, Tha Nouky, Tha Playah, Tha Watcher, The Raver, The Satan, The Sickest Squad, The Victim, The Viper, Thrasher, TMC, Tommyknocker, Trespassed, Tripped, UKTM, Unexist, V, Vince, Wreck Reality, [KRTM]
13 ratings