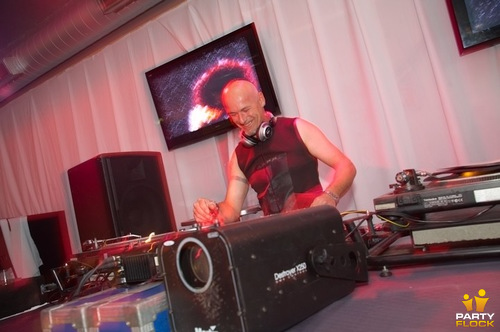 Bas&Ram Birthday Crash / House Of Justice 2008
· 19 July 2008
Biography
John Derlagen is the driving force behind DJ DENDRITE. In the early'80 he was a well known DJ at sevelral drive-in shows. In that time it was disco on the dancefloor. Until the late '90s he was spinning the records. Due to other related work and birth of his son Damian,he had to change his priority's. His passion for music never died,and because his wife Petra, the power behind this great dj,he started an complete new sound. From disco to high techno/trance sounds. the spirit of his set is to make a trip to go uplifting.


His first interest in the music began early when he got his first orange record player for his 6th birthday. His first single collection consisted of Dutch music and collective albums. From his 12th year he went to the nightclub of the campsite in Nijmegen. Then he was already working hard on combining various styles and trying to keep people on the floor moving. He has also been on tour in a disco in Helmond of a knowledge. Drive-in was also a way to give his pictures to another audience. When he came in contact with house music around 20th, he was completely sold, and he was busy mixing each other every few hours.


.And when he left the parental home, the music was a bit in the background. But now about two years ago, it began to creak again and he was again blending this with lots of fun and success. By encouraging listeners of his demos, he now wants to work more professionally, because he does notice that this is his passion and dream.
, which gives him a huge boost to move on and run on more parties.He is resident dj at Boudoir Bizarre for several years now. And stil on the move See you soon, party people! "
35 ratings
Henry S:

TOPPER!!!!!!!!!!!!

Daring:

Een echte topper!!!

DJ DENDRITE:

Bedankt voor jullie support .­look at : http://www.­house-mixes.­com/profile/djDendrite ) for my latest mixes !!!!!!!!!

xxx:

Heb heerlijk op je muziek gedanst...­keigoed man...­

DJ D-Brain:

EEN ECHTE !!! Veel te danken aan deze topper!!

F_B_S:

John bedankt gisteren voor fantastische optreden.­ Ik heb van je genoten.­ Geef mijn XX aan Petra

NoSh*T:

We hebben genoten !!

Wat een top dj is dit.

Maikel latex kleding:

Pfff, wat een extreem goede Techno set heb je op Boudoir laten horen.­ In alles....­respect!

:p Lassie :p:

Niet alleen een goed mens en een prima draaiende dj, samen met Petra ook nog eens een goed organisator van gezellige, knallende, leuke Vip Trips! Goed gedaan jochie!

slavegirl:

Van de week nog al je demo's gedownload op house-mixes.com, wow wat zijn ze geweldig!

en

van 2 fans.

Lorbo:

Zaterdag heerlijk van je draaikunsten genoten zaterdag en....­nog bedankt voor je CDtje!!

de buurman:

super ga zo door er zijn er niet veel de zo mooi iets in elkaar kunnen zetten

Brother Lou-E:

Top afsluiter @ Love and respect for KIKA !

Dendrite

Renji &­ Dionne:

Fijne vent en DJ !! ... John =

[[HELLBOY]]:

keep the good songs roling dad

jennifer 34:

John, wat heb jij goed gedraaid tijdens de bruiloft van Karin en Marciano.­ Echt goed.­

Nightbob:

Mijn voorbeeld!!!

cktje:

Je bent de beste dj en vriend die 'n mens maar kan voorstellen

Bedankt voo je demo(To remember) helemaal top! je raakt in extase alleen van jou muziek en dat willen wij hebben...

MvDJ:

Mr VipTrip! Top gozer en top dj!!!

DJ Dave Ramirez:

topper als mens en als dj superrrrrrrrrrr

**shanti**:

Kanjer!!

Charly Rocks:

Topgozer, goeie DJ met een aparte stijl.­

thunderstone:

Super dj waar je helemaal uit je dak mee gaat!

TWEETIE:

hoi lieffie your my dj ga zo door dikke knuf en xxxjes peet.­

babbie:

you are

Georgeous blond:

Hij draait niet alleen top, maar je kunt ook nog vreselijk met hem lachen!!! Gewoon een topertje!!!!!.....xxxxxx Marciano en Karin

marcoscha:

kan een grote worden

Morninglory Music:

Heerlijke set op Vip-trip 8 dec, en de viptrip cd

Djuul87 :flower::

Hij is gewoon een egte knaller! dikke

voor jouw.!

Dreams4:

Tjonge jonge...­verbieden moesten ze je gewoon! Standaard met die setzzz van je door het dak!

Rudolph &­ Frits:

De perfecte sfeermaker

Elegance:

goede mix/goede muziek!! kortom top DJ!!!!

space dame:

hahahahahaaaaaa....­ John! top top top!!! top CD...­ 24 februari DJ Dendrite 08.­00-09.­30 cluborganza SPACE AMSTERDAM-nicht missin

Inky 076:

En ik dan ff de tweede...­Bij de VipTrip voor het eerst gehoord en helemaal uit mijn dak gegaan.­

TxB:

Laat mij dan de eerste zijn.­ John draait gewoon lekker, voelt publiek goed aan en weet wat een feest in zich moet hebben.­
15 comments
­
John je was weer helemaal toppie afgelopen VipTrip, echt te gek voor woorden.­
Tot de volgende keer en de groetjes aan je lieve vrouwtje.­
Dikke kussen van Tina &­ Erik XXX
Niet te missen op The Vip-Trip..­
dacht het niet nee!!!!

­
­




Natuurlijk is John een TOPPERTJUHHHHHHHHHHHHHHHHHHHHHHHHHHHHH.!!!!!!!!!!!!