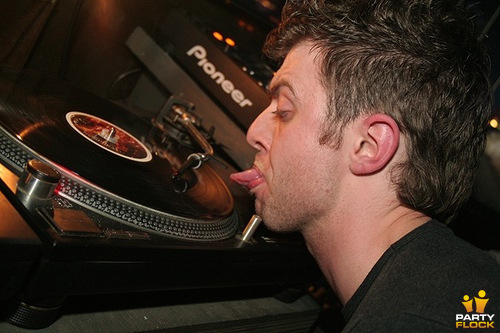 T-Town Madness Special
· 7 March 2008
Biography
Born on the 8th of July in 1983, Mercenary was caught by the house virus in 1990. He bought his first hardcore compilation at the age of 10, and his life changed instantly. He started buying vinyl at the age of 13 and gained experience as a DJ in clubs and youth centers in the heart of the Netherlands. After leaving the hardcore scene in 2000 and getting back in 2005, the hobby became more serious when Recype asked Mercenary to co-host the most important hardcore radio show in the world: Masters of Hardcore Radio Live.

He has been one of the hosts of the show ever since, which opened a lot of doors for Mercenary. The crowd and bookers discovered that he was not just another radio host, but also a skilled DJ. Mercenary is known for his versatile sound, playing all styles in hardcore and blending it all together. He got to play at leading events likes Dominator – The Hardcore Festival, Masters of Hardcore, Mindcontroller, Nature One and many other international events. Mercenary has rocked hundreds of parties ever since, but one thing was still missing: his own tracks.

This all changed when Re-Style and Mercenary gathered for a cup of coffee during 2011's summer, which quickly transformed into a marathon studio session, resulting in the remarkable track 'Conducting Experiments". Their first collaboration was supported by artists like Outblast, Nosferatu, Catscan and many other leaders of the hardcore scene. After this success, Re-Style and Mercenary also produced 'Going Down" and their early hardcore tribute 'We Go Back", which even got airplay at BBC Radio 1. The variety of the tracks does not come unexpected: Mercenary's style cannot be boxed.

Mercenary is also known for his Merciless Monsters mixes, which are being released on a monthly base on the internet since 2010. The DJ/ producer brings you a versatile mix featuring all the styles that Mercenary considers to be hardcore or thinks they fit the genre in the right way. With thousands of downloads and streaming a month, Merciless Monsters can be considered one of the hardcore scene's most popular podcast series. Besides the podcast, Merciless Monsters is also being broadcasted weekly at the world's leading hardcore radio station: Hardcore Radio.

Mercenary is now working on solo tracks, but also focusing on the MOH Radio Live show and his Merciless Monsters podcast series. Bit by bit, Mercenary wins more territory by showing no mercy and assassinating all dancefloors.
Dominator Festival ·

Rally of Retribution

3
2033

E3 Strand
Eersel
Access One, Act of Rage, Akira, Andy The Core, Angerfist, Angernoizer, AniMe, Bass-D, BillX, Blaster, Bodyshock, Broken Minds, Bulletproof, Catscan, Cryogenic, Crypsis, Crypton, D-Fence, D-Sturb, Da Syndrome,

and 82 other artists →

Darkraver, Dart, DaY-már, Deadly Guns, Death by Design, Deathmachine, Delete, Destructive Tendencies, Dr. Peacock, Drokz, DRS, E-Force, end.user, F. NøIzE, Fant4stik, Fiend, Floxytek, Frantic Freak, Furyan, Gizmo, HKV, I:gor, Iconian, Juliëx, Khaoz engine, Killshot, Korsakoff, Lady Dammage, Mad Dog, Maissouille, Mercenary, Mike Redman, Miss K8, Mr. Ivex, N-Vitral, Negative A, Neophyte, Never Surrender, No-iD, Noisekick, Noize Suppressor, Nolz, Nosferatu, Ophidian, Partyraiser, Paul Elstak, Predator, Proactive HC, Promo, Public Enemies, Radical Redemption, Raxyor, Re-Style, Rebelion, Rejecta, Restrained, Rooler, Scarphase, Sefa, Sjammienators, Spitnoise, Super Trash Bros, Syco, Tha Playah, Tha Watcher, The Destroyer, The DJ Producer, The Machine, The Mastery, The Menace, The Outside Agency, The Satan, The Sickest Squad, The Speed Freak, The Viper, Thorax, Thrasher, To-Wa, Tommyknocker, Tripped, Unexist, Warface
43 ratings
17 comments
*­ Zet de muziek van Dansplaat aan *­

BankMaat
Dit is nu die lekkere BankMaat
Sjans maar
Ook als je zeker helemaal geen Bank maakt
Sjans maar en dans maar
Want dit is nu die lekkere BankMaat
BankMaat en aohhh

Ben je een met de muur?ik weet dat je dan gaat Als ze op deze gaat zitten, want dit is mijn BankMaat!
Speel je Tekken 3 of check je Dragonball Z
En dig je m openbaar of zeg je het lekker nie
Overdreven! slechts een tikkie
En gasten doen lekker jiggy
Lekkere chickies
Die chillen met billen, weer heftig ritmisch
Ander deel van de e, als guagamola-avocado
De tequila die ik wil is don hulio reposado
(Wow, wow)
Heb je hem niet, okay chill, ho maar
Doe niet zo sloom, ja?
Ik neem corona
En je moet toch van hout zijn
Voordat je weer stopt
Want ik blijf langer hangen dan de wallen van Wim Kok
­
zo, das nog es een mooie herinnering aan een lekkere warme dag omringt door gezellige mensen waarvan een aantal dikke platen draaien waar wij zomaar gratis en voor niks van mochten genieten...
ik zeg....bijna weekend !!!

See you soon

Zn bruidsnummers zijn toch ook wel erg goed

Quote
of
Nippletwister

on Sunday 30 September 2007 at 17:58:
Zn bruidsnummers zijn toch ook wel erg goed

ben jeh op je knieen gaan zitten jaah

???
Wist u dat....­

Mercenary van een ander buitenaards ras is en rivaal is met de Skaarj.­ Men komt de Mercenary alleen tegen aan boord van hun schip "­de Terroraniux"­ en als gevangenen aan boord van het Skaarj-moederschip.­ Mercenary Elite is de sterkere variant van dit niet te stoppen ras...­

Miss leuk om te vermelden ook is dat de De Mercenary een oud en vooral agressief hagedisachtig ras is.­ Ze hebben een geavanceerde technologie met cdj-plasmawapens en scratchschilden.­ Het is een oorlogsras, dat ook gebruik maakt van rassen zoals Brutes (grote monsters met lasergeleide raketwerpers als wapens, de heerser van dit volk heet The Menace) en Kralls, (bruin-grijze vleermuisachtige monsters, gewapend met een microstaf, hun Leider heet Recype).­ Samen vormen zij een onoverwinnelijke drie-eenheid, genaamd de Vier.­


Mercenary van een ander buitenaards ras is en rivaal is met de Skaarj.­ Men komt de Mercenary alleen tegen aan boord van hun schip "­de Terroraniux"­ en als gevangenen aan boord van het Skaarj-moederschip.­ Mercenary Elite is de sterkere variant van dit niet te stoppen ras...­

Miss leuk om te vermelden ook is dat de De Mercenary een oud en vooral agressief hagedisachtig ras is.­ Ze hebben een geavanceerde technologie met cdj-plasmawapens en scratchschilden.­ Het is een oorlogsras, dat ook gebruik maakt van rassen zoals Brutes (grote monsters met lasergeleide raketwerpers als wapens, de heerser van dit volk heet The Menace) en Kralls, (bruin-grijze vleermuisachtige monsters, gewapend met een microstaf, hun Leider heet Recype).­ Samen vormen zij een onoverwinnelijke drie-eenheid, genaamd de Vier.­