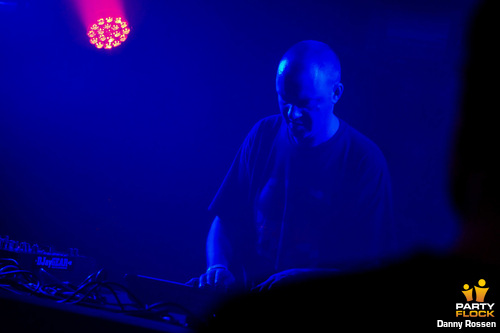 Snakepit
· 9 December 2017
| | |
| --- | --- |
| Name | Pietro Paolo Salamone |
| Function | live act, DJ, producer |
| Gender | male |
| Birthdate | |
| Age | 38 |
| Origin | Italy |
| Genres | industrial hardcore, speedcore, terror |
| Site | thedestroyer.it |
| Presence | |
| Affiliations | 14 |
| Member | theDESTROYER |
Review
I Hate Trance vol. 4 - Demons of the Underground
· 24 August 2008
Vier landen vertegenwoordigd op twee cd's in de hardste stijlen. Nederland, Frankrijk, Zwitserland en Italië zijn deze landen die op de laatste 'I Hate Trance' cd staan. Hard, harder en hardst, zo mag je dit wel omschrijven. Kijken of deze cd de naam 'I Hate trance', net zoals het feest, hoog kan houden.
Party agenda The Destroyer
two days ago:

Hardcore Maniacs

18

Dancehall Diest
Diest
Animaniak, D-Master, Danger Hardcore Team, Doctor Terror, E-Nigma, Estasia, Evolver, Footworxx Militant Crew, Future Kickz, Kristof, Madnezz, Mic, Noize Suppressor, Noizefact, Section Grabuge, Sjammienators, Suicide Rage, The Dark Horror, The Destroyer, The Re@list,

and 4 other artists →

The Sickmind, The Snatcher, Tkief, Yves
Pandemonium ·

The End / Beginning

1202

Sporthallen Zuid
Amsterdam
A-Kriv, Aggressive, Akira Kayosa, Angernoizer, Bartoch, Bonehead, Catscan, Cek, Chaotic Hostility, Da Mouth of Madness, Dana, Darkraver, Delta 9, Deterrent Man, Detest, Dissoactive, Dr. Peacock, Drokz, DRS, Endymion,

and 61 other artists →

Evil Activities, Fant4stik, Frantic Freak, Gabba Front Berlin, Goetia, Greazy Puzzy Fuckerz, Hatred, Hellsystem, Hungry Beats, Impact, Jappo, KetaNoise, Korsakoff, Kurwastyle Project, Le Bask, Lenny Dee, Leviathan, Maissouille, Marc Acardipane, MBK, MD&A, Meccano Twins, Miss Zelda, Naughty Kicks, Noisekick, Nosferatu, NSD, Ophidian, Painbringer, Pattern J, Predator, Promo, Psiko, Radium, Randy, Resonant Squad, Rob Gee, Sefa, Sei2ure, Sequence & Ominous, Sirio, Sjammienators, Skull Demon, SRB, System:Overload, The Destroyer, The Outside Agency, The Stunned Guys, The Twins Artcore, The Viper, The Vizitor, Thrasher, Tieum, Tommyknocker, ToXic Inside, Tripped, Tymon, Underground Vandalz, Unexist, Vince, Waxweazle
144 ratings
Martino:

The best of the game!!!

voerduif013:

Best dj ever!

Joepert:

Heerlijke artiest

GABBERS 4 LIFE:

Do you like speedcoreeeeee?!!

joyce SuPpReSsOr:

I love it!! 21 november 2015 party!!!

LdeRooij:

Terror king!

hardcore 4ever:

w la Sicilia

HcToTh­eBrain­93:

gut kei herd

MaRuS terreurtje:

HIJ IS TERROR

JantjeP:

early terror koning

[GMRT]­Diegoo­o[TERR­OR]:

HELD!

Zorlach:

G.E.W.E.L.D.I.G

thomasje_92:

gewoon geniaal

[T.­H.­O.­T] HC Nick :[:

Hardest artist I've ever heard on a party, you're amazing!!

Keep up the good work

:Bounce: Koen:

Gruwelijke terror set @ The Qontinent

Hanzke :bounce::

THE DESTROYERRRRR IS BACK!

Bryan:

Meesterlijk beukgevaar produceert deze man

Pogohontas:

Held held held!!!

dnpeep:

2 times the fun with 2 sets on together we are hardcore.­ Perfect!

[F.­C.­M.­R.­]Täöfelke:

JUST EPIC<3

TERROR_­Yoshie­eeeeee :bounce::

destroyer. geweldig tempo, lekkere bass

[N.­G.­F.­] Da Machinery:

Altijd genieten

[T.­H.­O.­T](6)C­arpeno­ctum(6­):

Je was geweldig op speedfreak vs nosiekick

LongaViaEst:

You're a f*cking legend man!

Missed part of your gig @ Verouderingsproces 2011, won't happen this saturday!

SuckUp­MyBadE­nergy:

The Destroyer is gwn DÉ shit!!!!

wat een vette tracks!!!

[F.­C.­M.­R.­]-WVH:

All the mommies in the house gettin live tonight!

Knäckebröd:

Eindbaas !

[B.­O.­T]Casa Bonita:

DESTROYERRRRRRRRRR

Ramon v/d B.:

:bounc­e:Ceno­bite:K:

early terreur

Dycore aka erwin:

Destroyer is kk goed!!!!!!!

Rienos:

De Early terror held

Nice'Triip To Paradise :smoke::

i think never forget your liveset @ dominator 2011

one of the best terror set never listen

Mr.Kouwen:

The Destroyer is back !!!!

Jaaaroen:

BAAS!

Tomik NL:

Zieke ragmuziek

pillennek:

HELD

Hard Infantry [TEF]:

Heerlijk!

Souheil:

Respect!

Dani aka Explicit:

Live zo zwaar de king

CircusFreak:

Zalige eigen sound

fucking geweldig gewoon!!

Tripped:

the shit!!

*NG*:

de beste oldskool terror

elke live act is er een om nooit te vergeten

zijn weinig artiesten waar ik puur en alleen voor naar een feest zou gaan maar deze is er toch 1

:xtc:G­roente­boer:x­tc::

rauw en hard mooie eigen stijl!!!!!!

DarkHa­teProd­uction­s:

Check me persoonlijke tekst voor een remix van het Nummer Spamming bass van The Destroyer

Pluize­Muizer­t:

echt mijn held

keep up

CUNTFACE:

Heerlijk setje op masters 2010

brieni­e:bier­::

sick shit motherfucker

Endzeit:

Held

[SF] Lethal Injection:

My brain is sick

DwarfNWH:

gruwelijk die live set van hem altijd en zn nummers zijn zowiezo altijd beukend

Princess of hate :devil::

(6) Santje (6):

Great

for this man!!

Tryped:

beste speedcore die er te krijgen is!

[WZK] (6) Wolkje (6) [WZK]:

geweldig

Shampoo:

MY BRAIN IS SICK

SUPERRR GOZER

DJ Stony Montana:

Always a good Live act

Thomm92:

Top gedraait bij Masters

PRlNCE OV DARKNESS:

The Master of Terror

Focuz:

Best Overall "Hardcore" Liveact , Not even the pupulair mainstream liveacts can beat him!

great skill's!

:bounce: Bjurniee:

dikke dikke set op masters 09 !!

[200]...­Dwaas...­[bpm+­]:

DESTROYER YEAH THATS MY LOYER

Timmitty:

Wat een geweld!...­ echt vet

a. :[:

THE BEST

Leipe Shit Ouwe:vaag::

TERROR HELDEN

KLAAS - VAAG ! :BOUNCE::

geweldig

!!benjamin!!:

Beter kon je niet @­ Hemkade Goed Gedraait Ben Goed Los Gegaan

Leroy Himself:

kan dr ook maar 1 zijn

smax:

NIET TE EVENAREN, DIT IS ZONDER TWIJFEL DE BESTE HARDCORE TERROR SOUND TOT NU TOE!

Arie J Beukenoot:

HeerlijkHeerlijkHeerlijk beuken

.Jonkie.:

Gruwelijke klappers

Keep on the good shit

d-russo:

Destroyer is de beste, altijd echt live, vette eigen sound en bijna altijd top producties

Poekie Poes O:):

theDESTROYER is back!

[T.­H.­O.­T]8)ADHD TERROR GAST8):

overheerlijke terror

Harry (H):

My alltime favorite!

The Destroyer

Guumuus:

Rave Is My Church, you're the best dude

I'm out:

Total hate!

ThunderGabba:

De Betere Onder De SpeedCore

Rbn ©:

vette shit!

MitchellCBS:

absolute nummer 1

M.­P.­O PARAman:

zijn style staat bij mij gedeeld eerste plek, samen met Smurf..­ gewoon perfect

BenninG:

stunning..

rooie [NL]:

megaa killer!!

Miss Tricky:

helemaal geweldig!!!! Decibel was helemaal super

MC.­ Dwayne Insane:

awesome

Stan :bier::

Held

' Make'm die slowly.­:

[ r_­AW ] Detoxicated:

Dude you rock bigtime!! Keep Up and we'll meet again very soon!!

DESTROYER IS BACK

[BZRK ] RVS:

you are the greatest

Gabber­Pinda4­Life:

Gisteren Distroyer live @ mondial beek

1 uur en 15 min heeft ie live gedraaid. Wat een geweld wat een tempo en wat een bass:kwijll:

voor The Destroyer:

Guuszel_­ :bier::

Wat een gruwelijke live-act

Metalized Speedcore:

echt vethard

Kellog­s:face­palm::

zaterdag voor het eerst gehoord in zaandam,, maar nondejuh

geweldig!!!!!!!!!!!!!!!!!!!!!!!!

[TB]Tripper:

Death Dealer:

[theDESTROYER]

-> *­ Vinnie *­ <-:

The Master of Disaster !!

Baryon:

for me the NR 1 hardcore dj in the world...........­

wesselke:

Geweldig op masters

Hell flame (L):

gimme rough terror till the max

boxed

UTCA_Chin:

Live de beste act die er is

grappige kerel ook!

Tony....:

de held @­ Porn!

pastoeri:

lekkere livesets...

Psychonaut:

The Calm Guy

DeDuifff:

Boxed, Big Bit, The Star

Destroyer = Legend

DeanWest:

de snelheidsduivel

:bier:­METN:b­ier::

Destroyer is egt een van de beste Producers/Liveac­ts die er maar is

Geniaal die setjes van um

en die Remix van Hardcore Leeft is echt GEWELDIG

B. Tietsj:

Voor THE DESTROYER !!

*Bless*:

Fokking vet

Terror­head:b­ounce::

Als je wil ragge,, moet je bij deze tooper zijn

, snoeihard, lkkr tempo, dikke bass= GEWELDIG gwoon,, super setjes altijd

[S.­G.­C.­] T-Man Terreur:

another SUPERHERO,,!!!!!!!

º¹³Remco:

RESPECT VOOR DEZE MAN

Digeon:

Heldhaftigheid enzo..

Edjee!!:

gewoon de beste

hoop dat hij wa vaker naar NL komt

Robin013:

Geen set is te evenaren

G.I. Jarno:

Destoyer

Ronald4life:

super live act de geluiden die hij gebruikt zijn bruut

Nevz:

Gewoon keihard rammen van begin tot het einde van zijn liveact!

Toverkat:

Die gast ramt tenminste n beetje door!

frankygoes2:

geweldige live sets deze man

Bosdui­veltje­²³:

lekkere italiaanse frustratie live setjes...

doop:o:

mooie live act

Jan G.:

je draait echt goed ,, ga zo door

:bounce:B 2 the art:bounce::

Geen woorden voor deze man!!!

[A.­V.­I]Artcore Gangsta:

game over

Billie-Turf:

The Destoyer Rocks Every Party! He Should Be Here Every Party!!!

UTCA_Rikkie:

destroyer + blauwe driehoeken = hemel

Hammertime:

Destroyer

Heerlijk al zijn raggende sets

Hard &­ Direct:

Destroyer

:Dspeedcore!!!

BoschNLD:

netjes te netjes

º¹³ Eloy:

Geweldig! de beste speedcore live act die ik ken.­ Alleen word veel te weinig geboekt!

Tommy...:

held

Engeltje86:

Krachtige en strakke bass , daar hou ik van

Dj Helix:

lekkere harde optredens gewoon vet !

WS22.5:

ken hem vanaf 30/04/1998 gesproken op shadowlands queensday rave

Hard2thacore:

Allergrootste respect voor deze Live Act-Man/Producer

Keep up the good work

etovus­itogof­ebal:

De vakman..

Arcade Experience 4 levels of HC te dikke track

Annetjuuhh :loser::

Super setjes altijd

prijntje:

wat een bassen heeft fie kerel echt super klinkt lkkr simpel en super vet tempo

BOLDHEAD:

heb nu een paar livesets van 'm en helemaal tegek! italy's number one

keees:

destroyer is de gekste shit

TNM90:

destroyer de best

! *­Scalp 'M*­ !:

Deze man is echt Vet.­ DIT IS MIJN TEMPO!!!!

Trashfucker:

de beste
115 comments
lekker he

heeft echt lekkere nummers, eigen sound

Raving Nightmare was awesome !!! Destroyer break the spaekers

i want more !

26 Juni @ Rotterdam

The Destroyer - Here no melody

straight beat speedcooooooooooooooooooooooooooooooore

http://www.youtube.com/user/slamm123neukjemoeder#p/a/u/2/9iib-z1P5T0
hopelijk snel weer in NL, dominator was knallen
Terror baas

hij moet echt snel weer naar nederland komen
Hoop dat ie weer op Masters komt dit jaar! Destroyer #1
Yes, hij treedt op tijdens Thunderdome..­
Morge 1 uurtje op Pandemonium ook!
Awesome gigs last saturday at Together We Are Hardcore!

I thought the Early Terror gig was so great but you fucking blew me away with the Terror gig!