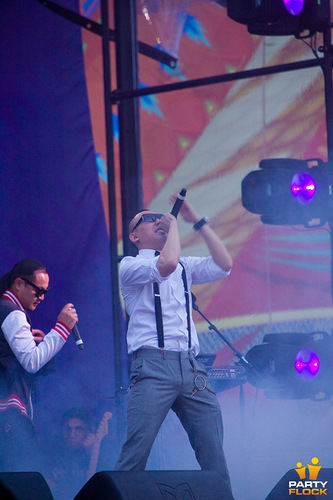 Summerfestival
· 25 juni 2011
Biografie
Enter the dimension of Dirty Bass, the mashed-up, thoroughly modern existence of the Far East Movement: windows down, sub-woofers rattling, cars spinning on chrome. The weather is warm. The drinks are cold. Beats and booties are shaking at high BPMs. Living the life.

"Dirty Bass is LA electro-rap meets Miami booty shake meets Dutch house and the lifestyle that embodies that" says Kev Nish. "You don't need a fancy whip, but as long as your stereo is bumping, everything's alright."

But really, Dirty Bass is the Far East Movement. Raised in Koreatown, Los Angeles, Kev Nish, Prohgress, J-Splif, and DJ Virman embody the pulse of contemporary Los Angeles: the pan-global fusion, the exotic and traditional rhythms, the idea that car stereos are castles. This has always been the idea behind the Cherry Tree/Interscope artists who made history when 2010's platinum-selling "Like a G6" was the first #1 hit ever achieved by Asian Americans.

But the Far East Movement succeed by transcending race, language, or age. They have amassed one of the world's most eclectic fan bases, united by their love of FM's propulsive beats, infectious energy, and classically melodic cadences.

Their last album Free Wired was attuned to the high voltage frequencies of their Internet and social media-savvy fast life in downtown Los Angeles. It's overwhelming success ensured tours with everyone from Rick Ross to La Roux, Lil Wayne to Lady Gaga, Rihanna to LMFAO. They performed "If I Was You (OMG)" at the 2011 Billboard Music Awards with Snoop Dogg, and their other top 10-smash "Rocketeer" at NBA All-Star Weekend.

FM became international sensations from Australia to Austria, Asia to the Netherlands. And they even found time to create the theme for the Nickelodeon animated children series, Monsumo. Not bad for a group who paid their dues in the LA underground, slowly expanding their fan base until they became city wide stars in the wake of their first pop hit, "Girls on the Dance Floor."

Due out June 12, 2012, Dirty Bass is their finest moment yet. The first single, "Live My Life" is an anthemic all-night dance party featuring Justin Bieber, who was introduced to the group via Snoop Dogg. Already a fan, Bieber and FM meshed beautifully over a track from red-hot RedOne (Nikki Minaj, Usher, Lady Gaga, J-Lo). It reached the top 20 of the Billboard charts and #2 on US iTunes and #7 on UK iTunes almost instantly.

"We get tons of Tweets and Facebook messages from our teenage fans, who tell us that they live that life too,' Kev Nish says. "We're in clubs with people popping bottles and we thought, 'let's make a song for everybody, no matter the age, no matter the race, no matter the sex, no matter the preference, just people who live that life."

Dirty Bass encompasses everything FM has ever represented: the futuristic connection between electronic, rap, and pop music—ideally played a loud volume while driving at a high velocity. But it finds them experimenting with new collaborators, including Tyga ("Dirty Bass"), Flo Rida ("Change Your Life"), Cassie ("Fly With You"), Natalia Kills, Tokio Hotel, Pitbull, and Redfoo of LMFAO ("Party Rock Remix)." They even hook up for a track with rising Def Jam star YG ("Toot it and Boot It"") and Bangladesh, the hit maker behind Lil Wayne's "A Milli."

Dirty Bass absorbs everything you might expect to find on one of FM's iPods—Bassnectar to the Beastie Boys, Da Brat or N.W.A., AfroJack or Outkast. The lion's share of production is handled by FM's longtime collaborators The Stereotypes, but it also sees the crew working with Dutch House gurus Sidney Sampson and Alvaro, Dallas Austin (TLC, Pink, Madonna) and Martin "Cherry Cherry Boom Boom" Kierszenbaum.

Having collaborated and toured with the A-List pop elite, Far East Movement have stepped up their pop instincts and hook writing ability to an even higher level. Songs feel like a diamond-studded Rolex, possessed by a blinding sheen but with elements that seem perfectly set. Yet as much as they enjoy the finer things in life, the group stresses that it's less about money that it is about having a good time.

"Flossy" finds FM putting a contemporary spin on the low-rider Latin-accented jams that will forever rule the airwaves of Los Angeles.

"It's about saying, forget the screw the chains, the nice car, as long as you're dipping with the one you love the most, that's flossy," Kev Nish says. "The one you love on your arm is your bling."

Dirty Bass is built to be bumped on every boulevard, from the club to just chilling with your crew. If the cliché insists that artists are supposed to include something for everyone, the Far East Movement make it seem effortless. Mashed together, their tastes and interests are wide-ranging enough to resonate with tens of millions across the world. Their music is just fun. This summer prepare for the takeover of Dirty Bass.
Uitgaansagenda Far East Movement