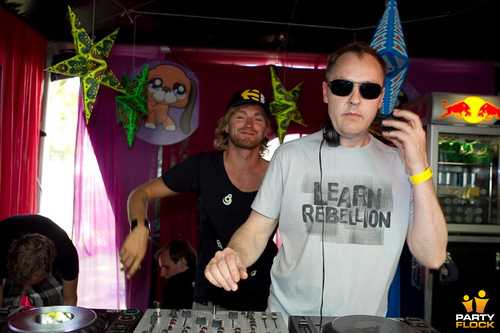 Obsession Outdoor Festival
· 5 juni 2010
Biografie
Lone Striker
aka DJ JP; a DJ/Producer from Amsterdam is resident and founder of Rebellion in Amsterdam.
At the moment
Lone Striker
is busy in the recording studio with several upcoming producers with whom he will release very soon.
Lone Striker
has been around under various guises and as JP he is part of the infamous HQ and Dance Valley crew and helped building the Amsterdam House scene to what it is today.
Where JP stands for the harder styles
Lone Striker
plays Underground House, Deephouse and Techno. With gigs at Welcome to the Future Festival, Secret Garden Festival and several underground parties in Amsterdam and Utrecht and of course
The Rebel
lion parties he makes sure the party is going on and on and on and on!
Party agenda Lone Striker
Decibel outdoor ·

the festival

6
1708
Beekse Bergen, Hilvarenbeek
Adaro, Adrenalize, Akira, Alee, Alpha Twins, Andy Svge, Andy The Core, Angerfist, Angernoizer, Apexx, Art of Fighters, Atmozfears, Audiotricz, B-Front, Balistic, Bass Chaserz, Bass Modulators, Bass-D, Benny Rodrigues, Bountyhunter,

en nog 164 andere artiesten →

Brennan Heart, Buzz Fuzz, Caine, Catscan, Chain Reaction, Chaotic Hostility, Chris One, Claudio Lancinhouse, Clockartz, Coone, Crude Intentions, Crypsis, D-Block & S-te-Fan, D-Fence, D-Sturb, Da Syndrome, Da Tweekaz, Darkraver, Dart, Dash, Davide Sonar, Deadly Guns, Deathmachine, Deepack, Deetox, Delete, Demi Kanon, Destructive Tendencies, Devin Wild, Diesel, Dissoactive, Dither, DL, Dr Phunk, Dr. Peacock, Dr. Rude, Drokz, DRS, Dustin Hertz, Dutch Movement, DV8, E-Force, eDUB, Endymion, F. NøIzE, Frequencerz, Furyan, Genius, Ghost, Gizmo, Goetia, GPF - Greazy Puzzy Fuckers, Groan-er, Guerrillas, Gunz for Hire, Hard Creation, Headbanger, Headhunterz, Hyrule War, I:gor, Imperatorz, Isaac, Jappo, Jason Payne, Jeff, Jerky, Joe, JP, Kasparov, Keltek, Korsakoff, Lady Dammage, Lars, LePrince, Livid, Luna, Mad Dog, Main Concern, Malice, Mark with a K, MD&A, Mind Dimension, Minus Militia, Miss K8, Mithridate, N-Vitral, Neophyte, Neroz, No-iD, Noisecontrollers, Noize Suppressor, Nolz, Nosferatu, NSD, Oldschool Modulators, Ophidian, Panic, Parkneger, Partyraiser, Pat B, Paul Elstak, Penta, Phuture Noize, Plug 'N Play, Predator, Prefix & Density, Primeshock, Promo, Psyko Punkz, Radical Redemption, Ran-D, Ransom, Rät N FrikK, Rebelion, Reckless, Regain, Rejecta, Requiem, Restrained, Rob, Ruffneck, Ruthless, Scott Brown, Sefa, Sei2ure, Shadowfact, Sjammienators, Somniac One, Sound Rush, Spitnoise, Stanton, Stinger, Striker, Sub Zero Project, Tatanka, Technoboy, Tellem, Tha Playah, Tha Watcher, The Melodyst, The Outside Agency, The Pitcher, The Prophet, The R3belz, The Sickest Squad, The Stunned Guys, The Viper, The Vizitor, Thrasher, Thrashmachine, Tommyknocker, Triple T from Italy, Tripped, Tugie, Tuneboy, Unexist, Unresolved, Vince, Warface, Wildstylez, Yves, Zany, Zatox, €LIT€
Tom Harding & JP
14
Stadspodium, Amsterdam
BK, Fausto, JP, Rossi, Scot Project, Stretch, Tom Harding, Yoji Biomehanika
4 waarderingen
1 opmerking
Lekker gedraaid @ westerstraat!!!