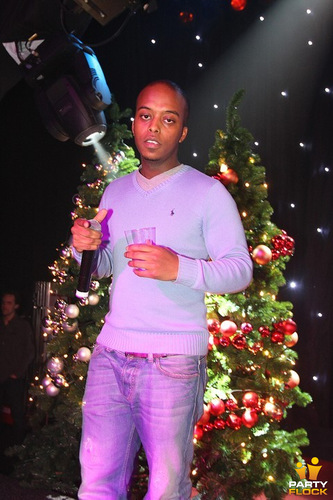 Fame=DJ's
· 26 december 2008
Biografie
Inspired by his mother, a vocalist in reggae music, Zawdi started out grabbing the mic on suitable occasions and locations to show his ways at the tender age of only six years old.
Years later, during a holiday in 2001, his talent got noticed by Chuckie and Posh-E, who strongly encouraged him to pursue his dreams within the industry.
When Zawdi got introduced to the legendary MC's Spyder and Gee, he hit the fast lane. In the short period of nearly a year, Zawdi achieved to become an appreciated name in the small world of quality MC's and managed to get crowds ecstatic in clubs all over the Netherlands. His stunning vocals supported the sets of DJs like Afrojack, Chuckie, Sunnery James & Ryan Marciano, Quintino, Roog, Gregor Salto, Sidney Samson, Leroy Styles, Laidback Luke, Billy the Klit, Benny Rodrigues and many more.
Zawdi is a common used MC at many gigs of the Crème de la Crème of Dutch House DJs like Afrojack, Quintino, Sunnery James & Ryan Marciano to name a few. Having an instant connection on stage, Zawdi delivers a sound which is appreciated across the Dutch borders. He has travelled across the globe and performed at various international venues like the VIP Room (St. Tropez and Paris), Maxxim, H1 Club(Germany), White Room(Stockholm), Arkadia(Miami), Club Opium Mar(Barcelona) and many gigs in different countries like Sweden, Russia, Greece, Italy, Portugal and Serbia and many more.
After a crazy summer as the exclusive MC for Afrojack, when asked about the most notable gigs these great ones popped up:
Wall recordings Miami music week closing party (2011)
Pacha party at the Shelbourne during Miami Music Week (2011)
Mysteryland Main stage in front of 50.000 people (2010)
Ibiza Rocks Size Matters Pool Party (2010)
Apart from his MC skills, Zawdi puts in a lot of studio time. So let's see what that will bring.
Zawdi's talent and skills, two of his highly recognizable assets, are also acknowledged and praised by international big shots like Steve Angello, AN21, Dennis Ferrer and Keri Chandler. To no surprise, thanks to the same talent and skills, and combined with his true passion and perseverance, Zawdi is now taking the world by storm!