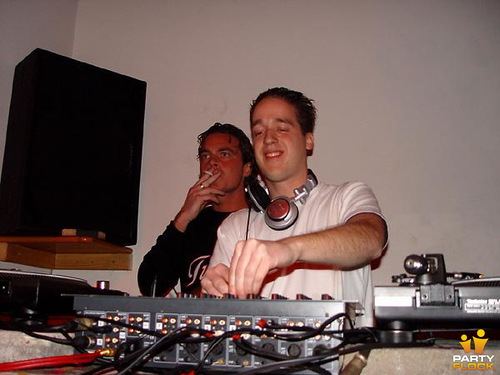 Qlubtempo #12
· 23 november 2002
| | |
| --- | --- |
| Functie | DJ, producer, groep |
| Geslacht | man |
| Groepsleden | |
| Herkomst | Nederland |
| Aanwezigheid | |
Biografie
We have known each other since primary school and experienced a lot of great things together. We started to perform as Hardcore DJ duo in 1997 and began to play Techno and Hardstyle at Qlubtempo #6 in 2001, became Qlubtempo residents in 2003 and performed at 10 Qlubtempo editions, all in the Hemkade in Zaandam.

At the end of 2003, we really got overwhelmed by our succes (we had played on the RED stage on the first edition of Defqon.1 and the famous Q-dance @ Mysteryland) and although we were living the dream something didn't feel right and we decided to break up. There were a lot of rumors about our breakup and there was a lot of tension and a lot of tears. Tenacious as we may be, we all have our breaking points and in 2003 we had ours. Qlubtempo #21 was our final performance in the Hemkade.

For the following 11 years we both lived our own life and performed solo on a lot of Hardstyle parties. Occasionally we bumped into each other. When Q-dance uploaded the offical Hemqade reunion movie trailer in 2015, we both knew we had to be there. After 11 years we finally got together, left our troubles behind and prepared for our set like we did back in 2003.
When we walked into the Hemkade, it felt like coming home.It was heartwarming to reunite with old friends, fans and colleagues. It was like we had never left.

Haze & Abyss are back and here to stay!
Uitgaansagenda Haze & Abyss
Defqon.1 ·

Primal Energy

470

Walibi Holland
Biddinghuizen
Alpha Twins, Amentis, Andy Svge, Andy The Core, Artifact, Atmozfears, Audiotricz, Basspunkz, Bloodlust, Bulletproof, Crypsis, D-Stroyer, Da Syndrome, Damian Ray, Darren Styles, Deep Dimension, Demi Kanon, Destructive Tendencies, Devin Wild, Dissoactive,

en nog 74 andere artiesten →

Dither, DJ Contest Winner, Donkey Rollers, Doris, DRS, Ecstatic, Element, Enemy Contact, Formshift, Forsaken is Dead, Frequencerz, Frontliner, Geck-o, Gridkiller, Hard Driver, Hard Effectz, Haze & Abyss, Headhunterz, Imperatorz, Jack of Sound, Jajox, JDA, Juliëx, Kasparov, KELTEK, Killshot, Kronos, Kruelty, Lady Faith, Last of Us, Mad Dog, Major Conspiracy, Malice, MBK, Mind Compressor, Mr. Ivex, N-Vitral, Never Surrender, Nick Moody, Noize Suppressor, Nosferatu, Phuture Noize, Physika, PRDX, Promo, Ran-D, Re-Style, Rejecta, Ressurectz, Riot Shift, Robs, Rogue Zero, Rude Awakening, Ruffian, Sefa, Sephyx, Sound Rush, Spitfire, Sub Zero Project, Synergy, Tartaros, Tha Watcher, The Saints, The Straikerz, The Viper, Thera, Trespassed, Unifire, Unproven, Unresolved, Vertex, Vertile, Voidax, Vyral (nog niet compleet)