'Materia's maiden chapter (already a MIXMAG album of the month!) presents a mouthwatering co-production array. Comprised of nine recordings, it abounds with tracks in partnership with Cosmic cohorts both established and new! Currently on tour in the US, Partyflock tracked Nic & Bossi down, dropped them a line and got the lowdown on the new album…
So, first things first, chaps – what's in the title! Why is 'Materia' called 'Materia'?
'Well to explain at first, Materia is the Latin term for matter, so basically the substance that all things are made of, in the end the basics of everything around us and even ourselves as human beings. When we started on first songs and demos for the album we got a feeling that even with pushing musical boundaries further, the music is very fundamentally
Cosmic Gate
, somehow very much us, a lot from our current sound, on top elements from say 5 to 7 years ago, but also reminiscing some of the beginning of
Cosmic Gate
as well, basically the best of our works during the years brought together. So music that's essential
Cosmic Gate
, if we can call it like that maybe. That's why we felt 'Materia' was a great working title. After a while we were like, hey, actually its better than just a working title, lets go for it. It's different and simply reflects the music and our feel for what we were doing. And here we are. The first singles been received beyond our expectations and the iTunes releases been going high up in the dance charts, which was unexpected and a more than positive surprise for us. '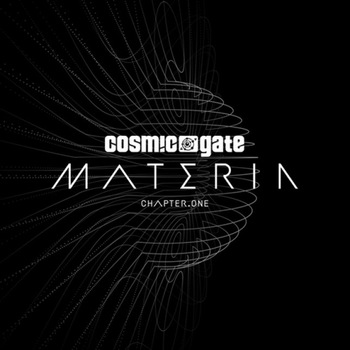 There's a load of great looking collabs on the album - some with artists you've not previously worked with. Let's start with the ones you have though! 'Fall Into You' has you back working with JES again. What is it that you particularly like about her vocals, lyrics and collaborating with her in general?
'
JES
was, is and will always simply be one of the most iconic and unique voices and songwriters in our genre. Her talent is just undeniable and one of a kind. We feel her style just adds to our music. Sometimes like the dot on the i! and so it was with Fall Into You. She wrote it on that piano demo Theme and when her vocals returned we were simply stunned, sometimes you hope for something special but she blew our expectations out of the roof even, and proved once again to be a perfect fit for our style. Really putting in these emotional vocals adding up to the music and simply make it better and a whole. She is just an inspiration and we are blessed to be her friends and to have a so long going history already by now with hopefully more to come…'
There's also 'Dynamic', a new track with Ferry Corsten. With it looking like such a natural union on paper, how come it too you guys so long to get together in the studio?
'Us and Ferry were good mates for so long, that actually to only now work on music together is a bit of a thing we all do not understand indeed, but hey, we came up with two tracks, this should make up for the time delay, well for a bit at least!  So we started working and pretty fast came up with two ideas that we both felt should get finished. So we first released
Event Horizon
on Ferry's label Flashover last fall and Dynamic now is on Materia and our WYM Records. Its maybe one of our favorite tracks from the album and reactions in the club on it are just phenomenal when playing it out, we are so thrilled with this tune!'
We were particularly intrigued to hear what the track you did with Ilan Bluestone sounded like and we weren't disappointed! What parts of Spectrum did you guys contribute to the track and what did Ilan come up with?
'Actually this collaboration did not happen like most others, which means sending music back and forth, we really all have been in the studio together. So Ilan and us were touring together in the states and simply on a few days off stopped in my place in Vegas, enjoyed a good time hanging out and of course used the time to hit the studio as well, as we were planning to do a collaboration for quite a while already. So a few days later incl. some studio jam time here and there, the basics were set and Spectrum was born... The rest we finished on a studio session in London at Ilan's place in november, this is basically how it went, very easy and smooth, and we hope Spectrum reflects this feel and the Chemistry that the three of us have… '
Tell us a little more about the new collaborators on the album – the ones you've not worked with before. How did you come across artists like Alastor and Tim White for example?
'
Alastor
has had some fantastic tunes during the last year, for example his Floyd together with
Jerome Isma-Ae
was one of our favorites of 2016. We met while hanging out with friends in LA and pretty soon felt this great musical connection, thinking very much alike about the current music scene, have the same taste simply and based on that we decided to work on music together… he is a great guy and very talented musician, and fight the feeling for us is just a perfect musical addition to Materia and for our DJ sets as well'
'Tim White we personally unfortunately have never met, but somehow his manager got him one of our demos, and what can we say, we just super liked Deep End! Tim has a very catchy and unique voice and style, and this song and collaboration is a perfect example for networking and put together people that would have never happened to meet in real life, musical globalization in perfection.'
You've taken the slight unusual route of splitting the album into two 'chapters'. Why was that?
In the end it was pretty simple, we had too many good tracks that we wanted to release and could simply not get them done on time to release all in one. Another reason why we actually like the concept to bring out two chapters is, that we give our fans more time to really explore the music on each Chapter. To release 17 tracks as we did with Start to Feel is great, but when people four weeks after release ask, so when do we hear new music, then us as the people that have been busting on the album for a year don't really know how to react to such a question, as it's a project that took all our heart, soul, energy and mostly creative potential for a year, its not like pushing a button and say, hey, there is more music for you… So yeah we spread the release, hopefully get people after Chapter 1 excited and urge for Chapter 2 to be released, and hey, here is our answer in case of asking for more, Chapter 2 will be there soon.'
So at what stage of the year should we anticipate chapter two?
'Let's say like that, it should be hopefully still in the first half of 2017, but with this intense touring schedule it might move for a bit, but we do our best to have both Chapters come together asap, promise! '
You have a big 22-date US in motion. What plans are there for touring 'Materia' around the rest of the world (specifically Europe!)?
'Yes, after this extended US tour we start touring Materia in Europe for the most part of april, plus later for the let us call it summer Ibiza season we be back in Europe as well, we are finalizing schedules as we speak, please check dates on
Cosmic-Gate.­de
.'
What can you tell us about the Materia stage show at this time? Will you be including live performances from some of the singers perhaps?
'We will mainly focus on solo extended club DJ sets for the Materia tour, we feel this is what suits us the best, sure on some of the bigger events we might include one of our singers or DJ colleagues, we will publish news about any possible addition on time.'
Thanks for talking to us guys and best of luck with the release of the albums!
'Anytime, a lot of our Dutch friends are members and users of Partyflock, so it was an extra pleasure, thanks for the good wishes, till the next time!'
Zero expectation management required - 'Materia's extraordinary trip embarks with 'Chapter One', which is available through all good download portals and streaming services now!
Cosmic Gate
: 'Materia – Chapter One' tracklist:
01.
Cosmic Gate
&
JES
- Fall Into You (3:27)
02.
Cosmic Gate
&
Ilan Bluestone
- Spectrum (Album Mix) (4:14)
03.
Cosmic Gate
&
Eric Lumiere
- Edge Of Life (Album Mix) (4:41)
04.
Cosmic Gate
&
Ferry Corsten
- Dynamic (3:19)
05.
Cosmic Gate
&
Alastor
- Fight The Feeling (Album Mix) (5:14)
06.
Cosmic Gate
& Tim White - The Deep End (Album Mix) (6:00)
07.
Cosmic Gate
- am2pm (3:03)
08.
Cosmic Gate
&
Julie Thompson
- Fireflies (Album Mix) (4:23)
09.
Cosmic Gate
- Halo (Album Mix) (5:08)
More info on
Cosmic Gate
:
Partyflock

Facebookpage

Twitter

Soundcloud

Youtube

Discogs

Itunes

Instagram

Spotify
More info on
Black Hole Recordings
:
Partyflock

Facebookpage

Twitter

Soundcloud