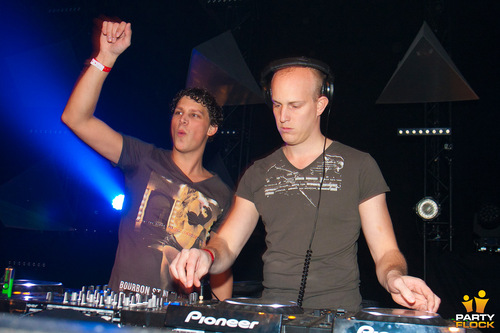 Fusion
· 3 november 2012
Naam
Sander Pouwelse & Fer van Rijswijk
Functie
DJ
Geslacht
man
Alias
Pitchcontrollers
Herkomst
Nederland
Genres
hardstyle, raw hardstyle
Site
prdx.nl
Aanwezigheid
Lid

PRDX

(19 apr 2016)
Biografie
HISTORY
In 2009 begonnen beide jongens met het mixen van hardstyle, wat begon als grappige hobby vanuit de voorliefde voor de muziek werd al snel een serieuze hobby waar ze zich zelf verder in wilde ontwikkelen.
Dit zelfde jaar begonnen ze een dj act genaamd "Pitchcontrollers" waaronder ze veel hebben geleerd. Na 3 jaar, 50 optredens, produceer studio en een eigen radio show genaamd "Madd Friday" op The Limit FM werd het tijd om hun dj carrière naar het volgende level te brengen.
FUTURE
Vanaf januari 2012 zijn ze gestart onder de naam "PRDX".
Klaar om de hardstyle scene te bestoken met hun lekkere sound.
RADIO
Ook presenteren ze onder deze naam nog steeds iedere eerste vrijdag van de maand de Madd Friday op The Limit FM met daarin elke keer weer headliners uit de hardstyle scene. Deze show is terug te luisteren op
www.thelimit.fm
of te downloaden in iTunes.
Intents Festival
1625
Sportpark d'n Donk
Oisterwijk
2-Sidez, 2Faced, Adrenalize, Alee, Alles & Iedereen, Angerfist, Angernoizer, Atmozfears, Avio, Bass-D, Blademasterz, Bodyshock, Bombsquad, Cesqeaux, Crisis Era, Crypton, D-Block & S-te-Fan, D-Fence, D-Sturb, Da Syndrome,

en nog 84 andere artiesten →

Da Tweekaz, Daisy, Dana, Davide Sonar, De Lievelings Dj's van je Zusje, Deadly Guns, Delete, Destructive Tendencies, Devin Wild, Diaz & Bruno, Donkey Rollers, Dr. Peacock, DRS, DV8, Dyna, E-Force, Emas, Francois, Freddy Moreira, Gathier, Henk Dissel, Jebroer, John West, Johnny 500, Jones, Josh & Wesz, Korsakoff, Le Boy, Lil Kleine, LNY TNZ, Lowriderz, Marco Kraats, Mark with a K, Mental Theo, Mission, Mr. Bermuda, Nafthaly Ramona, Nouveaubeats, Nowaxx, NSCLT, Orphan, Partyraiser, Pat B, Paul Elstak, PRDX, Public Enemies, Radical Redemption, Ransom, Rät N FrikK, Raymon Hermans, Rebelion, Regain, RG, Rob & MC Joe, Robert Feelgood, Roughstate Showcase, Roy Dest, Ruthless, Saphera, Snollebollekes, Sound Rush, Sub Zero Project, Syben Ray, Synfinity, Tatanka, Team Rush Hour, Tears of Fury, Tha Playah, Tha Watcher, The Prophet, The Shade, The Z., Thom Bold, Thornballin', Tommy Santo, Tony Junior, TWSTD, Unexist, Villain, Vlaz, Warface, Yung Felix, Zany, Zatox