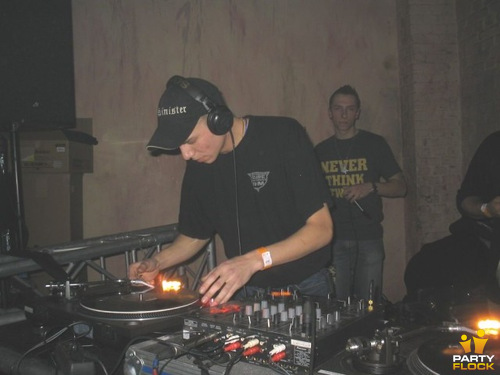 Hardcore Gladiators
· 25 december 2004
| | |
| --- | --- |
| Functie | DJ, producer |
| Geslacht | man |
| Lid van groep | UHM Allstars |
| Herkomst | Nederland |
| Genres | darkcore, early hardcore, hardcore |
| Aanwezigheid | |
| Affiliatie | 1 |
| Lid | Mr. Sinister |
Biografie
Really got into Hardcore in the late 90's. Visited his first party at the age of 14 with the immediate desire to visit more. Spending a lot of weekends with friends travelling to parties all over Holland, Belgium and Germany. Until in 2002 a Dj set appeared at a local hangout, he got interested in mixing records. After some time and thoughts he bought his first set of vinyl's and startup equipment to practice in grandma's basement.

Because of his musical background in younger years he mastered the skills of beat mixing soon. The next step was handing out mix tapes amongst friends and finding opportunities to play! Together with some friends they decided to organize an own concept "Supreme Hardcore". These party's became legendary in the region and served as a platform for regional talent and upcoming DJ's.

After a few editions a big DJ contest was announced at the former Platte Zaol (Maastricht- NL). With high ratings of a professional jury Mr. Sinister finished second. Due to this contest he got introduced with UHM Events. From that time on he became a resident at all their Hardcore concepts. An insane period followed with a lot of gigs and work as a promoter for UHM Events.

About the same time he met DJ Triax who was a newcomer to the regional scene. Triax was already producing and Mr. Sinister had the ambition too. They started to work together which resulted in Mr. Sinister's first release: "Forever to Stay" in 2008. Other projects with Triax followed and in 2009 the first solo track was released "Hardcore Style". In October 2012 he released his latest track "Heart of Darkness" and at the moment he is planning his first solo E.P. in 2013.

So after many years Mr. Sinister gained a consistent and impressive archive of gigs with massive events as Masters of Hardcore, A Nightmare Outdoor, Raving Nightmare, Megarave, Nature One, Earthquake, Hellraiser and many more.. He promised to be more active in 2014 after graduating, so stay tuned and watch out for more Mr. Sinister tracks!
Party agenda Mr. Sinister
20 years Potato

935

Beitel90

Heerlen

Nederland

Beitel90
Heerlen
Adrelina, Amada, Bass-D, Clayton Cash, Darcon Inc., Darkraver, Deadly Guns, Dustin Hertz, DuX, Fatal Error, Freaky D, Genius, Jozz, Luna, Mister Maddox, Mol, Month2, Mr. Sinister, Nowaxx, Omattic,

en nog 23 andere artiesten →

Orphan, Outsiders, Panic, Pita, Playboyz, Potato, Ransom, Red Ace, Rems, Ricardo Moreno, Royal S, silas, SpeakerFreakz, Taa, The Russian, The Viper, Transfarmers, Vince, Vital, Vitellus, Warface, Wodan, X-treme

Freestyle Carnaval

40

Chique

Heerlen

Nederland

Restaurant & Lounge Chique
Heerlen
Adrelina, D-Ultra, Desh, Entropy, Fatal Error, Leon de Jager, Magic Budha, Mol, Mr. Sinister, Noise Riser, Pita, Red Ace, Synergy, Vital

Hardcore Gangsters

245

End Art

Düren

Duitsland

Kulturfabrik End Art
Düren
Andarax, Bodyshock, D-Ceptor, Distiller, Distortion, Estasia, Evolution, G-Angel, Gee MC, Mol, Mr. Sinister, Newstyler, Quitara, Red Ace, TerrorClown, TrAiNeR, Tyfon, X-treme
46 waarderingen
22 opmerkingen
Marijntje!


1 der besten inderdaad...teveel goeie om 1ne de beste te noemen

maar deze man hoort er zeker bij

houwe zo man!

Bedankt he

.....
Hardcore Style


strakke productie hoor!!!
gaat lekker met je boekings

gaat lekker met je boekings

Dat denk ik

Als je ziet op welke feesten je al gedraaid hebt

En binnenkort weer Raving en Nightmare Outdoor

Uitspraak
van
Emoticons Stole My Face

op dinsdag 3 november 2009 om 19:01:
Nitrogenetics

Mr Sinister