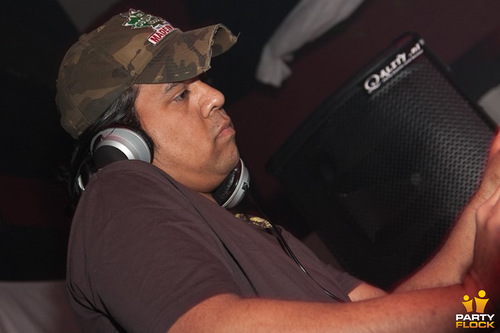 Eclectasy
· 5 juni 2009
Naam
Danny Sapulete
Functie
DJ
Geslacht
man
Geboortedatum
Leeftijd
38
Herkomst
Nederland
Genres
disco, electro, funk, groove, house, lounge, soul, techhouse
Site
djdansa.com
E-mail
djdansa@hotmail.com
Aanwezigheid
Lid

DJ DANSA

(26 feb 2017)
Biografie
After playing for over 15 years of house music, dj
Dansa
calls himself a veteran.
Danny Sapulete was born in Breda in The Netherlands (1980). He grew up in a musical family and started playing piano. But after a while he couldn't get his satisfaction out of it untill once he got in touch with the clubscene and clubmusic at the age of 16. After this awesome experience of the sounds and the dj in the dj booth interacting with the audience, Danny knew for sure that this was the thing he really wanted to do. It started as a hobby and nowadays the gigs are mostly well known parties with big reputations. DJ
Dansa
'S Sound can best described as a combination of bigroom house with sometimes a Latin influence. Soulfull house music is something DJ
Dansa
loves. In the meanwhile Danny produces house music and organises his own club nights (Just Dance) in The Netherlands. He also had many gigs abroad, so what's the next step to make ?
I would say: Party On!
The Qontinent ·

Indestructible

116

Puyenbroeck

Wachtebeke

BelgiŽ

Puyenbroeck
Wachtebeke
Act of Rage, Andy Svge, Andy The Core, AniMe, Bass Chaserz, Bestien, Blaster, Bodyshock, Brennan Heart, Chok Dee, Chucky, Code Black, Coone, D-Sturb, Da Tweekaz, Dansa, Dark-E, Deetox, Def Toys, Delete,

en nog 38 andere artiesten →

Denza, Detest, Diesel, Dr. Rude, DV8, EddyHardcore, Evil Activities, Goetia, Insane S, Josh & Wesz, Lady Dammage, Lethal MG, Livid, Madnezz, Partyraiser, Pat B, Phuture Noize, Playboyz, Prefix & Density, Public Enemies, Ran-D, Refuzion, Requiem, Ronald-V, Ruthless, RVAGE, Sandy Warez, Sei2ure, Sjammienators, Sound Rush, Sub Sonik, Sub Zero Project, Tek Soldierz, Tha Playah, The Sickest Squad, Tymon, Unsenses, Yoshiko
4 waarderingen
3 opmerkingen
Doe mij die blauwe cocktails

, You totally rock dude!
Buitengewoon goed! You Rock ouwe! FFWD, EXTREMA! Bruut!