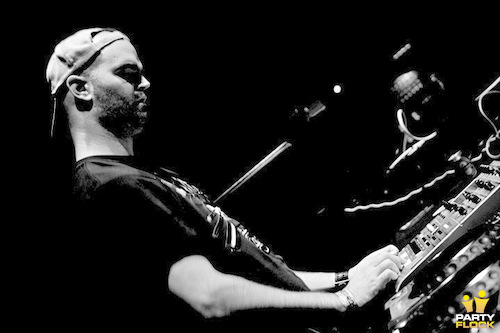 Audio Active XXL
· 12 maart 2010
| | |
| --- | --- |
| Naam | Mat Weasel Busters |
| Functie | live act |
| Geslacht | man |
| Lid van groep | Fant4stik |
| Herkomst | Tsjechië |
| Genres | frenchcore, hardtek, tekno |
| Boekingen via | web.electrobooking.com |
| Aanwezigheid | |
| Affiliatie | 1 |
Biografie
He was only 8 years old when his mother had the funny idea of offering him a sampler. Out went all the other games! This was the beginning of Mat's obsession with electronic tinkering.

In 1990, at the age of 13, he discovered playing with the decks of his Dj friend's father Yul; he discovered techno sound and had his first bass thrills. Two years later his first pieces saw daylight and he composed his first mixes in parties. He discovered the hardcore sound of Speedfreak, the biggest influence on his young mind.

From 1994 to 1997 he swung between Hardcore, acidcore and happy hardcore, all of which left an indelible mark on his music. In 1997, he created the weasel busters tribe with his friends from different musical horizons: Happy hardcore + Hardtechno = Happy Tekcore!
With this magic formula, a mix of positive vibrations, creating a style mixing brutal energy and a joyful atmosphere full of humour, Weasel Busters revolutionized the sound of rave parties, like illegitimate children of Speedfreak and Crystal Distortion brought up to eurodance. This was also the time of his first CD's and mixtapes.

In 1998, he proposed the demo of Weasel Busters 01 (Humungus03) to a well-known French label and was told «Where do you think you are going with this moronic makina at 200 bpm? It will never work!» Disappointed, he waited for 2 years before launching this vinyl himself thanks to Joss Weasel. It became one of the biggest success stories of Hardtek. Pinguins records made numerous represses under the label Humungus.

This sensational success launched him on the forefront of the European scene. In 2004 he met MSD and other major actors of the existing hard scene during the tour «Zone libre» (Free zone) and he had a second major success. They formed together the Yes Papa system. This was more than just a group of friends. It became a real philosophy of life with Nout, Beuns, Keygen, Suburbass, Sycomor and Tone-x at first, then later with Guigoo, Harry Potar, K-plan, Ganez, Weser, Kefran, N'ko…He then moved to the Czech Republic.

In 2006, he decided to found with his friend Ben the booking agency Electrobooking.com to promote this new music, whose roots grew in the underground, but which had evolved to become a style of its own, a music open to all the scenes of the world, free from the negative image it had had until then.

Today, Mat Weasel roams the world, from England to Japan, from Poland to Venezuela, making thousands of people dance every week-end on hyper-vitaminized beats full of madness!
Party agenda Mat Weasel Busters
Frenchcore s'il vous plaît! #13
1540
Club Rodenburg
Beesd
Adreno Krome, Barber, BillX, Dark Connection, Digital Violence, Doctor Terror, Dualcore, Fant4stik, Floxytek, Guigoo, J.Retrosound, Maissouille, Mat Weasel Busters, Nekrosystem, Noisekick, NSD, Paranoizer, Radium, Randy, Sandy Warez,

en nog 9 andere artiesten →

Sirio, Sjammienators, Tharoza, The Braindrillerz, The Demon Dwarf, The Speed Freak, Ubasti, Unproven, Ysiss
Frenchcore s'il vous plaît! #13
1540
Club Rodenburg, Beesd
Masters of Hardcore ·

Tournament of Tyrants

15701
Brabanthallen, 's-Hertogenbosch
Act of Rage, Akira, Al Core, Angerfist, Angernoizer, B-Front, Bass-D & King Matthew, BillX, Bodyshock, Broken Minds, Bulletproof, Catscan, Chain Reaction, Crypsis, D-Fence, D-Sturb, Darkraver, Dart, DaY-már, Deadly Guns,

en nog 87 andere artiesten →

Death by Design, Deathmachine, Delete, Destructive Tendencies, Digital Punk, Dither, Dr. Peacock, Drokz, DRS, Dyprax, E-Force, Enemy Contact, F. NøIzE, Fant4stik, Furyan, Guigoo, Gunz for Hire, Hellcreator, Hyrule War, I:gor, Jack of Sound, Joe, Killshot, Korsakoff, Le Bask, Leviathan, M4LEFiK, Mad Dog, Maissouille, Malice, Meltdown, Menace II Society, Mental Theo, Mike Redman, Miss K8, Mithridate, Mr. Ivex, Mutante, N-Vitral, Negative A, Neophyte, Never Surrender, No-iD, Noisekick, Nolz, Nosferatu, Ophidian, Panic, Para Italia, Paranoizer, Partyraiser, Paul Elstak, Predator, Radical Redemption, Radium, Re-Style, Regain, Remzcore, Restrained, Rob, Rooler, RVAGE, Scarphase, Sefa, Sjammienators, SpeedFolter, Sprinky, Striker, Sub Sonik, Syco, System:Overload, Tears of Fury, Tha Playah, Tha Watcher, The Destroyer, The Kotzaak Klan, The Mastery, The Outside Agency, The Speed Freak, The Viper, The Vizitor, Thorax, Thrasher, Tripped, Unexist, Vince, Warface
Steden met minder dan 1% van het totaal worden niet getoond.