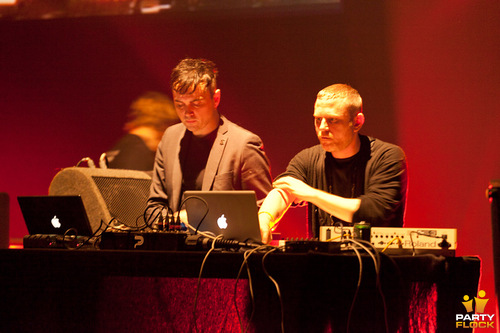 Time Warp Holland
· 4 december 2010
Recensie
Fabric 69 - Sandwell District
· 30 april 2013
Creatieve vrijheid en een open geest zijn toch wel de 2 belangrijkste trefwoorden om de langlopende "Fabric"-cd/mix serie te omschrijven. Iedere keer weer weten ze bij Fabric de spijker op z'n kop te slaan qua artiest keuze. Deze keer is de keuze gevallen op de heren Function & Regis, oftewel "Sandwell District".
Party agenda Sandwell District
Amsterdam Open Air
14785
Gaasperpark, Amsterdam
Aiscream, Angosoundz, ATTI, Badguyz, Benny Rodrigues, Chris Stussy, Damian Lazarus, Dave Clarke, David Vunk, Dieux Pére, Ferro, Fiesta Macumba, FiiFii, FJAAK, Full Crate, Function, Gerd Janson, Giordan Chase, Girlpower, Girls Love DJs,

en nog 50 andere artiesten →

GoNeltje, HATO, Henry X, Hippe Types B, Hot Since 82, Jax Jones, JeanJeansen, Jengi, Joe Kay, Joenes, Jouko, Juan Sanchez, Julian Alexander, Kennedy, Kris Kross Amsterdam, Lalo, Le Romph, Luuk van Dijk, Margie, Matador, Matrixxman, Mino Abadier, Moksi, Nacho, Omar S, Pablo Discobar, Pascal Benjamin, Pender Street Steppers, Pokkoehontas, Prunk, Ricks, Rockefellababe, ROD, Ronnie Flex, Salute, Sam Feldt, Samuel Deep, SANJA, Selecta Maestro, Shonky, Sigma, SIROJ, Steph Andrew, Tenzers, The Flexican, Toman, TWR72, WaxFiend, Wouter S., Yungalxndr
By the Creek
3124
Recreatiegebied Middelwaard, Vianen
Abstract, Ballantine, Benny Rodrigues, ChildsPlay, Chris Stussy, David Vunk, Detroit Swindle, Don De Baron, EZ, FJAAK, FS Green, Function, Ghost in the Machine, Irwan, Jack Jameson, Johnny 500, Jonna Fraser, Jorn Luka, Julian Jermain, Mall Grab,

en nog 17 andere artiesten →

Mikey Biemans, Nachtbraker, Pablo Discobar, Perc, Phase Fatale, Phreaks of Visions, Prunk, SBMG, sojuju, Speedy J, STØRM, TITIA, Todd Terje, Tripeo, Walter Looks, Washington, Wouter S.
Party agenda
Regis
(alias)
Drift Festival
2328
De Vasim Fabriek, Nijmegen
Beesmunt Soundsystem, Boomshakalak, Colin Benders, Dazion, De Los Miedos, Evelyn Rae, Hugo Mendez, Illum Sphere, Izabel, Jameszoo, Juju & Jordash, Levon Vincent, Marcel Fengler, Marco Passarani, Marsman, Maurice Fulton, MF Andrade, Optimo, Pitto, QoQonut,

en nog 9 andere artiesten →

Red D, Regis, Skatebård, Steffi, Talismann, The Love Doctor, upsammy, Volvox, Young Marco
Dekmantel Festival
9385
Amsterdam
Broken English Club, Carl Craig, Daphni, DVS1, Fixmer / McCarthy, Floating Points, Gesloten Cirkel, Goldie, Helena Hauff, Identified Patient, Jah Shaka, Jamie XX, Jasper Wolff & Maarten Mittendorff, Job Sifre, Mama Snake, OKO, Oscar Mulero, Parrish Smith, Powder, Randall,

en nog 10 andere artiesten →

Regis, Relaxer, Solid Blake, Special Request, The Bug, Tolouse Low Trax, Tom Trago, Veronica Vasicka, Versus Synthesizer Ensemble, Voiski