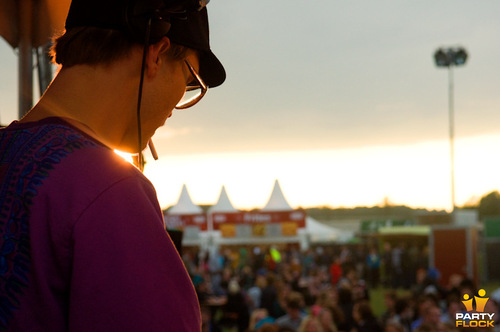 Symphonica Elektronica Festival
· 14 mei 2011
| | |
| --- | --- |
| Functie | DJ, MC, groep |
| Geslacht | man |
| Groepsleden | |
| Herkomst | Nederland |
| Genres | breakbeat, eclectic, electro, hip hop |
| Site | boemklatsch.nl |
| Boekingen | barkers.nl |
| Aanwezigheid | |
| Affiliatie | 1 |
Biografie
Boemklatsch? Boem, klatsch, kick, snare. It's that simple. It's all about the beat with the Boemklatsch collective: a colourful, creative and exuberant group of friends who guarantee to tear the roof off any party, anywhere. Their reputation is growing across Europe for being ahead of the game in every form of uplifting electronic music and partying harder than the crowds they entertain.

The last couple of years have been a real rollercoaster for these guys. They've started producing and releasing their own records. They've done remixes for artists including Gorillaz, Stars & Sons, Seymour Bits and Shameboy and been remixed by Dem Slackers, Hidden Cat, Peace Treaty, Schlachthofbronx and High Rankin, amongst others. They put out two mix CDs: "Mixing in Action" and "DUMDUM Genetics #1" which both sold out instantly, while In April last year Boemklatsch were proud to release their first studio album "Spontaneous Combustion." The album featured some of the hottest vocalists around (including Aloe Blacc, Spoek and Princess Superstar) on diverse beats that showcase Boemklatsch's wide taste in music. The album track "One More Day" (ft. Mike Lord) was single of the week on iTunes Benelux and the album will be available worldwide by the end of this year.

But there's still more to come from this crew… they've also started up their own label BMKLTSCH RCRDS which has grown into one of the biggest independent dance labels in Europe. They've released tracks and remixes from international stars like Mightyfools, Gtronic, BartBmore, Evil Nine, Hostage, Calvertron, Edu K, Oliver Twist, Malente, Stereoheroes, Slagmalsklubben and Jamie Fanatic, as well as promoting a healthy proportion of upcoming talent.

Boemklatsch is a crew of DJs, a VJ and a host. They play and create hard-hitting, block-rocking tunes enhanced by incendiary visuals.
Boemklatsch rocks dj-sets but also offers a huge stage show "Boemklatsch Equalizer". A next-level show with 16 (3 meter tall) projection pillars that create a three-dimensional visual experience in which the music and the visuals are completely integrated.
Recensie
Boemklatsch - Equalizer
· 9 april 2012
Het Boemklatsch collectief (DJ/producer crew) is terug met een nieuwe mixcompilatie, hun derde inmiddels. En wat voor één?! "Boemklatsch Equalizer" is minimaal zo goed als het uit 2008 stammende "Boemklatsch presents Mixing In Action".
We Are Electric

36

Klokgebouw

Eindhoven

Nederland

Klokgebouw
Eindhoven
Boemklatsch, Chris Liebing, Colin Benders, deadmau5, Feint, Fluoresce, FuntCase, Madster, Marcel Dettmann, Mr. Mt, Nymfo, Robert Hood, Tinlicker, TITIA
32 waarderingen
| | | |
| --- | --- | --- |
| | _lizzy: | |
| | Nadine^: | Per ongeluk naar binnen gekomen op Rock It, gezien op DV en nu op naar lowlands! |
| | ZILDIAN: | Wat een knallers deze gasten! Top muziek! |
| | Kooosje: | Helemaal top gister in Haarlem!!! |
| | d-russo: | vette sound op isla electronica |
| | BraMW: | beste helden!!..­ zaterdag goed op los gegaan |
| | Cleemm.: | nieuwe album is echt baas! |
| | theviper H4L: | super in nirwana |
| | Benfiquista: | Gruwelijk.­ 4 september in Almere |
| | bakaYaro: | Gister op Mysteryland de helden van de dag.­ Heerlijke set guys, op naar volgend jaar! |
| | aceTIMace: | jammer dat ze niet niet in de bravo stonde...­ Verder wel SUPER op Lowlands!!! |
| | . verwijderd: | Helden! |
| | Ioep: | Vet Vet Vet!!!! |
| | ROYINHO | RAW EDUCATION: | fucking VAAG en echte rockerz |
| | Caasje.: | |
| | RBNJDJ(L): | gewoon soo chill! draaien super |
| | VJ Vidolic: | |
| | Dr. Spana: | @ Matrixx at the Park |
| | r-held: | super |
| | Hessel [The Following]: | jullie knalde het dak er af op freefunk 09 |
| | Mrieks: | Zooooo hard gegaan gister op Artquake! Heb t er nog warm van! |
| | Meef: | Helden! |
| | Blue Screen: | Helden.­ |
| | FransHeiD: | Eergister op Emporium, toen hij begon te draaien kwam het feest pas echt op gang |
| | Wouter?: | Mike Mago is een held.­ De rest mag thuisblijven.­ |
| | Ed33: | Helemaal LOS! |
| | MegaBASs: | Geniaal setje op Bevrijdingsfestival Almere, kan me niet herinneren dat ik zo hard ben los gegaan! |
| | Nopeisdo: | Echt Goed |
| | Minilab: | Mooie avond @­ the mezz! |
| | Adm-X: | Heerlijk @ Splotsz, we wachten Meddle af |
| | Jooztvdberg: | was lekker op rauw! |
| | Jacc_: | lekkere muziek waar je altijd op los kunt gaan ! |
12 opmerkingen
BOEMKLATSCH wil ze hebben op mij verjaardags feestje als ik 100 wordt.­
Hoe vet zijn die luij en ze komen uit nederland dat kan eigenlijk niet
naar alle crap van de laatste jaren