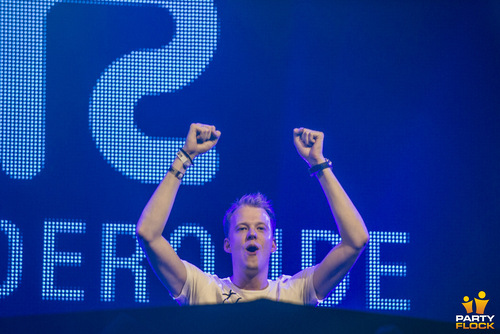 A State Of Trance Festival
· 21 februari 2015
Naam
Ruben de Ronde
Functie
DJ, producer
Geslacht
man
Herkomst
Nederland
Genres
house, progressive, trance
Site
rubenderonde.nl/wordpress
Aanwezigheid
Lid

Rubenderonde

(20 sep 2010)
Biografie
Walking the fine line of trance and progressive, we find Dutch DJ and producer Ruben de Ronde right in the middle of all things. No borders can stop this talent from touching the very edge of different styles, from the trancy 'Forever In Our Hearts' to the deeper, arousing progressive 'Timide' , his team ups with Ukrainian singer Aelyn 'She's Already Gone' and 'What About You' and of course 'Story Of Life', 'Marsascala' and 'Love Survives' with his Maltese friends Tenishia.

Since 2005, he's poured out his sounds straight from his own label, 'Statement', as well as working extensively with Armada Music.
A slew of remixes have made his name rise amongst the A-class, with his interpretation on works by Cosmic Gate, Way Out West, Push, Aly & Fila, W&W, Sean Tyas and many more. In 2008, his first solo-production, 'Republique', became a Top 20 hit in the Beatport chart and got the 'Captivating' stamp by the renowned DJ Mag. Ever since, he's had no time to look back and faces the future with the release of his first vocal bomb with Aelyn 'She's Already Gone', 'Forever In Our Hearts' and his recent singles with Danny Chen and Tenishia.

The ongoing support for his productions include a fan base going by the name of Armin van Buuren, Above & Beyond, Joris Voorn, Paul van Dyk, Tiësto, Cosmic Gate, Markus Schulz, Judge Jules, Fedde Le Grand and Roger Sanchez alike. Since the year 2007 Ruben has been part of the Team of A State of Trance, together with Armin van Buuren, co-hosting the radio broadcast with Armin on his World tours, celebrating the round numbers of his radio show.

As an artist/DJ Ruben made his debut during the massive ASOT550 celebrations in Moscow 2012, playing in front of over 10,000 party people.

Ruben has swept music lovers right off their feet with DJ sets all over the World. But he manages to do just the same with his radio show 'The Sound of Holland'. Diving deep into the deepest sources of music, Ruben showcases more than just the 'regular' playlists, creating a fanbase that loves his distinctive, progressive trance sounds. The listeners of his show have the chance to vote for their favourite track under the 'Blog Burner' tag.
'The Sound of Holland' is broadcasted every week on Afterhours.fm and the biggest radio of our planet, Sirus XM. Ruben de Ronde is right here, right now, ready to face the broad and promising horizon.
Recensies
Trance Essentials 2012 - Volume 1
· 4 januari 2012
Een nieuw jaar: nieuwe muziek, nieuwe kansen. Één ding staat al vast: de grote Armada muziekvloot zal ongetwijfeld in 2012 een vooraanstaande rol in het trance genre spelen. Om dit kracht bij te zetten lanceert de muziekvloot de eerste 'essentiële trance' verzameling voor het kersverse jaar. Maar hoe vaart deze compilatie eigenlijk?
Armada Trance 13
· 6 oktober 2011
Een cd hoes met twee bekende woorden, een appetijtelijke dame en een veelbelovend lijstje grote artiesten. Jawel, er is weer een
Armada Trance
gereleased!
Armada presents Trance Essentials 2011 Vol. 1
· 18 juli 2011
Met 'Trance Essentials' is weer een nieuwe compilatiereeks geboren bij de toch al uit zijn voegen barstende platenstal Armada Music. Hoe essentieel is deze dubbelaar met 40 tracks in de mix in het trancegebeuren van vandaag de dag?
Party agenda Ruben de Ronde
Tomorrowland ·

The Story of Planaxis

5
243

Schorre

Boom

België

De Schorre
Boom
16 Bit Lolitas, Adam Beyer, Aevion, Alison Wonderland, Alok, Âme, Andrew Rayel, Anna Lunoe, Arkline, Armin van Buuren, Axwell /\ Ingrosso, B-Kay, BAFANA, Ben Böhmer, Ben Nicky, Bjeor, Blackout Boy, BLR, Breathe Carolina, Brian Cross,

en nog 117 andere artiesten →

Broux, Bubba, Burak Yeter, Buscemi, Cherry Moon Trax, Chocolate Puma, Codeko, Coely, Compuphonic, Cosmic Gate, Craig David, Cristoph, Curtis Alto, Dannic, Dark-E, Darkraver, Dave Brody, Dave Lambert, David Gravell, Deepack, Disciples, Double U Jay, Dubfire, Duke Dumont, Eli & Fur, Eric Prydz, Estiva, Fedde le Grand, Flapjackers, Florian Picasso, Fox Stevenson, Francois, FRANKYEFFE, Gab Rhome, Gary Beck, Goldfox, GQ, Hardwell, Henri PFR, Himperson, Holy Goof, Hush, Hush Hefner, Jaël, James Grant, Jauz, Jax Jones, Jensen, Jesse, Jody Wisternoff, Jonas Blue, Joris Voorn, JP Enfant, Karawane, Kimman, Klingande, Kölsch, Konstantin Sibold, Korsakoff, Krankenhaus Selektion, KURA, Lane 8, Lords of Tek, Lost Desert, Lowriderz, Luttrell, Marcel Fengler, Marky, MaRLo, Maya Jane Coles, MegaMen, Neon, Netsky, Nick Bril, Nico Morano, Nitsa, Oliver Heldens, Ookay, Öona Dahl, Oscar Mulero, Pat B, Paul Elstak, Paul Kalkbrenner, Powel, Punctual, Push, Qrion, R-Wan, Rakesh aka Blackjack9000, Regi, Rob & MC Joe, Rødhåd, Ruben de Ronde, Ruthless, San Holo, Sander van Doorn, Sasha, Sevenn, Slushii, Sunnery James & Ryan Marciano, Super8 & Tab, TD Rankin, The Bloody Beetroots, The Viper, The Whatevers, Tiësto, Tiga, Timmy Trumpet, TLP aka Troubleman, TWR72, Underworld, Vini Vici, W&W, Wantigga, Yotto, Youngr, Yves V

Electronic Family

4
328

Autotron

Rosmalen

Nederland

Autotron
Rosmalen
Alex M.O.R.P.H., Allen Watts, Amir Hussain, Arctic Moon, Ashley Wallbridge, Ben Gold, Chris Schweizer, Daniel Skyver, Darren Porter, David Gravell, DiVasco, Estiva, Fred Baker, Gareth Emery, Genix, Indecent Noise, James Dymond, Johan Gielen, Jordan Suckley, Jorn van Deynhoven,

en nog 21 andere artiesten →

KhoMha, Kyau & Albert, M.I.K.E. Push, Marco V, MaRLo, Omnia, Ørjan Nilsen, RAM, Rank 1, Rodg, Ronski Speed, Ruben de Ronde, Sean Tyas, Signum, Steve Allen, Stine Grove, Susana, Svenson, Tulz, Vini Vici, Whiteno1se

Hï Ibiza

2

Hï Ibiza

Playa d'en Bossa

Spanje

Hï Ibiza
Playa d'en Bossa
Armin van Buuren, Bruno Martini, Purple Haze, Ruben de Ronde, Sunnery James & Ryan Marciano

Hï Ibiza

28

Hï Ibiza

Playa d'en Bossa

Spanje

Hï Ibiza
Playa d'en Bossa
Armin van Buuren, David Gravell, Ruben de Ronde, Sunnery James & Ryan Marciano
Future Sound Of Egypt 550 ·

A World Beyond

3

Victoria Warehouse

Manchester

Verenigd Koninkrijk

Victoria Warehouse
Manchester
Aly & Fila, Ciaran McAuley, Dan Dobson, Dan Stone, Darren Porter, Ferry Corsten, Ferry Tayle, Hazem Beltagui, James Dymond, John 00 Fleming, Liam Wilson, M.I.K.E. Push, Madwave, Mauro Picotto, Monoverse, Paul Denton, Paul Thomas, Purple Haze, Ruben de Ronde, Stoneface & Terminal
Airwalk ·

Indoor Trance Festival

26

Maaspoort

Venlo

Nederland

De Maaspoort
Venlo
Animato, BrightLight, David Gravell, Ferry Corsten, Fuzzy, Isaac Fisherman, Jape du Marie, JayCee, Markus Schulz, Nifra, Ørjan Nilsen, RAM, Rinkadink, Ruben de Ronde, Scot Project
7 opmerkingen
Voor wie ff wilt genieten van Ruben
http://www.megaupload.com/?d=6BTBIUU8
Thanx!
Zeer lekker gedraaid op Armada Night

Heb zeker genoten (wel jammer dat er maar 12 mensen in de zaal waren)
trance 100 2010 is echt een superalbum

zeker goed aan elkaar gemixed