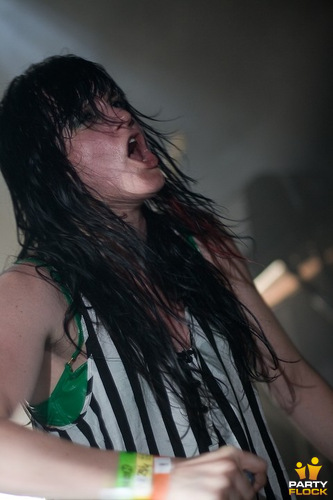 Electrocution
· 30 april 2010
Naam
Susanne Clermonts
Functie
live act,

2 × DJ

, zangeres
Geslacht
vrouw
Herkomst
Nederland
Genres
electro, techno
Aanwezigheid
Biografie
Krause, born Susanne Clermonts, is a Dutch songwriter/performer in the European electronic music scene. After years of playing in punkrock bands, she changes course in 2006 and trades her guitars for analog synthesizers. She finds her artist name in Michel Houellebecq's novel 'Elementary Particles'; a new succesful project is born. In 2007 she graduated at the Academy For Popculture in the north of the Netherlands.


From 2006 til 2008 Krause performs as a one-woman electro act. In May 2009 a live drummer, and the next October a synthplayer comes to join the live shows.
In 2008 Krause signs with Sony Music and pulls in Dutch drum'n'bass producer trio Noisia, with whom she produces her debut album 'No Guts, No Glory' which is being released in October 2009 during the Amsterdam Dance Event.


'No Guts, No Glory' is inspired by 80's synthpop, but also Krause's punkrock background emerges in the music by raging guitars and frantic vocals. Krause builds up a strong live reputation in a short period of time, and the album receives rave reviews. She makes her appearance on popular Dutch TV show De Wereld Draait Door and on several radio stations such as 3FM.


In March 2013 Krause releases her second album 'Tenderfoot'. On this album she collaborates with several talented Dutch producers, such as Mason, Sjam Sjamsoedin (Nobody Beats The Drum), Mike Luck, Dem Slackers and Fellow. An extensive period of soul searching has given her inspiration to work on new tracks with a renewed spirit and explains the title 'Tenderfoot', which means 'rookie'.


As a result of working with different producers, 'Tenderfoot' has become an album which features influences from a variety of different genres in electronic music. The lyrics are more personal than on her first album.


When working on 'Tenderfoot', Krause finds her match in producer Mike Luck. The two start working on Krause's third release 'The Smoke', which is planned for Winter 2013.
2 waarderingen
kiwi123:

Ik weet niet wie of wat je bent, maar ik vond je geweldig draaien in Paradiso met Pasen!

verwijderd

:

Gezien in Tivoli de Helling...­ Moooooi!! YOU GO GIRL!!
9 opmerkingen
Nog nooit zo depressief van electro geworden