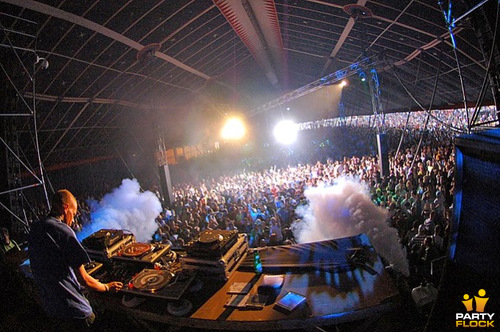 FF3D Festival
· 13 augustus 2005
Naam
Dennis Copier
Functie
DJ, producer
Geslacht
man
Alias
Panic
Lid van groep
Da Goodfellaz
Geboortedatum
Leeftijd
42
Herkomst
Nederland
Genres
hardstyle
Aanwezigheid
Affiliaties

2

Lid

Panic(Corona Fan)

(10 feb 2017)
Recensies
Decibel 2009
· 16 september 2009
Decibel vond dit jaar weer plaats in de Beekse Bergen en voor de liefhebbers van de hardere stijlen ligt de bijbehorende cd inmiddels in de winkel. D-Block & S-Te-Fan, The Viper en Beholder & Balistic mixen drie cd's aan elkaar, in de recensie vind je alle info over Decibel 2009.
Decibel outdoor ·

the festival

6
1687

Beekse Bergen

Hilvarenbeek

Nederland

Beekse Bergen
Hilvarenbeek
Adaro, Adrenalize, Akira, Alee, Alpha Twins, Andy Svge, Andy The Core, Angerfist, Angernoizer, Apexx, Art of Fighters, Atmozfears, Audiotricz, B-Front, Balistic, Bass Chaserz, Bass Modulators, Bass-D, Benny Rodrigues, Bountyhunter,

en nog 164 andere artiesten →

Brennan Heart, Buzz Fuzz, Caine, Catscan, Chain Reaction, Chaotic Hostility, Chris One, Claudio Lancinhouse, Clockartz, Coone, Crude Intentions, Crypsis, D-Block & S-te-Fan, D-Fence, D-Sturb, Da Syndrome, Da Tweekaz, Darkraver, Dart, Dash, Davide Sonar, Deadly Guns, Deathmachine, Deepack, Deetox, Delete, Demi Kanon, Destructive Tendencies, Devin Wild, Diesel, Dissoactive, Dither, DL, Dr Phunk, Dr. Peacock, Dr. Rude, Drokz, DRS, Dustin Hertz, Dutch Movement, DV8, E-Force, eDUB, Endymion, F. NĝIzE, Frequencerz, Furyan, Genius, Ghost, Gizmo, Goetia, GPF - Greazy Puzzy Fuckers, Groan-er, Guerrillas, Gunz for Hire, Hard Creation, Headbanger, Headhunterz, Hyrule War, I:gor, Imperatorz, Isaac, Jappo, Jason Payne, Jeff, Jerky, Joe, JP, Kasparov, Keltek, Korsakoff, Lady Dammage, Lars, LePrince, Livid, Luna, Mad Dog, Main Concern, Malice, Mark with a K, MD&A, Mind Dimension, Minus Militia, Miss K8, Mithridate, N-Vitral, Neophyte, Neroz, No-iD, Noisecontrollers, Noize Suppressor, Nolz, Nosferatu, NSD, Oldschool Modulators, Ophidian, Panic, Parkneger, Partyraiser, Pat B, Paul Elstak, Penta, Phuture Noize, Plug 'N Play, Predator, Prefix & Density, Primeshock, Promo, Psyko Punkz, Radical Redemption, Ran-D, Ransom, Rät N FrikK, Rebelion, Reckless, Regain, Rejecta, Requiem, Restrained, Rob, Ruffneck, Ruthless, Scott Brown, Sefa, Sei2ure, Shadowfact, Sjammienators, Somniac One, Sound Rush, Spitnoise, Stanton, Stinger, Striker, Sub Zero Project, Tatanka, Technoboy, Tellem, Tha Playah, Tha Watcher, The Melodyst, The Outside Agency, The Pitcher, The Prophet, The R3belz, The Sickest Squad, The Stunned Guys, The Viper, The Vizitor, Thrasher, Thrashmachine, Tommyknocker, Triple T from Italy, Tripped, Tugie, Tuneboy, Unexist, Unresolved, Vince, Warface, Wildstylez, Yves, Zany, Zatox, €LIT€

Genesis

109

Klokgebouw

Eindhoven

Nederland

Klokgebouw
Eindhoven
A*S*Y*S, Adaro, Alpha Twins, Balistic, Blademasterz, Brennan Heart, Bruno Power, Chain Reaction, Chris One, D-Block & S-te-Fan, Dana, Deepack, Degos & Re-Done, E-Force, Francois, Frequencerz, High Voltage, Isaac, Ivan Carsten, Max Enforcer,

en nog 11 andere artiesten →

Pavo, Prefix & Density, Psyko Punkz, scope, Slim Shore, Super Marco May, The Machine, The Nasty Boyz, The Pitcher, Thera, Titan
Party agenda
Panic
(alias)
gisteren: E-Mission Festival ·

Sons of Dragons

6
Florida, Ghedi
Analogic Boy, Andy The Core, Art of Fighters, Bass-D, Bit Reactors, Bloodpeak, BrainCase, Brouch, Bruno Power, Brutale, Coky, D-Element, Dana, Deadly Guns, Destructive Tendencies, Doctor Zot, Drunkhertz, eDUB, F. NĝIzE, Freakon,

en nog 44 andere artiesten →

Ganda, Hardsounder, Hyronist, Il Dottore, Ivan Maister, Jasta, Jimmy The Sound, Joshua Hiroshy, Kuz, Lehns, Maad And Flame, Martyna, Meccano Twins, Mindtrax, Myosuke, Mystical Mind, N-Vitral, Neophyte, Nico & Tetta, Panic, Pixie, RADI, Radio Killah, Radium, Reevoid, Regain, Ruthless, Satronica, Sub Zero Project, Super Marco May, Superboyz, Technoboy, Tha Playah, The Braindrillerz, The Melodyst, The Sickest Squad, The Stunned Guys, Thrasher, Underground Vandalz, Unexist, Wicked Minds, Wildstylez, Yoshiko, Zatox
Dominator Festival 3
2211
E3 Strand, Eersel
Adaro, Akira, Al Twisted, Amada, Andy The Core, Angerfist, Angernoizer, B-Front, Bass-D, BillX, Bodyshock, Broken Minds, Brutality, Bryan Fury, Bulletproof, Catscan, Chain Reaction, Crossfiyah, Crucifier, Crypsis,

en nog 100 andere artiesten →

D-Fence, D-Hunter & Dryade, D-Master, D-Sturb, Darkraver, Dart, DaY-már, Deadly Guns, Death by Design, Delete, Destructive Tendencies, Detest, Diesel, Digital Punk, Dione, Dither, Dolphin, Dr. Peacock, Drokz, DRS, Dyprax, E-Force, Enemy Contact, Evil Activities, F. NĝIzE, Fant4stik, Frantic Freak, Furyan, Gizmo, Hellcreator, Hong Kong Violence, Hyrule War, I:gor, Ignite, Invaïssor, Joe ET, Juliëx, Khaoz engine, Korsakoff, Level One, Mad Dog, Maissouille, Malice, Marxman, Marxman, MD&A, Meltdown, Menace II Society, Mike Redman, Mind Compressor, Miss K8, Mr. Forte, Mr. Ivex, Mutante, N-Vitral, Negative A, Neophyte, Never Surrender, No-iD, Noisekick, Noize Suppressor, Nolz, Nosferatu, Ophidian, Panic, Partyraiser, Paul Elstak, Predator, Radical Redemption, Radium, Re-Style, Remzcore, Restrained, Rudi Ratte, RVAGE, Scarphase, Sefa, Shadowlands Terrorists, Sjammienators, Spitnoise, Sprinky, Stanton, Striker, Sub Sonik, Syco, Tears of Fury, Tha Playah, Tha Watcher, The Destroyer, The Outside Agency, The Satan, The Sickest Squad, The Straikerz, The Viper, Thorax, Thrashmachine, Tieum, Tripped, Warface, Wreck Reality
Freaks
8
PKHS, Tilburg
Genius, Morphine, Nowaxx, Omattic, Outsiders, Panic, Rob & MC Joe
Tomorrowland ·

The Story of Planaxis

5
183
De Schorre, Boom
2ManyDJs, Akira, Alle Farben, Alpha 9, Aly & Fila, Andhim, Andrea Oliva, Andrew Rayel, Arno Stolz, B-Front, Barely Alive, Bass Chaserz, Ben Nicky, Bocain, Brennan Heart, Budakid, Butch, Buzz Fuzz, Callie Reiff, CamelPhat,

en nog 122 andere artiesten →

Cheat Codes, Chicola, Claptone, Claude Vonstroke, Clockartz, Coco Cole, Coone, Cosmic Gate, D'Angello & Francis, D-Sturb, Da Mouth of Madness, Dana Ruh, Dave Clarke, Deepend, Deetox, Dennis Cruz, Deuxfwa, Dimitri Delava, Dimitri Vegas & Like Mike, Dirtyphonics, Discobaar A Moeder, Dixon, Djaxx, DosschY, Downside, E-Force, Fast Distance, Fedde le Grand, Feder, Flashmob, Fox Stevenson, Francisco Allendes, Goldfox, Guy J, Guy Mantzur, Henri PFR, Himperson, HUGEL, Ilario Alicante, Jacky, Jax Jones, John O'Callaghan, Jordan Suckley, Joyhauser, Karl, Khen, Klingande, Kölsch, Kristof, Kungs, Lars Moston, Len Faki, Lost Frequencies, LOVRA, Luca Bacchetti, Lunoize, LYA, MAD M.A.C, Marcel Dettmann, Markus Schulz, Martin Garrix, Martin Solveig, Mat. Joe, MATTN, Michael Calfan, Mind Against, Monta, Murdock, MYST, N-Vitral, Neophyte, NGHTMRE, Niels Feijen, NOIZ, Noize Suppressor, Nosferatu, Nukov & Yelmet, Pan-Pot, Panic, Paul Kalkbrenner, Paul Oakenfold, Paul van Dyk, Pendulum, Phase One, Phuture Noize, Pierre, Plastik Funk, Promo, Quintino, Radar Records, Rakesh aka Blackjack9000, Rakka, Requiem, Ricardo Villalobos, Rob & MC Joe, Robin Schulz, SaSaSaS, Slushii, Solardo, Soulcity, Steve Angello, Sven Väth, Sylvain Armand, TC, That's Who, The Knightriders, The Magician, Timmy Trumpet, Tom Smeyers, Tommyknocker, Two Pauz, Ummet Ozcan, Unexist, Veepee, Vito Mendez, W&W, wAFF, Warface, White Noise, WolfPack, Yamo, Yves V
Karma Outdoor 2
328
Paviljoen De IJzeren Man, Eindhoven
Bass-D, Bountyhunter, Dazzler, Dutchman Jack, Isaac, JDA, M, Panic, Pat B, Promo, Rob & MC Joe, Ruffneck, Stanton, Syco, The Viper, V, Vince, Yves
Decibel outdoor ·

the festival

6
1687
Beekse Bergen, Hilvarenbeek
Decibel outdoor ·

the weekend

2
312
Beekse Bergen, Hilvarenbeek
Adaro, Alee, Audiotricz, Bass Modulators, Brennan Heart, Cyber, Darkraver, Digital Punk, DL, Panic, Paul Elstak, Phuture Noize, Retrospect, Zany
Sunglow Festival ·

Victim of Venom

96
Recreatieoord Binnenmaas, Mijnsheerenland
Andy Raw, Armand, Boogshe, Bountyhunter, Critical Mass, Crude Intentions, Darkraver, Dr. Peacock, Frequencerz, Korsakoff, Marshall Masters, N-Vitral, Native, OCD, Outsiders, Panic, Paul Elstak, Promo, Resonator, Ricos,

en nog 5 andere artiesten →

Rob & MC Joe, Ruthless, Stanton, TMC, Vettriano
Start the Panic
3
Dolhuis, Dordrecht
Panic (nog niet compleet)
8 waarderingen
Maximumraver:

Geweldige set op The Qontinent

Sief:

Hardcore: ja!! Maar in de hardstylewereld... Nee

JipTriPP:

jullie hebben geen verstand van hardstyle

panic

Xenic [www.­180ppm.­nl]:

Knallen met Beholder

D-Nial:

Ze blijven allen toch echt mn favorieten achter de draaitafels, die mannen van Seismic

Pigmans:

samen met beholder echt de beste in de hardstyle wereld

defqon pfff wat ee set toen!

Kevinova:

De man die goeie sets neerzetten kan!

Nico:bier::

held!
4 opmerkingen
DENNIS IS OK ..............

Ole oleeeeeeeeeee

limburGggggggggg de GEKSTE

samen met beholder