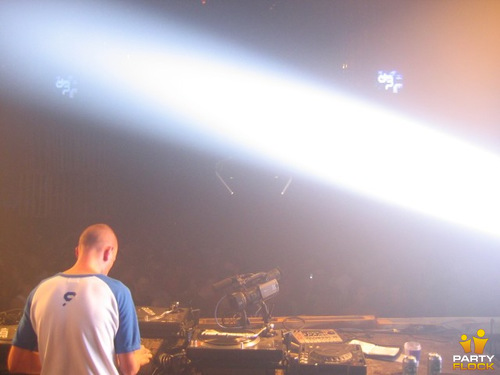 Decibel
· 28 augustus 2004
| | |
| --- | --- |
| Naam | Dennis Copier |
| Functie | DJ, producer |
| Geslacht | man |
| Alias | Panic |
| Lid van groep | Da Goodfellaz |
| Geboortedatum | |
| Leeftijd | 42 |
| Herkomst | Nederland |
| Genres | hardstyle |
| Aanwezigheid | |
| Affiliaties | 2 |
| Lid | Panic(Corona Fan) |
Recensies
Decibel 2009
· 16 september 2009
Decibel vond dit jaar weer plaats in de Beekse Bergen en voor de liefhebbers van de hardere stijlen ligt de bijbehorende cd inmiddels in de winkel. D-Block & S-Te-Fan, The Viper en Beholder & Balistic mixen drie cd's aan elkaar, in de recensie vind je alle info over Decibel 2009.
Party agenda
Panic
(alias)
Hardcore Vibe
581
Number One, Brescia
Ceki The Terrorist, Claudio Lancinhouse, Endymion, Panic, Promo, Ska, Tommyknocker
Resident E : See You in 2017 ·

The Reunion

337
Club Fun-Parc, Trittau
Headbanger, Marc Acardipane, Marshall Masters, Panic, Rob & MC Joe, Rod Bolts, The Ultimate MC
back2school
1261
Maassilo, Rotterdam
Alee, Bountyhunter, Catscan, D-Spirit, Darkraver, Dazzler, Dione, Distortion, E-Noid, Headbanger, Lars, Mad Dog, Negative A, Neophyte, Nosferatu, Panic, Paul Elstak, Promo, Rob & MC Joe, Ruffian,

en nog 9 andere artiesten →

Ruthless, Shadowlands Terrorists, Stanton, The Prophet, The Viper, Tieum, Tommyknocker, Unexist, Yves
Army of Hardcore ·

The Indoor Festival

5243
Turbinenhalle, Oberhausen
A-Kriv, Andy The Core, Angerfist, Angernoizer, Baby Raw, Beagle, BMG aka Brachiale Musikgestalter, Brainrape, Buzz Fuzz, Chok Dee, Chrono, Corruptive Chaos, D-Fence, Da Mouth of Madness, Deadly Guns, Dedicator, Destructive Tendencies, Detest, Dione, Dr. Peacock,

en nog 52 andere artiesten →

Drokz, DRS, Dune, EddyHardcore, Emphaser, Epyleptika, F. NøIzE, FrenchFaces, Goetia, Hardbouncer, Hatred, Hyrule War, J-Curve, Kahlkopf HC, Korsakoff, Lady Dammage, Lenny Dee, Little K, Mad Dog, Minupren, Miss K8, Miss Nightkat, New World Order, Nikkel, Noisekick, Panic, Paranoid, Partyraiser, Pass-E, Paul Elstak, Ron, Sandy Warez, Sei2ure, Sjammienators, Sodiak, SRB, Stormtrooper, Synchronx, Tensor & Re-Direction, TerrorClown, Tha Watcher, The Sickest Squad, The Viper, Thorax, Thyriotox, Tieum, Tobi Wan Kenobi, Tymon, Unrest, Vandalism, Waxweazle, X-treme
Foolish New Year's Eve
2500
Brabanthallen, 's-Hertogenbosch
Alee, Brennan Heart, Charly Lownoise & Mental Theo, Crude Intentions, D-Fence, Digital Punk, Dr Phunk, Neophyte, Panic, Paul Elstak, Radical Redemption, Shadowfact, The Viper, Warface, Zany
Old school Legends
175
Fluor, Amersfoort
Bartello, Frantic Freak, Freeze, Lunatic, Noizecreator, Panic, Reza
Start the Panic
89
Waalhalla, Nijmegen
Affix, Panic, Stanton, Teaser
I Love Beatz
123
Alcazar, Puttershoek
Alee, Bass Chaserz, Cryogenic, D-Fence, Panic, Paul Elstak, Vettriano
20 years Potato
613
Beitel90, Heerlen
Adrelina, Amada, Bass-D, Clayton Cash, Darcon Inc., Darkraver, Deadly Guns, Dustin Hertz, DuX, Fatal Error, Genius, Luna, Mister Maddox, Mol, Month2, Mr. Sinister, Nowaxx, Omattic, Orphan, Outsiders,

en nog 21 andere artiesten →

Panic, Pita, Playboyz, Potato, Ransom, Red Ace, Rems, Ricardo Moreno, Royal S, silas, SpeakerFreakz, Taa, The Russian, The Viper, Transfarmers, Vince, Vital, Vitellus, Warface, Wodan, X-treme
XXlerator Carnaval
1288
Evenementenhal Venray, Venray
Bass Chaserz, Clockartz, D-Block & S-te-Fan, D-Sturb, Da Syndrome, Deetox, Dr Phunk, Frequencerz, Lowriderz, Mark with a K, Mashup Jack, Nolz, Panic, Paul Elstak, Phuture Noize, Radical Redemption, Ransom, Rät N FrikK, Rebelion, Sub Zero Project,

en nog 3 andere artiesten →

The Viper, Warface, ZazaFront
Sunday High ·

Carnaval Editie

gratis

292
Event Center Culemborg, Culemborg
Amada, Bass-D, Bazzy, D-Master, Da Mouth of Madness, Nosferatu, Panic, Re-Style, Repix, Scott Marten, Sprinky, Tha Playah, Unity Radio Crew, Viruz & The Pacifier
Hard Syndrome
27
De Alpenexpress, Hellevoetsluis
Andy Raw, Crazydog, Panic, RVD
Start the Panic
53
Dolhuis, Dordrecht
OCD, Panic, Reza, Stanton
Ghosttown ·

25th Anniversary Edition

1082
Central Studios, Utrecht
Bountyhunter, Da Mouth of Madness, Dazzler, Dune, Frantic Freak, Gabber Syndrome, MD&A, Neophyte, OCD, Painbringer, Panic, Paralizer, Petrov, Promo, Putty, Reza, Rob & MC Joe, Ruffneck, Stanton, Tha Nouky,

en nog 4 andere artiesten →

The Prophet, The Raver, The Viper, TMC
OMG! Indoor
69
Mèrthal, Horst
Freestyle Maniacs, Luna, Panic, The Hardstylist, The Russian (nog niet compleet)
Het Sloopcongres
237
Time Out, Gemert
Affix, Aggressive Act, Andy The Core, Anna Crystal, Bazzy, Black Flowers, Buddy Orange, Chaotic Hostility, Core-Maniac, D-Master, D-Sturb, Darkraver, Enemy Contact, Evil Activities, F. NøIzE, Freestyle Maniacs, High Voltage, Igneon System, JDA, Kritec,

en nog 16 andere artiesten →

Ncrypta, Nolz, Outsiders, Panic, Radical Redemption, Rät N FrikK, Rawraver, Rebelion, Rems, RVAGE, Spitnoise, Sub Sonik, Syco, Teaser, The Victim, Unresolved
8 waarderingen
Maximumraver:

Geweldige set op The Qontinent

Sief:

Hardcore: ja!! Maar in de hardstylewereld... Nee

JipTriPP:

jullie hebben geen verstand van hardstyle

panic

Xenic [www.­180ppm.­nl]:

Knallen met Beholder

D-Nial:

Ze blijven allen toch echt mn favorieten achter de draaitafels, die mannen van Seismic

Pigmans:

samen met beholder echt de beste in de hardstyle wereld

defqon pfff wat ee set toen!

Kevinova:

De man die goeie sets neerzetten kan!

Nico:bier::

held!
4 opmerkingen
samen met beholder