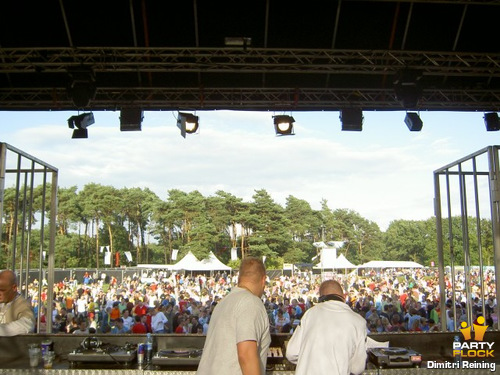 E-Fect
· 3 juli 2004
| | |
| --- | --- |
| Naam | Dennis Copier |
| Functie | DJ, producer |
| Geslacht | man |
| Alias | Panic |
| Lid van groep | Da Goodfellaz |
| Geboortedatum | |
| Leeftijd | 41 |
| Herkomst | Nederland |
| Genres | hardstyle |
| Aanwezigheid | |
| Affiliaties | 2 |
| Lid | Panic(Corona Fan) |
Recensies
Decibel 2009
· 16 september 2009
Decibel vond dit jaar weer plaats in de Beekse Bergen en voor de liefhebbers van de hardere stijlen ligt de bijbehorende cd inmiddels in de winkel. D-Block & S-Te-Fan, The Viper en Beholder & Balistic mixen drie cd's aan elkaar, in de recensie vind je alle info over Decibel 2009.
Party agenda
Panic
(alias)
eergisteren: Paranoia 2 ADE
404
Q-Factory, Amsterdam
Cesqeaux, Dano, Darkraver, Dirtcaps, Dr Phunk, Dutch Movement, Jebroer, Mr. Polska, Mystery Guest, Outsiders, Panic, Pyrodox, Rät N FrikK, Ruthless
Thunderdome ·

25 Years of Hardcore

6
32460
Jaarbeurs Utrecht, Utrecht
Akira, Alee, Amada, Andy The Core, Angernoizer, Art of Fighters, Bass-D, Bio-Forge, Buzz Fuzz, Catscan, Chosen Few, D-Passion, Da Mouth of Madness, Dana, Dano, Darkraver, DaY-már, Decipher, Destructive Tendencies, Detest,

en nog 63 andere artiesten →

Dither, Dr. Peacock, Drokz, Endymion, Evil Activities, Gizmo, Goetia, Guerrillas, Igneon System, Justice, Korsakoff, Lady Dammage, Lenny Dee, Leviathan, Mad Dog, Manu Le Malin, Marc Acardipane, MD&A, Mindustries, Mithridate, N-Vitral, Negative A, No-iD, Noisekick, Noize Suppressor, Ophidian, Panic, Partyraiser, Paul Elstak, Pavo, PCP, Predator, Promo, Radium, Repix, RG, Rob & MC Joe, Rob Gee, Ruffian, Ruffneck, Scarphase, Sjammienators, Spitnoise, SRB, Stinger, Striker, The DJ Producer, The Melodyst, The Outside Agency, The Prophet, The Sickest Squad, The Stunned Guys, The Viper, The Vizitor, Thrasher, Tieum, Tommyknocker, Tymon, Unexist, Uzi, Vince, Waxweazle, Weirdo
010 Classics 2
2046
Factory 010, Rotterdam
Berry, Bountyhunter, Cheat Me, Darkraver, Erick E, Francois, Karim Soliman, Panic, Project Paradox, PsyckoDJ, Reza, Rob, Rob & MC Joe, Stanton, TMC, Yves
Paniek! in Dordt ·

Panic's Birthday Bash

350
Bibelot, Dordrecht
Alee, Crude Intentions, Darkraver, OCD, Outsiders, Panic, Rob & MC Joe, Ruthless, Stanton, The Viper
Nightmare
5119
SilverDome, Zoetermeer
Alee, Andy The Core, Bass-D, Catscan, Destructive Tendencies, Dione, Dyprax, MD&A, Miss Hysteria, N-Vitral, Neophyte, Nosferatu, Ophidian, Panic, Paul Elstak, PCP, Reza, TMC, Unexist
Parkzicht House Reunion
629
Maasgebouw, Rotterdam
Alee, Distortion, Gizmo, Joe, Joshua, Lars, Ludie, Panic, Parkneger, Pat C, Paul Elstak, Petrov, Ricky da Dragon, Rob, Robert, Robin Albers, Stanton, The Mover
Goldfinger Classics ·

Unlock The Past

404
Maaspoort Sport & Events, 's-Hertogenbosch
Armand, Bass-D, Bountyhunter, Darkraver, Dutchman Jack, Leandro, M, Marshall Masters, Mental Theo, OCD, Panic, Ton TB, Trauma, Vince, Vinny Jones, Yves Deruyter
Oldschool Gangsters
199
Markant Uden, Uden
Bass-D, Dune, Joe, Panic, Rob, Ruffneck, Sjek, U.R.M.
We Love Freestyle
248
Doornroosje, Nijmegen
Affix, Anna Crystal, Bazzy, D-Fence, D-Master, Mark with a K, Panic, Paul Elstak, Rems, Speedmouse, The Victim, Xena
back2school
672
Maassilo, Rotterdam
Alee, Bountyhunter, Catscan, D-Spirit, Darkraver, Dazzler, Dione, Distortion, E-Noid, Headbanger, Lars, Mad Dog, Negative A, Neophyte, Nosferatu, Panic, Paul Elstak, Promo, Rob & MC Joe, Ruffian,

en nog 9 andere artiesten →

Ruthless, Shadowlands Terrorists, Stanton, The Prophet, The Viper, Tieum, Tommyknocker, Unexist, Yves
Army of Hardcore ·

The Indoor Festival

3367
Turbinenhalle, Oberhausen
A-Kriv, Andy The Core, Angerfist, Angernoizer, Baby Raw, Beagle, BMG aka Brachiale Musikgestalter, Brainrape, Buzz Fuzz, Chok Dee, Chrono, Corruptive Chaos, D-Fence, Da Mouth of Madness, Deadly Guns, Dedicator, Destructive Tendencies, Detest, Dione, Dr. Peacock,

en nog 52 andere artiesten →

Drokz, DRS, Dune, EddyHardcore, Emphaser, Epyleptika, F. NøIzE, FrenchFaces, Goetia, Hardbouncer, Hatred, Hyrule War, J-Curve, Kahlkopf HC, Korsakoff, Lady Dammage, Lenny Dee, Little K, Mad Dog, Minupren, Miss K8, Miss Nightkat, New World Order, Nikkel, Noisekick, Panic, Paranoid, Partyraiser, Pass-E, Paul Elstak, Ron, Sandy Warez, Sei2ure, Sjammienators, Sodiak, SRB, Stormtrooper, Synchronx, Tensor & Re-Direction, TerrorClown, Tha Watcher, The Sickest Squad, The Viper, Thorax, Thyriotox, Tieum, Tobi Wan Kenobi, Tymon, Unrest, Vandalism, Waxweazle, X-treme
Foolish New Year's Eve
1140
Brabanthallen, 's-Hertogenbosch
Alee, Brennan Heart, Charly Lownoise & Mental Theo, Crude Intentions, D-Fence, Digital Punk, Dr Phunk, Neophyte, Panic, Paul Elstak, Radical Redemption, Shadowfact, The Viper, Warface, Zany
Old school Legends
129
Fluor, Amersfoort
Bartello, Frantic Freak, Freeze, Lunatic, Noizecreator, Panic, Reza
8 waarderingen
Maximumraver:

Geweldige set op The Qontinent

Sief:

Hardcore: ja!! Maar in de hardstylewereld... Nee

JipTriPP:

jullie hebben geen verstand van hardstyle

panic

Xenic [www.­180ppm.­nl]:

Knallen met Beholder

D-Nial:

Ze blijven allen toch echt mn favorieten achter de draaitafels, die mannen van Seismic

Pigmans:

samen met beholder echt de beste in de hardstyle wereld

defqon pfff wat ee set toen!

Kevinova:

De man die goeie sets neerzetten kan!

Nico:bier::

held!
4 opmerkingen
samen met beholder