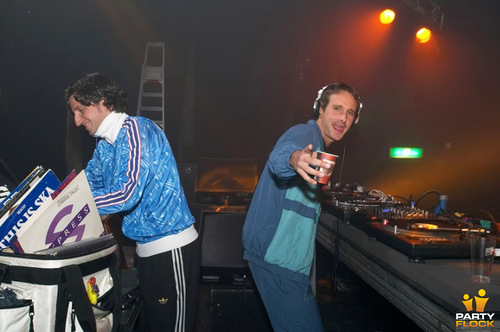 030303
· 13 februari 2009

Zelfde facebook gekoppeld
Biografie
Travel just thirty kilometers south from Amsterdam and you'll find another world where jogging pants are the new cool and people actually feel free to smile when they go out. You have arrived in Utrecht. Call it Little Cornwall if you will, because it was in the South-West corner of England that lads like Aphex Twin, Luke Vibert and Mike Paradinas made their quirky yet emotional electronic music without acting cool as was common practice in the dancemusic scene at the time.

It's exactly this Cornish way of life that appealed to the boys of Utrecht's dj-collective and recordlabel 030303. Mind you, 030303 are not ashamed of their love for serious IDM and glitch flavoured tunes by contemporary hotshots such as Richard Devine and Nosaj Thing. But they also enjoy watching the unsure expressions on the faces of their fellow music lovers whilst playing eurotrashy tunes by the likes of Twenty 4 Seven and Quadrophonia in trashy taverns such as Tivoli, Ekko, Melkweg and Kikker.

As healthier ways of living came into fashion in the 1980s, acid became more than a mere chemical substance and started to come out of machines as well. Despite their very young age, the 030303 crew became a huge fan of a particular bassline machine made by the Roland corporation and so did other now big names such as Cylob, D'Arcangelo and Ceephax amongst others, all of which come and celebrate the acid bleep at 030303 events around Utrecht and the dandy town of Amsterdam.

Being right in the middle of the happening acid-scene, the 030303 crew could not help doing what any other freak would do: they had to start releasing acid-tunes by Braindance veterans as well as by younger musicians. 030303's chart-toppers range from subtle to bombastic and highly psychedelic, the common denominator always being a very deep bleep.

It's just as fantastic as you've just read: 030303 brings a very complete picture that will never be equaled by any other crew. Feel free to rock up at any 030303 event near you but don't forget to dress up as corny as possible! Aciiiiieeed!!!
12 waarderingen
| | | |
| --- | --- | --- |
| | Danny-krulll: | ACiD!!!! |
| | : | ACID! BANG FACE HARD CREW! |
| | The Vinyl Pimp: | Sweet |
| | Albertus001: | Dikke terror!!! House &­ Acid! |
| | Daviiiiiiiid: | Utrecht ACIIIIIIIID |
| | UTCA_Chin: | Aciiiiiiiiiiiiiiiiiiiiiiiiiiid!! lekker heur utreg terreur |
| | Fabbo Grebo: | Aciiiiiiiiiiiiiiiiiiiiiiiiiiiiiiiiiiiiiid! & de bizarste IDM die je je maar kan voorstellen |
| | Dijk:): | heerlijk knallen met 030303 altijd.. lekkere zure acid |
| | RoelSter303: | 030-303030303030303030303030303030303030303 |
| | Danskii: | Utrecht DE GEKSTE! |
| | : | Helemaal goed! |
| | Ome Jo: | Lekker bot en lekker zuur! |
16 opmerkingen
OHHHH 301 fans nog 2 te gaan!
Ik kom toevallig langs, en ik zie een extra 303 staan!
303 fans, te mooi!